'One Trick Pony'—Donald Trump Condemned for Pennsylvania Voter Fraud Remark
Donald Trump's attempt to seed doubt into the results of a democratic election by pushing false claims of voter fraud has been widely condemned as the former president uses the same tactic in the Pennsylvania GOP Senate primary
The race in Pennsylvania is still too close to call, with Trump-backed candidate Dr. Mehmet Oz leading former hedge fund manager David McCormick by the narrowest of margins, 31.2 percent to 31.1, with 98 percent of the votes declared.
The primary is now almost sure to head into a recount, meaning the results may not be known for several days at least. Despite this, Trump has suggested that Oz is the winner and that the celebrity heart surgeon should just "declare victory" over McCormick.
"It makes it much harder for them to cheat with the ballots that they 'just happened to find,'" Trump posted on Truth Social on Wednesday. Critics have now condemned Trump for using the same tactic for the 2022 primary in Pennsylvania as he did in 2020 because there is an indication his chosen candidate may lose.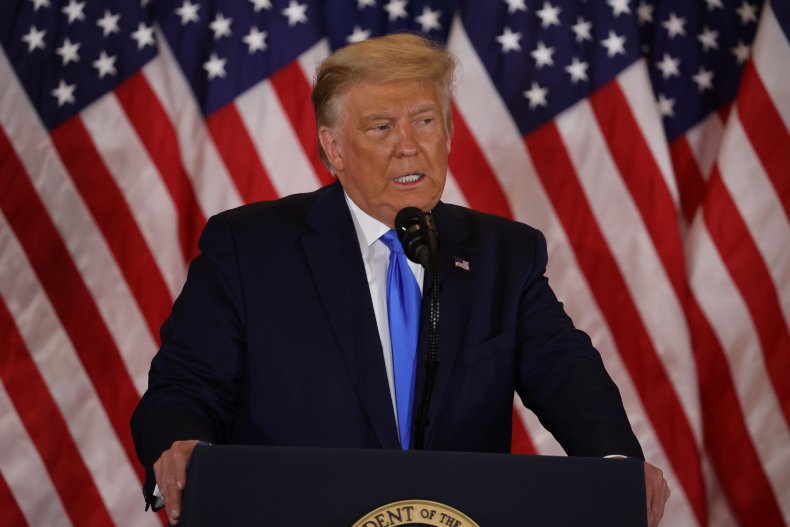 "Trump, a one-trick pony, is playing the fraud card again, urging Oz to act like a Wizard and just declare himself the winner in PA!" tweeted David Axelrod, a Democratic strategist who was a senior adviser to former President Barack Obama.
The former president had already decried the counting of mail-in ballots in Pennsylvania, writing "here we go again!" in a nod to his disproven claims the 2020 presidential election was rigged against him due to widespread voter fraud.
"In Pennsylvania they are unable to count the Mail-In Ballots. It is a BIG MESS. Our Country should go to paper ballots, with same day voting. Just done in France, zero problems. Get Smart America!!!" Trump said.
There has been no suggestion of anything untoward in the counting of the primary mail-in votes. Pennsylvania was also one of a number of states in 2020 that Trump wrongly claimed were riddled with voter fraud, ultimately costing him the election.
"You can't keep a good seditionist down," The New Yorker's John Cassidy tweeted while sharing one of his articles entitled: "Trump Brings His Big Lie Playbook to the GOP Primaries."
SiriusXM radio host and columnist Dean Obeidallah tweeted: "Trump is now getting ready to claim voter fraud in Pennsylvania—in reality Trump should be getting ready to head to the prison's lunch room for feeding time."
Political analyst Tom O'Brien noted on Twitter that despite getting the much sought after Trump-endorsement, Oz has failed to achieve a significant lead over his rivals in the race.
"Trump's 'power' = 1/3 of the vote in a Republican primary," O'Brien tweeted. "Trump couldn't push Oz across the finish line so now he's advising crying fraud." O'Brien also said Trump is an "ongoing threat to democracy" because of his latest remarks.
Al Schmidt, a Republican who quit as a city commissioner in Philadelphia after death threats he and his family received from Trump supporters, said the former president's latest remarks are "very reminiscent" of what occurred in 2020.
"It's an indication that he's not confident that his candidate is going to win. When it looks like you're losing, you want to flip the board game over—you're clearly afraid of the outcome," Schmidt told The Washington Post.
On Tuesday, Oz admitted that there would not be a result that evening as thousands of ballots still needed to be counted, but made no reference to any claims of potential voter fraud.
"When all the votes are tallied, I am confident we will win," Oz told a crowd of his supporters.
During presidential elections, Pennsylvania is one of the few states that do not start counting its mail-in ballots until Election Day. In 2020, the state took even longer to count the votes due to the significant increase of mail-in-ballots due to the COVID-19 pandemic.
Newsweek reached out to Trump's office for comment.