Trump's Legal Defense Becomes a Confession
Donald Trump's defense team is shifting to an argument of extortion in the Manhattan case involving a hush money payment.
But legal experts say that would mean the former president is confessing to paying off former adult film star Stormy Daniels.
That's because the Manhattan district attorney is looking into whether Trump covered up the $130,000 payment, not the alleged affair that Daniels claims she had with Trump.
Donald Trump's defense team is increasingly shifting its argument in a Manhattan case toward extortion, but legal experts say that will mean the former president is confessing to paying off former adult film actress Stormy Daniels.
The Manhattan district attorney's office is investigating Trump for allegedly making a $130,000 hush money payment to Daniels (whose real name is Stephanie Clifford) just days before the 2016 election in an effort to keep her from going public about their alleged affair. Trump has denied ever having an affair with Daniels. Of the various legal challenges he faces, the one in Manhattan is reportedly the closest to an indictment.
On Monday night, Trump attorney Joe Tacopina said his client was "an extortion victim" who was forced to pay off Daniels to protect his political career.
"He is a victim of extortion because she came out right before the election and said, Unless you pay me, I am going to make a public story about something he says is completely untrue," Tacopina told Fox News' Sean Hannity.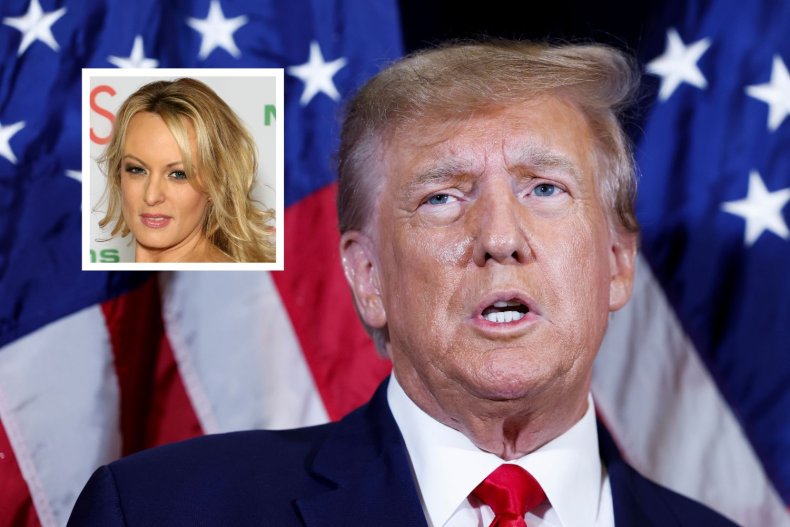 His comments echo a statement that Trump's defense team put out last week, which said: "President Trump was the victim of extortion then, just as he is now. It's an embarrassment to the Democrat prosecutors, and it's an embarrassment to New York City."
However, legal experts say that because Manhattan DA Alvin Bragg is making the case that Trump tried to cover up the payment, using extortion as a defense would mean that the former president knew about and directed it.
Trump has denied knowledge of the payment, and the Trump Organization, which reimbursed former Trump lawyer Michael Cohen for advancing the payment to Daniels, recorded those expenses as legal fees to Cohen. While hush money payments are not illegal, Manhattan prosecutors are deciding whether to charge Trump with falsifying the Trump Organization's business records for how they accounted for Cohen's reimbursement. In New York state, falsifying business records is a misdemeanor.
Former Assistant U.S. Attorney Andrew Weissmann told Newsweek that because of the various legal factors at play, "any such defense [of extortion] is going to hurt Trump if he is charged."
If he maintains he was being extorted, Trump would go back on his claim that he knew nothing about the payment—a statement that was captured on tape by reporters, Weissmann continued. Using the defense of extortion would also show that Trump was paying to silence Daniels, not for legal fees, as his company's internal books show.
"As a key charge that Manhattan is looking at is the crime of falsifying business records, the 'extortion' defense is something that will help, not hurt, the prosecution's case," Weissmann said.
Former federal prosecutor and Florida state attorney Michael McAuliffe agrees. He told Newsweek that because the crime in question is whether Trump covered up the payment records, not his alleged affair with Daniels, the recent extortion comments will "likely be a part of the state's case against him in the event he is indicted."
"The alleged case itself isn't the crime of the century, but it goes to the heart of what and who Trump is––someone who denies, deflects and then blames others for his own actions," McAuliffe said.
Former federal prosecutor Neama Rahmani told Newsweek that if there is an indictment, "Trump will never accept responsibility or plead guilty." Instead, he will push the case to trial and use it to reaffirm that the criminal cases against him are the most politically charged in U.S. history.
The Manhattan prosecutors are also deciding on whether to charge Trump with a felony: falsifying business records with the intent to commit or conceal another crime. In this case, that could violate campaign finance law—an argument that was made in Cohen's 2018 conviction.
"The federal prosecutors who charged Cohen argued that the payment to Daniels was an illegal campaign contribution, and the expectation is that Bragg's office will do the same," said Rahmani, who is president of West Coast Trial Lawyers.
The felony charge has a minimum sentence of a year and could go up to four years.