Donald Trump Rages at Alvin Bragg as Indictment Looms
Donald Trump has lashed out at the district attorney who invited him to testify before a grand jury in New York over his alleged involvement in hush money payments during his 2016 presidential campaign, describing Alvin Bragg as a "racist" who "only cares about 'getting Trump.'"
The former president's attorney confirmed to the Associated Press on Thursday that an invitation had been extended by the Manhattan District Attorney's office concerning payments made to adult film star Stormy Daniels by Trump's then lawyer. Such a request often indicates a decision on possible indictments looms.
If charges are brought, it would make Trump's the first indictment of a former president, and could damage his hopes of retaking the presidency in the 2024 race, where he remains the only big name to have declared his candidacy in the Republican primaries so far.
Joseph Tacopina, a Trump attorney, confirmed that the Manhattan district attorney had offered an invitation to his client to testify next week.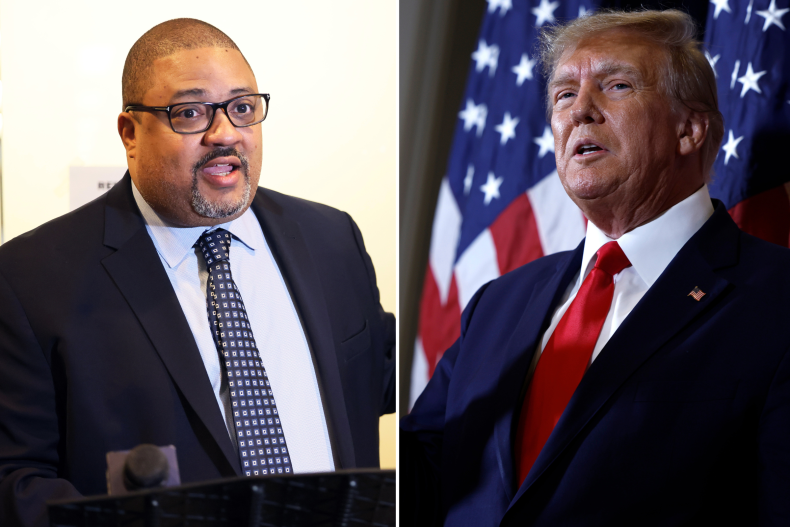 "To me, it's much ado about nothing," Tacopina told the Associated Press, noting that he felt there was no legal basis for the case. "It's just another example of them weaponizing the justice system against him. And it's sort of unfair," he added.
On Thursday evening, Trump took to his Truth Social media platform to repost claims he had made five days earlier, in which he claimed Bragg was "relying on the testimony of a convicted felon, disbarred lawyer, with zero credibility"—a reference to Michael Cohen, Trump's former lawyer who admitted to making the payment and previously implicated Trump.
He called Bragg, the first Black Manhattan D.A. in the history of the office, "racist" and accused him of not caring about what he said were record levels of "violent and vicious crimes being committed in Manhattan". "He only cares about 'getting Trump'," he said.
Earlier in the evening, Trump released a statement in which he said he "did absolutely nothing wrong" and refuted claims that he had ever had an affair with Daniels, who was paid $130,000 by Cohen. He described it as a "fake case." Trump has previously repeatedly denied ordering the payments to Daniels.
"This is a political Witch-Hunt, trying to take down the leading candidate, by far, in the Republican Party while at the same time also leading all Democrats in the polls, including Joe Biden and Kamala Harris," he argued.
Trump described Bragg as "this Soros-backed radical left prosecutor" who had been "placed" in the office by the "Department of Injustice" to "get Trump."
Bragg, a Democrat, was previously an assistant attorney general for New York and an assistant U.S. attorney for the Southern District of New York. According to the National Police Association, he was backed by billionaire philanthropist George Soros in his race for the D.A. job.
Newsweek has approached the Manhattan District Attorney's Office, via direct message to the director of communications, and the U.S. Department of Justice, by email, for comment.
Trump's lawyer did not say if he would accept the invitation to testify in front of the Grand Jury, but his public statements suggest such a move is unlikely.
The former president noted that the previous Manhattan district attorney, Cyrus Vance, had not brought charges in the case, saying this was because "I am guilty of nothing except for the fact that I am beating all Republicans and Democrats badly in the Presidential race."
Legal experts told The New York Times, which first published news of the invitation to testify, that Bragg was pursuing a potential violation of state election law, whereas his predecessor had rejected this possibility as the payment occurred during a federal election.
"I will not be deterred, I will always continue to be your voice, and I will keep fighting for our great Country," Trump said.
Daniels, whose real name is Stephanie Clifford, was allegedly paid by Cohen in 2016 to stay quiet about her supposed involvement with Trump while the presidential campaign was ongoing. Cohen has said under oath and in print that he was reimbursed by Trump.
In 2018, Daniels' defamation lawsuit against Trump was dismissed and led to her paying him $300,000 in legal fees.
At least five witnesses testified in front of a Grand Jury for Bragg in January: Jeffrey McConney and Deborah Tarasoff, Trump company employees; David Pecker and Dylan Howard, two former leaders of the National Enquirer who helped arrange the alleged deal; and Keith Davidson, a former lawyer for Daniels.
Trump remains favorite for the 2024 GOP nomination, winning a recent straw poll at the Conservative Political Action Conference (CPAC). However, a poll conducted for Republican strategists in February suggested he would lose out to likely candidate Ron DeSantis, the Florida governor.