Trump's Plan to End DACA Blocked by Judge Because Reason to Scrap Program Was Based on 'Flawed Legal Premise'
Donald Trump's plan to end the Deferred Action for Childhood Arrivals program (DACA) has been temporarily blocked by a federal judge in California because the legal case to end the program was "flawed."
Judge William Alsup issued a 49-page ruling on the case on Tuesday, stating the administration's termination of the Obama-era legislation was based on "a flawed legal premise" after Attorney General Jeff Sessions claimed Barack Obama did not have the authority to establish the program.
Alsup said that "DACA was and remains a lawful exercise of authority," The Los Angeles Times reported, suggesting Sessions misread the law and prompting Alsup to "set aside" the administration's decision to end DACA.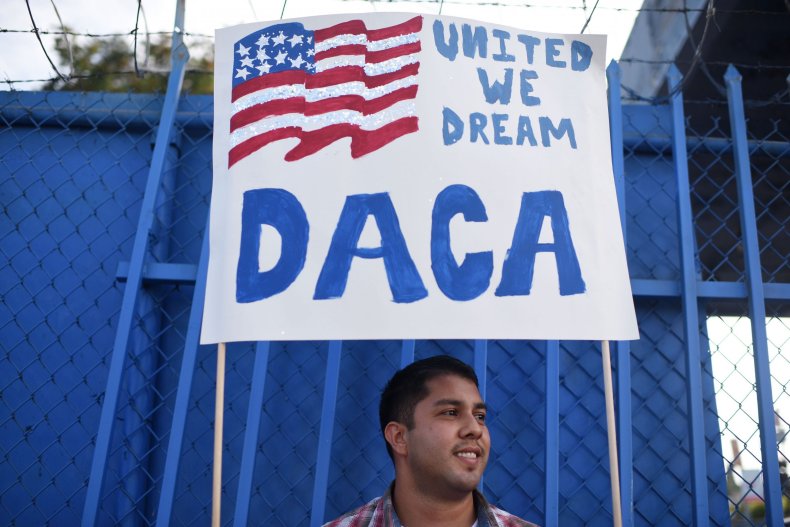 Alsup added in the ruling that the decision to end the program had "failed to address the 689,800 young people who had come to rely on DACA to live and to work in this country."
The recipients of the program had "submitted substantial personal identifying information to the government, paid hefty fees, and planned their lives according to the dictates of DACA," Judge Alsup ruled, adding the recipients of DACA would suffer if the program was rescinded.
"In sum, the new administration didn't terminate DACA on policy grounds. It terminated DACA over a point of law, a pithy conclusion that the agency had exceeded its statutory and constitutional authority," New York magazine reported Alsup adding.
His ruling came following a request from sanctuary state California, among other states, that the administration be prevented from ending DACA prior to the conclusion of lawsuits on the issue.
It will come as a relief to the young people who have built their lives in the U.S. with the help of DACA, as they can remain in the country and continue working legally—however, the ruling is limited only to those people already in receipt of the program, meaning it does not apply to new applicants.
Despite the ruling, which will be seen as a victory for those protesting an end to DACA, the Trump administration has appeared optimistic about its case.
Devin O'Malley, a spokesman for the Justice Department, told the Los Angeles Times that Tuesday's ruling "doesn't change the Department of Justice's position on the facts: DACA was implemented unilaterally after Congress declined to extend these benefits to this same group of illegal aliens. … The Department of Homeland Security therefore acted within its lawful authority in deciding to wind down DACA in an orderly manner."