Donald Trump Concedes He's Behind Hillary Clinton in Key States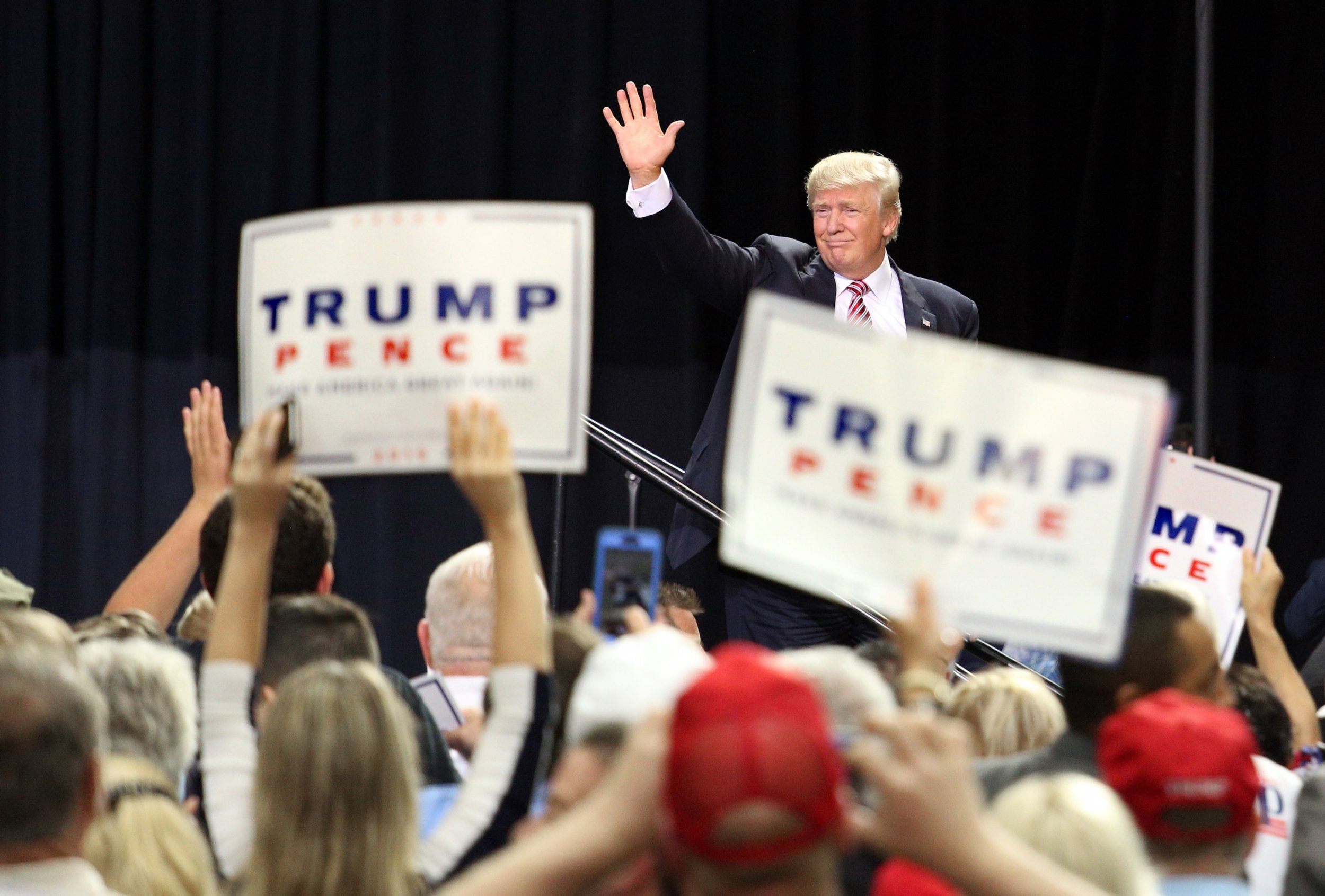 Republican presidential candidate Donald Trump has appeared to concede that he is behind Hillary Clinton in the polls and faces an uphill task to win November's election, marking a change from his previously confident stance.
As the construction magnate campaigns in Florida, he has slid from his usual braggadocio attitude—vowing that he is going to defeat his Democratic rival by a wide margin, to a more cautious approach, admitting that his campaign faces a series of challenges.
On Thursday, he sounded less convinced about his chances of victory than he did at last month's Republican National Convention. "At the end, it's either going to work, or I'm going to… have a very, very nice, long vacation," he said to CNBC in a phone interview.
He told evangelical ministers that he is "having a tremendous problem in Utah" as the Mormon-majority population fails to warm to the Republican candidate, according to the Associated Press .
Throughout his campaign, he has cited and tweeted polls that showed him way ahead of his Republican rivals, before doing the same with Clinton. "We're having a problem. It could cost us the Supreme Court."
But on Thursday he could only cite a poll that had him behind his Democratic rival. He said that he would continue to do "the same thing I'm doing right now" when questioned about how he saw himself reducing Clinton's lead.
This new uncertainty comes as Republicans and Democrats round on Trump over a series of controversial comments. In the past week alone, he has said he is open to trying U.S. nationals suspected of extremism at the Guantanamo Bay detention center in Cuba, appearing to suggest that voters use violence against Clinton when speaking about the Second Amendment, and calling President Barack Obama the "founder" of the Islamic State militant group (ISIS).
His failure to reign in his rhetoric has caused concern among Republicans that he is handing Clinton an easy victory. He has started to make mistakes on a regular basis, for example at a rally in Kissinmmee, Florida, on Thursday, where he implied that Clinton lacks the intelligence and mental stamina to be President, but at the same rally forgot what day it was twice, asking the crowd if there was "any place to be that's better than a Friday night in Florida at a Trump rally?"
He said of Clinton: "Hillary Clinton gave a speech today having to do with economic development, having to do with a lot of different things. Short speech, always very short. You know?
"She makes the speech, she turns off the teleprompter. Look, what happens, she gives a short speech then she goes home, goes to sleep, she shows up two days later. Remember, short circuit. Remember that, right? Short circuit."
As a result of his brash style of campaigning, Trump has witnessed falling poll numbers that show him losing out to Clinton nationally and in most of the hotly-contested states. He is also losing out to Republican women and is more than 40 polling points behind Clinton in the hispanic community. It may be that Trump views a more controlled approach to the campaign as his route back into the race.