Trump's Rural Base May Reject President in 2020 Because He Destroyed Demand for Corn, Iowa Ethanol Boss Warns: 'Complete Disappointment'
President Donald Trump is risking his rural heartland base via trade policies and destroying the demand for domestic agricultural products like corn, the head of a major ethanol factory in Iowa has told Newsweek.
The U.S. agricultural sector has borne the brunt of Trump's trade wars with China and elsewhere, and now the support he has always counted on in the American heartland appears to be waning.
Last week, Bob Kuylen, vice president of the North Dakota Farmers Union, told MSNBC he blamed Trump for his wheat farm losing $400,000 because of the U.S. withdrawal from the Trans-Pacific Partnership and other trade spats.
Ohio soybean and corn farmer Christopher Gibbs dubbed Trump's taxpayer-funded bailouts—intended to offset the financial hit caused by the trade war—as "hush money" to keep unhappy farmers quiet.
Newsweek subscription offers >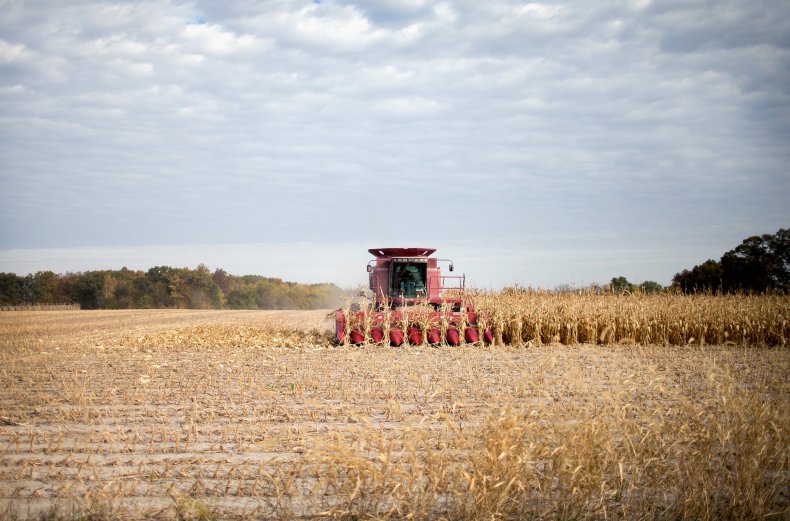 Corn farmers are now reeling from the move by the Trump administration to drop the requirement for 31 oil refineries to blend ethanol into their fuel.
Using ethanol in fuel was part of the Renewable Fuel Standard (RFS) policy to reduce greenhouse gas emissions.
Exemptions would normally be granted to smaller refineries experiencing financial hardship. However, it emerged that the Environmental Protection Agency (EPA) had given waivers to oil giants like ExxonMobil and Chevron.
Newsweek subscription offers >
Around 40 percent of the U.S. corn crop is turned into ethanol. Corn farmers, already struggling with five years of low commodity prices and mediocre harvests due to bad weather, say the EPA waivers are another setback.
Two months ago Trump came to Iowa, the country's biggest ethanol producer, to talk up his administration's approval of E15—gasoline blended with 15 percent ethanol—which he said would drive up demand for corn in the Midwest.
But opinion against Trump is turning, with the waivers more than canceling out any gains made from the policy.
Nick Bowdish, CEO of Elite Octane in Atlantic, Iowa, backed Trump in 2016 because he was encouraged by the rhetoric about taking on China.
He said: "Since he got himself involved in agricultural policy issues, it has been a complete disappointment to any of us out here in the heartland.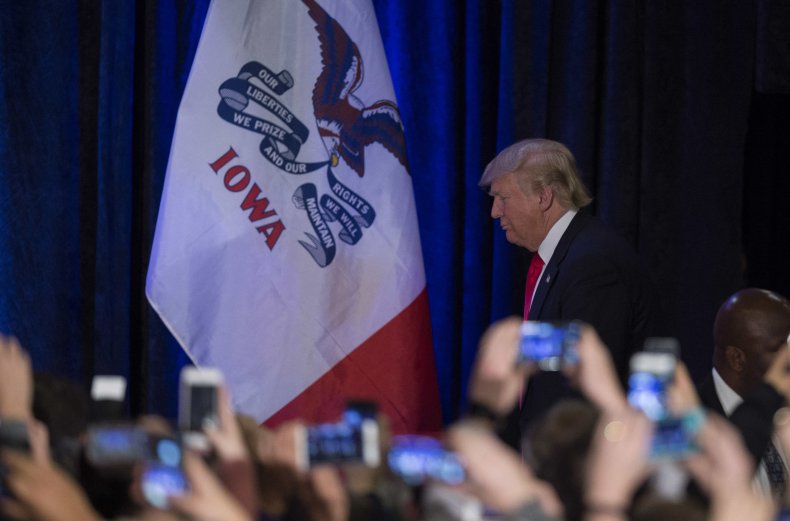 "Where the president went wrong and made a serious misstep was when he made the decision to start destroying the market for agricultural products at home with these refinery waivers," he told Newsweek.
"He added that much more burden to the back of the American farmer at a time when they were already impacted by the trade war with China—and that's not acceptable.
Trump won 93 out of Iowa's 99 counties in the 2016 presidential race—the most for a GOP nominee since 1980. The state is also where the 2020 presidential race kicks off, with its caucuses on February 3.
Bowdish said: "So many people out in the Midwest have tended to vote for a conservative Republican candidate and right now, I can't tell you that support is locked up in there for the president."
"There are a lot of independent voters and a lot of moderate Republicans that are weighing their options and listening to what is the rural vision for the other candidates on the ticket," he added.
He said the most efficient ethanol plants in the U.S. are only just breaking even—the average producer is losing 15 cents a gallon and the most inefficient producers are being forced out of business.
Trump's touting of E15 was greeted with optimism. However, even though it would increase demand for corn by 100 million bushels, this amount pales into insignificance compared with the impact of the refinery waivers, which represent over a billion bushels of corn.
"It is 10 steps backward for one step forward," Bowdish said.
Since Trump took office, the EPA has approved 85 waivers for 4 billion gallons of renewable fuel, ending demand for 1.4 billion bushels of corn.
Farmers in the state do have the backing of U.S. Sen. Chuck Grassley, an Iowa Republican. Grassley said the Trump administration realizes the waivers were "wrong," describing it as "a kick in the teeth by the EPA to American agriculture," according to the Des Moines Register.
Bowdish told Newsweek: "The impact out here is very real. We are reducing the demand for corn. Our industry processes almost 40 percent of the US corn crop. There are more than 10 plants turned off and that trend will continue if the administration continues to destroy demand for ethanol and agricultural products at home," he said.
"If I was sitting across from the president, I would run him through the math. I would say: 'Here is the reality of each of these policy decisions. If you want to have the support of the farming community in the heartland, you have to put policies forward that show that we are truly growing demand for agricultural products.'"
Trump's Rural Base May Reject President in 2020 Because He Destroyed Demand for Corn, Iowa Ethanol Boss Warns: 'Complete Disappointment' | U.S.