Trump's Scotus Pick Brett Kavanaugh Touts Pro-Women Credentials Amid Roe v. Wade Fears
Judge Brett Kavanaugh, President Donald Trump's Supreme Court nominee, pledged to keep an "open mind in every case" in an acceptance speech that touted his credentials as an advocate for women amid concerns about the future of Roe v. Wade.
His nomination to replace retiring Justice Anthony Kennedy was announced by Trump from the White House on Monday night. The president praised Kavanaugh's "impeccable credentials, unsurpassed qualifications, and a proven commitment to equal justice under the law."
After Kennedy's retirement was announced, there were immediate fears from abortion rights activists that his departure from the Supreme Court would threaten the future of the landmark decision in Roe v. Wade, which protects a women's right to abortion, particularly given Trump's suggestion that abortion law could be left to the states to decide.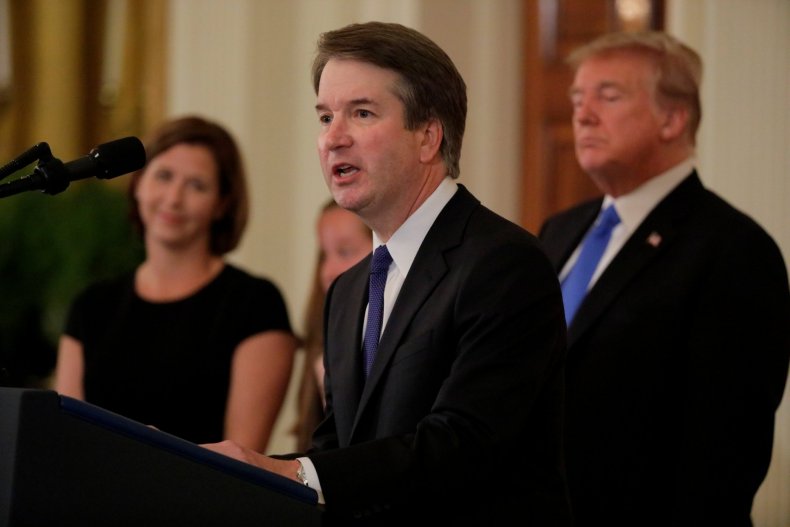 In an interview with Fox News's Maria Bartiromo following the announcement about Kennedy's retirement, Trump was pressed on his view of abortion and whether it should be decided on a state by state basis.
"Well, maybe someday it will be to the states. You never know how that's going to turn out. That's a very complex question. The Roe v. Wade is probably the one that people are talking about in terms of having an effect. But we will see what happens. But it could very well end up with states at some point," he said, prompting further concern from abortion activistsrights advocates.
And Kavanaugh's previous decision on the case of an undocumented teenager who was seeking and abortion alarms those who support abortion rights, although he has not specifically said he wants to overturn the Supreme Court decision, and appeared to use his nomination speech to highlight his respect for women's rights.
"My mom was a trailblazer. When I was 10, she went to law school and became a prosecutor. My introduction to law came at our dinner table when she practiced her closing arguments. Her trademark line was, "Use your common sense. What rings true? What rings false?" That's good advice for a juror and for a son," Kavanaugh said in his speech.
"One of the few women prosecutors at that time, she overcame barriers and became a trial judge. The president introduced me tonight as Judge Kavanaugh. But to me, that title will always belong to my mom.
"For the past 11 years, I've taught hundreds of students primarily at Harvard Law School. I teach that the Constitution's separation of powers protects individual liberty, and I remain grateful to the dean who hired me, Justice Elena Kagan.
"As a judge, I hire four law clerks each year. I look for the best. My law clerks come from diverse backgrounds and points of view. I am proud that a majority of my law clerks have been women," Kavanaugh said, going on to speak about his wife, Ashley, whom he met while working at the White House, and his "spirited" daughters, Margaret and Liza.