Trump's Travel Ban Will Stop Syria's White Helmets Attending Oscars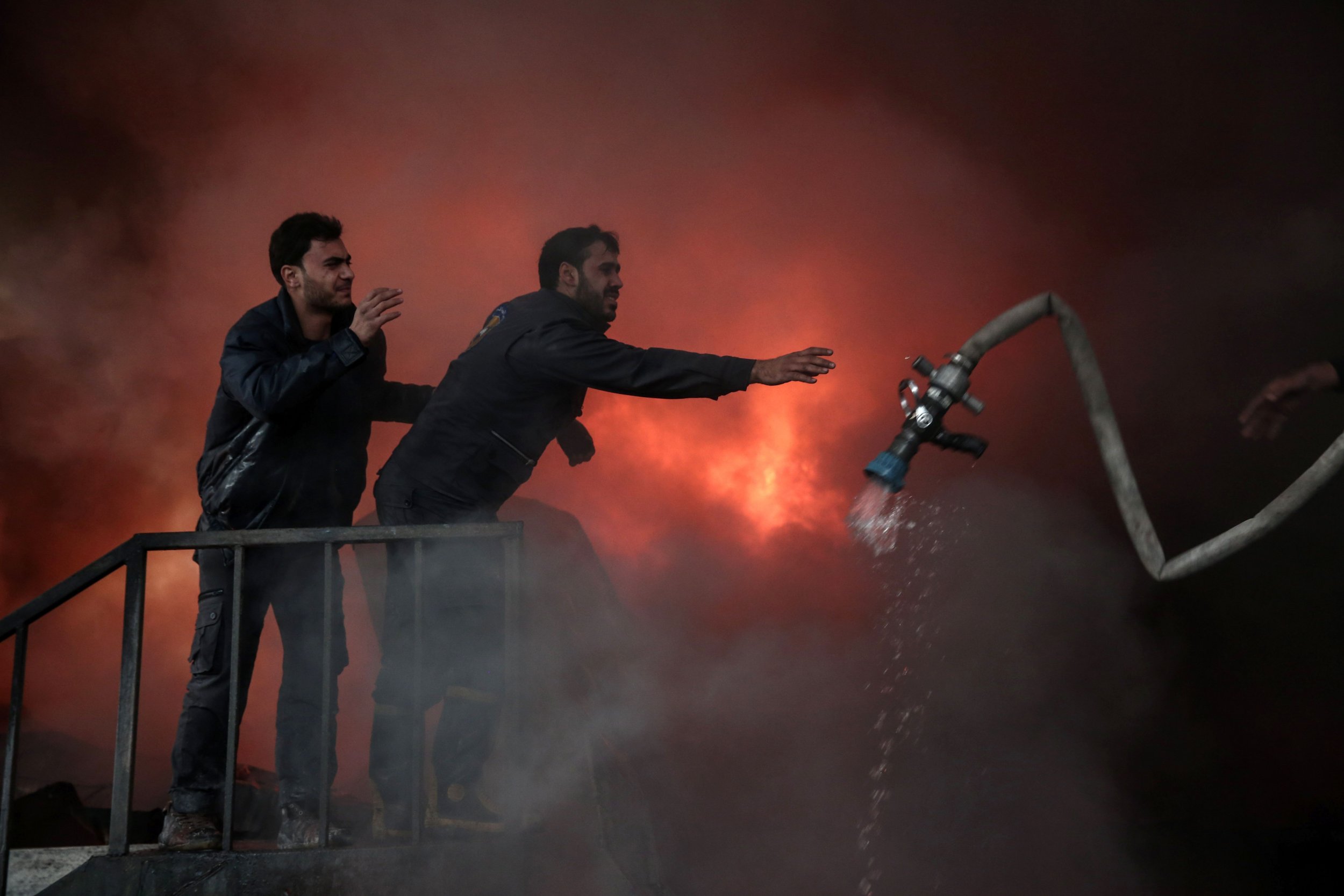 U.S. President Donald Trump's blanket executive order on Syrian refugees and citizens, preventing them from traveling to the U.S., will affect the White Helmet volunteers depicted in an Academy Award-nominated documentary.
The Syrian volunteers, also referred to as the Syrian Civil Defense, will not be permitted to attend the Oscars in February where The White Helmets is nominated in the short documentary category.
The documentary, which Netflix released in September with the help of director Orlando von Einsiedel and producer Joanna Natasegara, both Academy Award-nominated for their previous project Virunga, attempts to provide an insight into the workings of the organization that claims to have rescued more than 60,000 people.
Natasegara, in a statement released to entertainment news site The Wrap, called Trump's ban "abhorrent." She and von Einsiedel planned to take White Helmets' leader Raed Salah and Khaled Khateeb, the group's main cameraman, to the award ceremony, but both are subject to Trump's ban.
"We have always said that, if we were to be nominated, we would bring Raed Saleh, the head of The White Helmets, who has spoken many times in D.C., and Khaled Khateeb, the young cinematographer who risked his life over and over again, as our guests," said Natasegara. "These people are the bravest humanitarians on the planet, and the idea that they could not be able to come with us and enjoy that success is just abhorrent."
"The White Helmets documentary produced by Netflix was nominated for [an] Oscar!! I'm so proud to have filmed this film and for this nomination," Khateeb tweeted after the nomination. The group was also nominated for a Nobel Peace Prize last year, but lost out to the Colombian President Juan Manuel Santos for his peace efforts with the FARC rebel group.
As well as the Syrian volunteers, Iranian filmmaker Asghar Farhadi will be prevented from attending despite his film, The Salesman, being nominated in the Foreign Language category. As well as Farhadi, Hala Kamil, the subject of Watani: My Homeland, also nominated in the short documentary category, will not be able to attend because of the ban.
The White Helmets follows three men—a former builder, a former blacksmith and a former tailor—who work in the same unit in the northern Syrian city of Aleppo, and train together in Turkey, returning to continue their work rather than remaining in safety across the shared border. Syrian forces, backed by Russian airpower and Iranian ground forces, recaptured the strategically-vital city in December.
The group says it has remained a neutral party in the bloody conflict that is nearing its sixth anniversary, but has mostly operated in Syrian opposition areas, working to salvage the lives of those affected by barrel bombs from Syrian regime.