Trump's U.N. Speech Was a Joke, but We Shouldn't Be Laughing | Opinion
Donald Trump's second visit to the United Nations as President of the United States began with a laugh—at his expense—and ended, at least in my experience, with tears.
Trump opened his address to the world's leaders in the same way that he opens many of his campaign-style rallies: by praising his administration as having "accomplished more than almost any administration in the history of [the United States]." In what may emerge as a defining moment of his helter-skelter presidency, the obvious absurdity of this boast left the U.N.'s normally staid representatives giggling incredulously.
Having begun on an unintentionally humorous note, the U.S. president used the remainder of his address to attack many of the norms and institutions that Americans helped establish to ensure international peace and security in the wake of World War II. Pitting a simplistic view of national sovereignty against what he labeled "globalism," Trump proudly advertised that the United States is no longer in the business of leading the world's nations in finding solutions to the toughest global problems.
Trump told world leaders that a respect for sovereignty means that "The United States will not tell you how to live or work or worship." It also means that the United States will, for the duration of his administration, no longer engage at the U.N.'s Human Rights Council, or with the International Criminal Court, or in the recently negotiated Global Compact on Migration. One could almost hear a sigh of relief from the likes of Syrian tyrant Bashar al-Assad and the Burmese officials responsible for the recent mass murder and rape of the Rohingya population. Never mind that none of these entities fundamentally threaten U.S. interests, and in many cases operate to U.S. advantage. For now, institutions like the Human Rights Council will reflect the will of Beijing and Riyadh, the United States having taken its ball and gone home.
Exhibiting his usual nose for consistency, Trump's own review of the world's hotspots invariably violated his sovereignty shibboleth. He reaped praise upon Saudi Arabia and the United Arab Emirates for their actions in Yemen, overlooking that, with U.S. support, the bombing campaign carried out by those governments has contributed to what the U.N. calls the world's worst humanitarian crisis. He called out the governments of Venezuela and Iran for their respective destabilizing actions, yet implored skeptical world leaders to back new sanctions—a classic infringement on national sovereignty. And, perhaps unsurprisingly, his remarks omitted nearly any reference to Russia, despite their well-documented efforts to alter the outcome of the 2016 U.S. presidential election.
Even in his choice of countries worthy of praise, America's president signaled values set at odds with erstwhile American ideals. Trump's celebration of Jordan's decision to host over one million Syrian refugees seemed designed to deflect from his administration's historically uncharitable policy of barring those fleeing war from the United States. His praise of reforms undertaken by Saudi Arabia's young crown prince omitted the severe crackdown on human rights activists in what remains a theocratic, absolute monarchy. His singling out of Poland and Israel as thriving democracies left many perplexed, given each country's recent and well-documented struggles with democratic governance.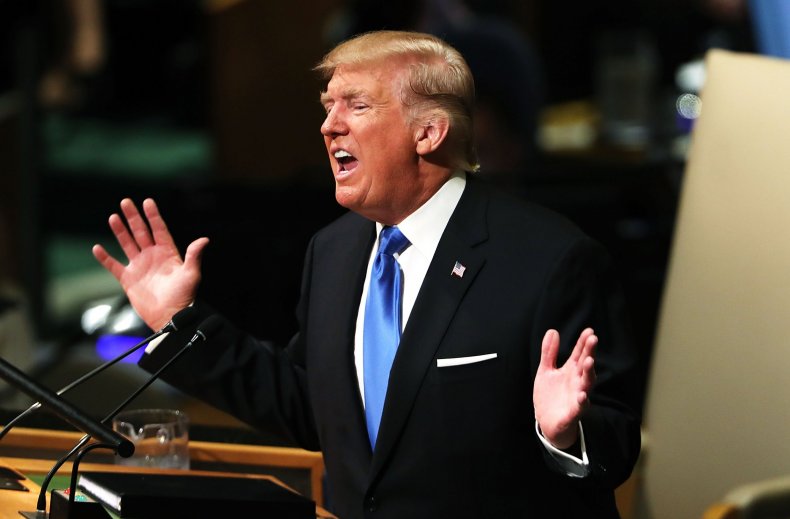 Polls documenting international views of the United States under President Trump have consistently shown a precipitous downturn in how the citizens of most foreign countries perceive America's standing. While the president and his more hardline advisors may interpret this data as a feature of the Trump presidency, rather than as a bug, America's current unpopularity limits the extent to which we can achieve our goals on the international stage. Trump's second major appearance at the U.N., this time before the Security Council, placed this dynamic in stark relief.
Initially envisioned as a meeting focused on Iran, U.S. officials quietly changed the session's topic to a more general discussion of the non-proliferation of nuclear, chemical, and biological weapons in the days leading up to Trump's arrival in New York. They did this once it became clear that the United States would be isolated from the rest of the Council's membership, given Trump's rejection of the 2015 Iran nuclear deal.
While the last-minute change likely spared the U.S. president additional embarrassment, it couldn't shield the United States fully from its largely self-imposed isolation. Trump, for his part, focused much of his opening statement on Iran, while also accusing China of meddling in the upcoming U.S. midterm elections. America's closest European allies politely rebuffed Trump's rejection of the Iran nuclear deal, with French President Emmanuel Macron noting that "sanctions and containment" don't constitute a comprehensive strategy.
As Trump and other national leaders sparred, activists from all over the world gathered in the U.N.'s hallways and in nearby hotels, hoping to bring attention to the plight of the marginalized.
In one of these hotels, Human Rights First, the organization I help lead, assisted in assembling a panel of activists focused on the nearly 60,000 men, women, and children thought to be held in Egypt as political prisoners. The event brought together two Egyptian-Americans once held and abused in Egyptian prisons with the families of an American and an Egyptian currently held there. Liuba Yepes, the wife of an American named Khaled Hassan, held back tears as she described Khaled's disappearance and brutal torture at the hands of Egyptian authorities.
The day prior, President Trump had met with Egyptian President Abdel Fattah el-Sisi, whose rule in Egypt has been marked by human rights abuses on a scale not seen in the country in decades. The official account of the meeting released by the White House made no indication that Trump had raised the case of Khaled Hassan, or any other matter concerning Egypt's human rights record. Last month, U.S. Secretary of State Pompeo reversed a decision made by his predecessor, Rex Tillerson, to limit the military aid the United States provides to Egypt until the Egyptian government made even the smallest progress on human rights. Through her tears, Liuba Yepes expressed frustration that the United States seems to have come unmoored from what made it both great and good.
Rob Berschinski is Senior Vice President for Policy at Human Rights First, and a former Deputy Assistant Secretary of State
The views expressed in this article are the author's own.​