Tucker Carlson Accuses Stephen Colbert Production Crew of 'Insurrection'
Fox News host Tucker Carlson has accused a production crew for The Late Show With Stephen Colbert of "insurrection" following their Thursday night arrest at the U.S. Capitol.
Carlson made the accusation during the Friday night edition of Tucker Carlson Tonight. The conservative pundit tied the arrest of seven Colbert staffers, who were at the Capitol complex to record a comedy segment, to the violent January 6, 2021, storming of the Capitol building by a large group of Donald Trump supporters attempting to stop Congress from certifying President Joe Biden's 2020 election victory.
"Last night, producers for Stephen Colbert's CBS show committed insurrection at the United States Capitol," said Carlson. "[Democratic U.S. Representative] Adam Schiff illegally gave producers from CBS access to the Capitol. And then the group... remained in the Longworth House Office Building after hours."
Carlson maintained that the production crew stayed in the building in an attempt to "harass sitting members of Congress" including Republicans Marjorie Taylor Greene and Lauren Boebert. Carlson noted that the group was detained on a charge of Unlawful Entry, a charge that many of the January 6 defendants also faced.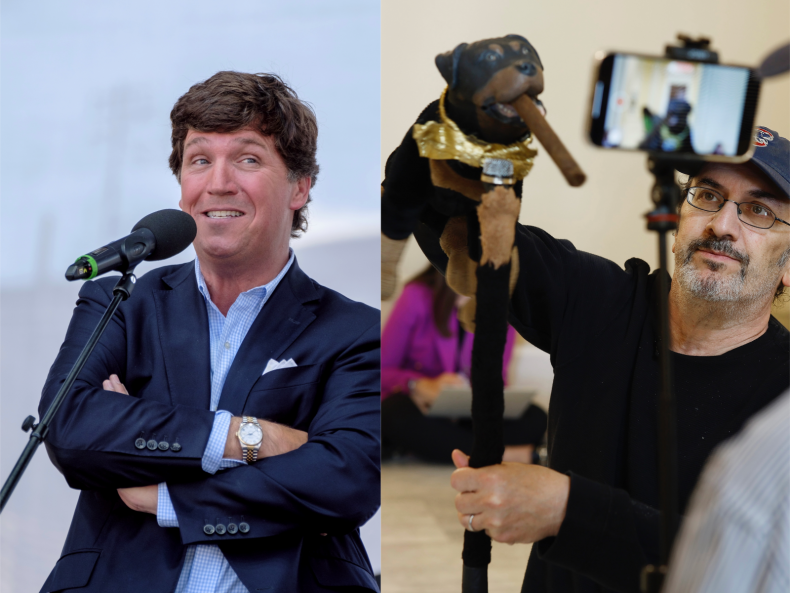 "It is likely that some members of Stephen Colbert's team will be held in solitary confinement for a year and half without being charged," Carlson said. "Because this is an insurrection. And actually, joking aside, how could they not be held? ... The precedent is in place."
"It's exactly like what happened on January 6th," he added. "So, we'll take a close look at what the punishments are."
The U.S. Capitol Police (USCP) said in a statement to The Hollywood Reporter that officers responded to a call about a disturbance at around 8:30 p.m. local time and "observed seven individuals, unescorted and without Congressional ID, in a sixth-floor hallway."
USCP said that the "building was closed to visitors, and these individuals were determined to be a part of a group that had been directed by the USCP to leave the building earlier in the day." The group was released from custody overnight, according to Fox News.
In a statement obtained by Newsweek, a CBS spokesperson said that "Triumph the Insult Comic Dog was on-site at the Capitol with a production team to record interviews for a comedy segment on behalf of 'The Late Show'" on Wednesday and Thursday night.
The spokesperson said that all of the interviews "were authorized and pre-arranged through Congressional aides of the members interviewed," while the arrests were made after the production team had finished interviews and "stayed to film stand-ups and other final comedy elements in the halls."
Triumph is a small dog puppet character created and performed by comedy writer and producer Robert Smigel, who was one of those detained on Thursday night.
The character, which first appeared on Late Night With Conan O'Brien in 1997, typically interacts with prominent figures or members of the public while performing outrageous and sometimes vulgar insult comedy bits in a thick accent.
Newsweek reached out to the Capitol Police for comment.