Fox News anchor Tucker Carlson has poked fun at the decision to honor Dr. Anthony Fauci on his 80th birthday—Christmas Eve.
The mayor of Washington, DC, Muriel Bowser, paid tribute to the country's top infectious diseases expert for his guidance about the coronavirus pandemic this year.
Bowser announced that this year's Christmas Eve would be proclaimed "Dr. Anthony S. Fauci Day" in the district to mark his birthday on Thursday.
Describing him as a "hero to our nation," Bowser said in a statement: "We are incredibly proud to count him among the many DC residents who are sacrificing so much to keep our communities healthy and safe."
She tweeted an image of Fauci holding the proclamation, adding the message: "I issue this honor on behalf of all Washingtonians in gratitude and recognition of Dr. Fauci's service to our nation and our city."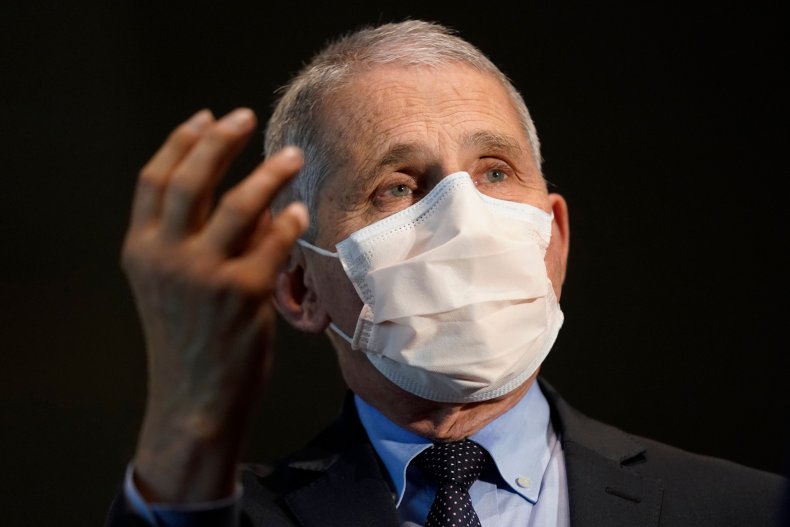 But the accolade did not impress the host of Tucker Carlson Tonight. He said the honor exemplified how religious fervor in the U.S. was divided among those who "worship God" and those who "worship yourself," singling out DC as the "capital of the latter sect."
"DC is the Rome of spiritual narcissism," Carlson said, "In Washington, human power is worshipped as the living God. You'll see temples to human power throughout the city as well smaller shrines to its saints.
"The latest holy man to be beatified there if there is a diminutive federal bureaucrat called Tony Fauci. Fauci is the high priest of the COVID cult. A paper mask is his sacred garment, cable television is his pulpit," Carlson added.
"The people of Washington bow before Father Fauci... they consider him holy," Carlson added in front of a mocked-up image of Fauci in religious garb above a caption that read: "Patron Saint of Wuhan." He then threw to general views of chanting and flag-wielding crowds from other unspecified events, before concluding, "A holy day indeed and they tell you the secular world isn't reverent."
Despite enjoying trust among most Americans, Fauci has not swayed the Fox anchor. Earlier this month, Carlson said that Fauci should "never work in public policy again" after it emerged that he said in January China had been "transparent" about COVID-19. He has also repeatedly questioned Fauci's advice to limit gatherings and wear masks.
Fauci this week actually offered measured praise of President Donald Trump's team and its federal push for a coronavirus vaccine. "I think the current administration deserves a lot of credit for Operation Warp Speed, for sure," he told FiveThirtyEight's podcast.
"Obviously, there have been some bumps in the road. But, in general, particularly when you look at the science and the vaccine success, that is huge. I mean, that's something that's really quite unprecedented," he said.
The graphic below by Statista shows the levels of hesitancy in the U.S. with regards to getting the COVID vaccine.