Tucker Carlson Attacks 'Woke' Companies Donating To Fight Racial Injustice
Tucker Carlson has namechecked a number of companies who have pledged to fight racial injustice in another rant against the Black Lives Matter movement.
Adidas, P&G, Walmart, EA, Anastasia Beverly Hills, and Twitter are among the companies listed by the anchor on Tucker Carlson Tonight.
The Fox News host delivered the scathing monologue Tuesday night, hitting out at what he called "woke capitalism."
Speaking about sportswear brand Adidas, he said: "They vowed to create racial quotas for hiring."
The company announced on June 10 via Twitter that they are "developing a program to ensure fair and equitable hiring across adidas – to remove hiring bias, increase representation, and create more accountability and oversight."
Carlson's take on the gesture is less than flattering however, as he deemed it both "unconstitutional and racist."
Taking aim at multinational retail corporation Walmart, Carlson said: "Walmart has pledged a staggering $100 million for an entire center for racial equity. Will they do anything for the countless communities they have destroyed with their ugly box stores filled with cheap plastic garbage from China?"
Walmart CEO Doug McMillon announced last week the company's plans to "support philanthropic initiatives that align with four key areas: the nation's financial, healthcare, education, and criminal justice systems."
Carlson then criticized multinational consumer goods corporation P&G for its $5 million donation to a fund to support existing organizations in North America.
"We don't know exactly what that means," he said.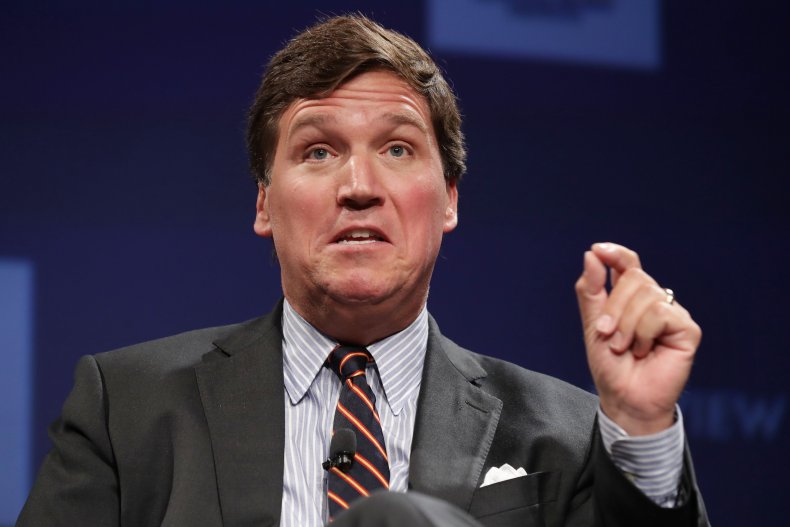 The latest rant comes as several major advertisers deserted the host last week—however, the move by the likes of Disney and T-Mobile appears to not have dented the 51-year-old's ratings.
A report by Forbes published Tuesday states that Carlson's show was the most-watched show on cable news for the week of June 8 through 14.
Carlson has been drawing increased criticism for views on the Black Lives Matter movement.
On Monday, he drew ire from fellow late-night host John Oliver, who questioned whether Carlson was a "racist or a moron" on Last Week Tonight.
"First, obviously: F*** off, Tucker, you one-man homeowner's association," he began.
"And second, that unspecified 'they' in 'what they do to you when you grow up' is doing a lot of heavy lifting there. There's basically two options for what that could mean. One, that Tucker and his viewers have benefited from a racist system that renders any specifications of who they are unnecessary; or two, that his show is a badly written piece of garbage."