Fox News host Tucker Carlson has resumed tweeting only hours after tech billionaire Elon Musk's Twitter takeover became official.
The @TuckerCarlson account tweeted, "We're back," shortly after it was announced on Monday that Musk had completed his $44 billion deal to buy the social media platform. Carlson had not tweeted since his account was temporarily suspended last month for violating platform rules by insisting that tweets referring to Assistant Secretary of Health Dr. Rachel Levine—who is a transgender woman—as a "man" were "true."
During the Monday night edition of Tucker Carlson Tonight, the host celebrated the takeover and speculated that it could be a "pivot point" in history due to Musk believing in "free speech," a stance that he said was "unlike" views held by those in charge of Facebook, Google, Apple and Amazon.
"The reason that today's sale of Twitter is big news—the reason it could turn out to be a pivot point in our history—is that Elon Musk does not agree with the rest of the billionaires in the tech business," Carlson said. "He thinks everyone should be allowed to talk. Including people who disagree with him."
Carlson then quoted and praised a Musk tweet that expressed "hope" that his "worst critics remain on Twitter, because that is what free speech means."
He also suggested that Musk could reverse Twitter restrictions on sharing views that expressed "dissent" from the administration of President Joe Biden—although no such restrictions currently exist on the platform.
"That sounds like an entirely American sentiment," Carlson said of Musk's tweet. "But in this atmosphere, that is a revolutionary posture.... Before today, you didn't have a right to express your disagreement in public."
Carlson went on to claim that "Musk's purchase of Twitter is the single biggest political development since Donald Trump's election in 2016." Trump was permanently banned from the platform for tweets during and after the January 6, 2021, attack on the U.S. Capitol.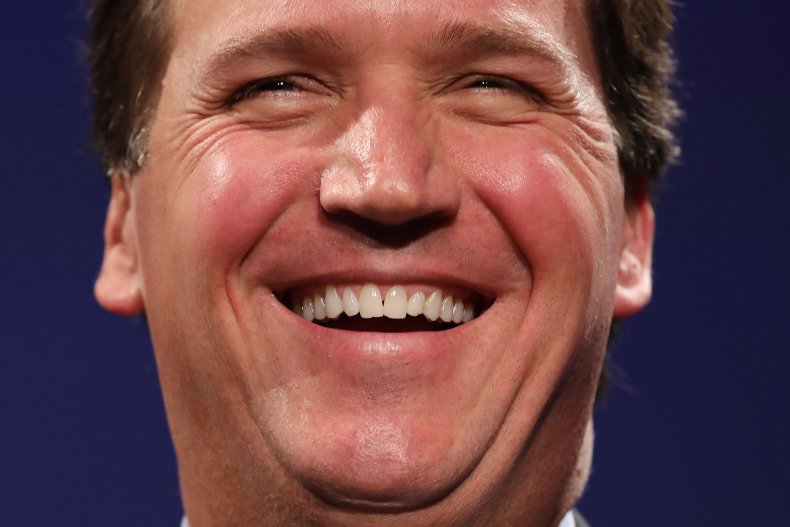 Later on Monday's program, Barstool Sports founder Dave Portnoy told Carlson that Musk was going to "bring back Trump" and "that's a lot of what people are freaking out about." Carlson responded by saying, "I think you're absolutely right."
Although conservatives have widely celebrated Musk's purchase of the platform and speculated that Trump could be reinstated to the platform, the new owner has not indicated whether he intends to reinstate any suspended accounts.
Trump, who has since launched his own Truth Social platform, has flatly denied that he has any intention to return to the platform that he frequently used before and during most of his presidency.
"I am not going on Twitter, I am going to stay on TRUTH," Trump told Fox News on Monday before the Musk announcement. "I hope Elon buys Twitter because he'll make improvements to it and he is a good man, but I am going to be staying on TRUTH."
Newsweek reached out to Twitter for comment.