Tucker Carlson Slammed by Ex-RNC Chair After Black Judge Comments
Tucker Carlson has been lampooned by former Republican National Committee Chair Michael Steele over the Fox News host's criticism of Joe Biden's choices of federal judges.
During his Monday night show, Carlson added to the condemnation from Republican figures of the president's nominations to the benches, specifically the number of appointed Black females.
Carlson suggested that Biden is not making his diverse picks based on "merit," and is "discriminating" demographics who do not vote for Democrats. Carlson dismissed the suggestion that Biden's picks are an attempt to ensure that the "people who run the country should look like the country."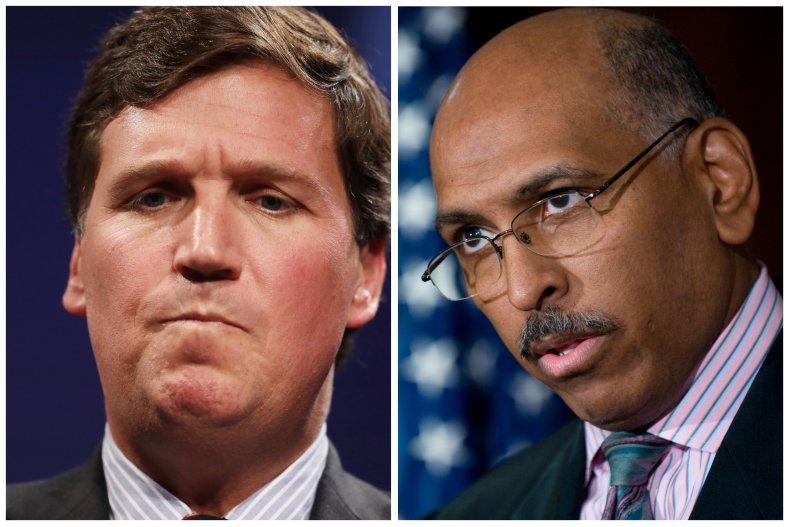 Carlson said: "That's not what it's about at all. Because no administration has ever looked less like America, just by the numbers, than the Biden administration.
"Now it's provable. Jeremy Karl at the Claremont Institute just ran the numbers. This isn't the judiciary, he found that out of 97 federal judges confirmed under Joe Biden, [the] total number of white men? Five! Twenty-two are Black women.
"So this is race-based hiring. It's illegal, but it's also not about looking like America. It's about punishing people."
In response, Steele, who chaired the RNC between 2009 and 2011, noted how Trump had also nominated several Black female judges during his time as president while also mocking the Fox News host's mannerisms.
"Tuckems, of 226 federal judges appointed by Trump the total number of Black people? 9!! (he says in that high pitched voice of someone awaiting puberty)," Steele tweeted.
"I guess those white judges were raced-based, illegal hiring that was not about looking like America but punishing people. Putz."
Steele posted the tweet along with a table comparing the ethnic diversity of judges nominated by past presidents—from Trump to Jimmy Carter.
The table showed that, of the seven previous presidents, Barack Obama (58) and Bill Clinton (61) appointed the highest number of Black justices while in office, with Ronald Reagan (7) nominating the fewest.
Others have also noted that while Biden, and Trump, have appointed Black female judges to the benches, the federal system is still overwhelmingly dominated by white male justices.
After Ketanji Brown Jackson was sworn in as the first Black woman justice of the Supreme Court in April 2022, the American Bar Association reported that of the 1,409 sitting Article III federal judges in the U.S., just four percent (59) were Black women, with 16 states having no federal trial judges of color.
While sharing a clip of Carlson's remarks, lawyer Max Kennerly also shared similar statistics noting the lack of diversity on federal benches.
"Currently sitting federal judges: 1,407," Kennerly tweeted. "White men: 779 (55.4%) Black women: 63 (4.5%)."