Ketanji Brown Jackson Confirmed to Supreme Court in Historic First
Ketanji Brown Jackson has been confirmed to the Supreme Court, making her the first Black woman to be appointed to the bench in its 233-year history.
The Senate voted 53-to-47 on Thursday to confirm Jackson, who will fill the vacancy left by retiring Associate Justice Stephen Breyer. Breyer will step down at the end of the current term, which runs through June.
The vote was nearly entirely along party lines, as only three Republicans voted to confirm Jackson, while all 50 Democratic senators voted in favor of her appointment. Senators Susan Collins of Maine, Lisa Murkowski of Alaska and Mitt Romney of Utah were the three Republicans to break with their party on the vote.
President Joe Biden announced Jackson's nomination in late February, describing her as a "proven consensus builder" and "uniquely accomplished."
"For too long, our government and our courts haven't looked like America," Biden said, "and I believe it's time that we have a court that reflects the full talents and greatness of our nation with a nominee of extraordinary qualifications, and that we inspire all young people to believe that they can one day serve their country at the highest level."
Jackson faced four days of confirmation hearings in the Senate Judiciary Committee. She endured two marathon sessions where lawmakers questioned her record as a public defender, private attorney and federal judge.
Tensions simmered between Republicans and Democrats during Jackson's confirmation hearings as GOP senators aired grievances over the past treatment of conservative judges, especially Supreme Court Justice Brett Kavanaugh. Kavanaugh was accused of committing sexual assault while he was in college and high school during his 2018 hearings.
Republicans on the panel harped on Jackson's sentencing record in cases involving child sex abuse defendants as too lenient. Jackson refuted their claims, telling them "nothing could be further from the truth."
The White House said Biden was struck during the hearings by "how she swiftly dismantled conspiracy theories put forward in bad faith." Democrats also praised Jackson for her composure and patience during the sessions.
At one point during the hearings, Jackson was moved to tears by remarks made by Democratic Senator Cory Booker. "I'm not letting anybody in the Senate steal my joy," Booker said.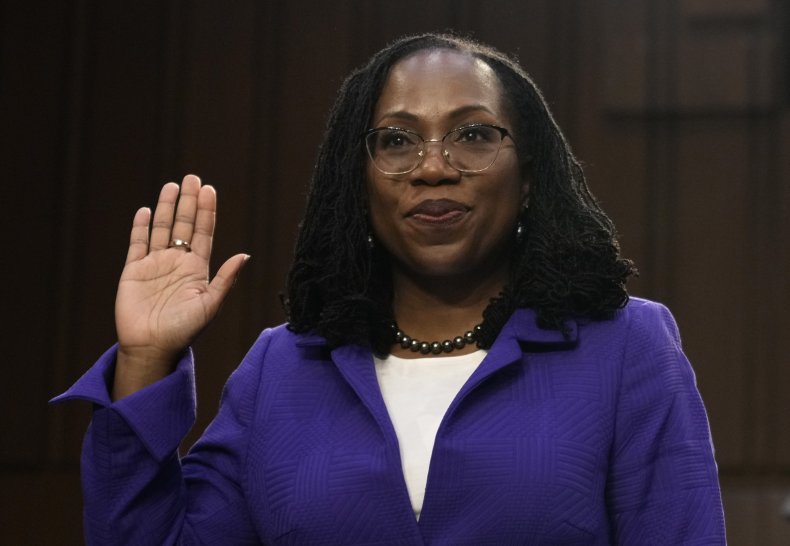 Jackson's appointment will not alter the Supreme Court's ideological makeup. The court's 6-to-3 conservative majority was cemented during Donald Trump's presidency, with the successful nominations of Kavanaugh, Neil Gorsuch and Amy Coney Barrett.
Jackson will also not be on the bench when the Supreme Court issues a ruling in the hot-button abortion case dealing with Mississippi's 15-week ban in June. As a Harvard alum, Jackson already pledged to recuse herself from an upcoming case regarding affirmative action at the university.
The 51-year-old judge has vowed to rule with neutrality and independence, noting her power is "limited" by the Constitution and adherence to precedent.
"I have been a judge for nearly a decade now, and I take that responsibility and my duty to be independent very seriously," Jackson told lawmakers during the first day of hearings. "I decide cases from a neutral posture. I evaluate the facts, and I interpret and apply the law to the facts of the case before me, without fear or favor, consistent with my judicial oath."
Jackson, who once clerked for Breyer, also said it was "extremely humbling" to be considered to fill his seat.
"I know that I could never fill his shoes," Jackson said. "But if confirmed, I would hope to carry on his spirit."