Fox News' Tucker Carlson mocked Republican Texas Representative Dan Crenshaw as he discussed his support for Ukraine, dubbing the congressman, a former Navy SEAL who lost an eye while fighting in Afghanistan, "eye patch McCain."
Carlson was discussing the plan for the United States to send Ukraine $40 billion in aid as it continues its fight against Russia, which Crenshaw supports. Carlson argued against the aid and said that the nationwide baby formula shortage should take precedent.
"Why is Congress so focused on Ukraine but you can't find baby formula, you can't even fill your truck because things in our economy are declining really rapidly," Carlson said. "Don't ask questions, according to Congressman Dan Crenshaw of Texas, asking questions like that, really any questions at all, thinking you're a citizen, makes you pro-Russia."
Crenshaw had said during an interview with Fox News' Trey Gowdy on Monday: "The arguments that our side is making is very depressing and they are almost pro-Russia. People are saying 'we can't put baby formula on our shelves but we are sending money to Ukrainians?' My response to that is, do you know how much baby formula you can buy with $40 billion? None, because it is not a money issue, it is a manufacturing issue."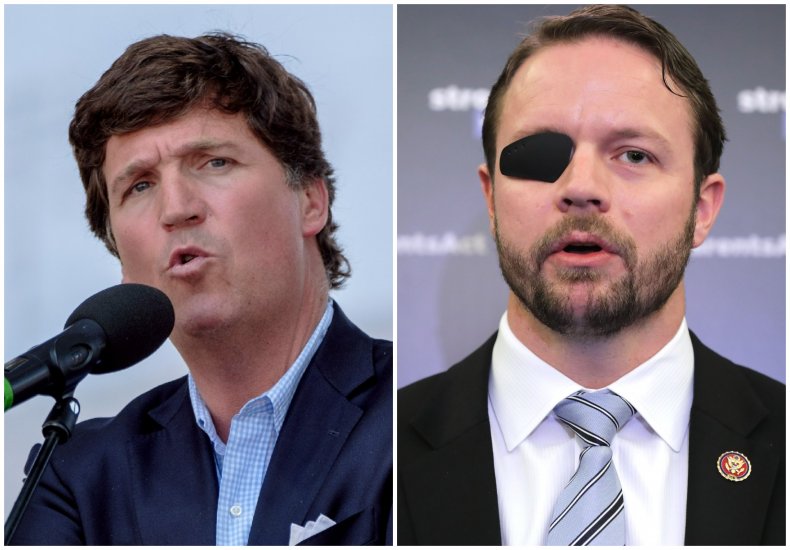 He went on to say: "It is not America first when you let Russia and China do whatever they want around the world and establish their version of a global order. That puts America last because we cannot prosper in a global order led by Russia and China."
Speaking with former Democratic Hawaii Representative Tulsi Gabbard, Carlson went on to mock Crenshaw, likening him to an iteration of the late Republican Arizona Senator John McCain.
"The more I think about it, it takes a lot of gall for eye patch McCain to attack moms who are worried about baby formula as pro-Russia," Carlson said. "That is probably one of the most outrageous things I have ever heard now that I am thinking about it. Why not just answer the question, why the attacks? What does that tell you?"
Gabbard said that there was no immediate threat from Russia and questioned why the U.S. was quick to support Ukraine.
"The reality is that there is no imminent threat to the safety, security and freedom of the United States coming to us from Russia," Gabbard said. "In fact, there is no imminent threat or even long-term threat of Russia invading Finland or Sweden. Russia can barely hold on to a small sliver of Ukraine right now, so again I ask these leaders, what is the rush."
Newsweek reached out to Fox News and Dan Crenshaw for comment.