Fox host Tucker Carlson has falsely claimed that Derek Chauvin—the former Minneapolis police officer who is serving a lengthy sentence for the murder of George Floyd—did not murder anyone.
Chauvin, who is white, pinned Floyd's neck with his knee for more than nine minutes as the 46-year-old Black man repeatedly said he couldn't breathe. A bystander's video of the killing in May 2020 triggered worldwide protests and debates about racial injustice and police brutality.
The former officer was convicted on state charges of second-degree unintentional murder, third-degree murder and second-degree manslaughter in April last year and sentenced to 22-and-a-half years in prison.
Carlson is apparently still not convinced by the verdict, however, telling his viewers on Tuesday night that "we all have to pretend [Chauvin] committed murder, which he didn't."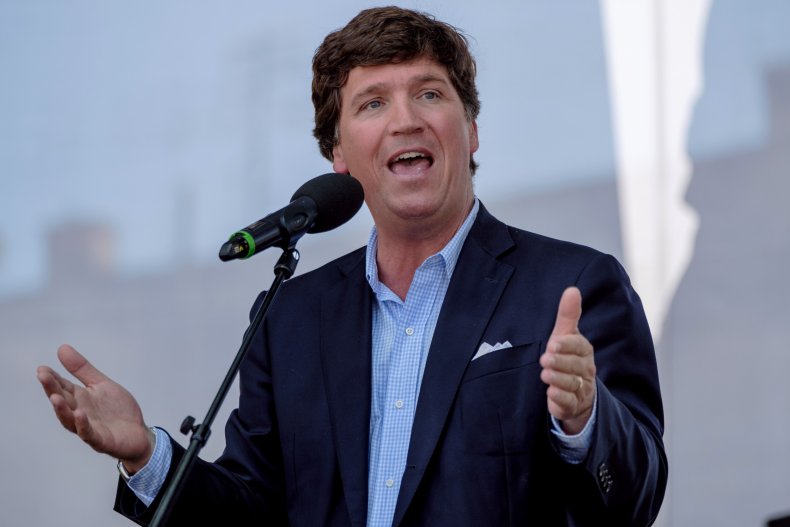 The segment began with Fox News colleague Laura Ingraham telling Carlson that she had been "stunned at how bad it is in certain parts of Minneapolis" more than two years after the unrest triggered by Floyd's killing.
In the 3rd Precinct, Ingraham said officers were "still operating out of a school. They don't even have a permanent presence, a permanent building structure in Minneapolis to this day.
"This is, like, 26 months after Floyd was killed and you can feel it in the officers. They're trying to put on a brave face and they are great people."
She added: "We're seeing burgeoning crime, violence."
Carlson then said companies such as Nike, Google and Facebook should pay to rebuild "one of America's nicest cities" since "big companies paid for these riots."
Some have helped to rebuild, Ingraham replied, adding that smaller businesses "get the short end of the stick."
She said a diner, which is below a club where Chauvin had once worked, had been "burned to the ground."
"So, I go to that same location, I said, 'Where's the rebuild?' It's just like weeds, a lot of weeds now. Nothing, nothing has been done. Shocking."
Carlson replied: "So, they destroy the city, they put this cop in prison for the rest of his life. We all have to pretend he committed murder, which he didn't, but whatever, we have to pretend it, and then they leave and they move on to the next thing to destroy. So perfect."
A clip of Carlson's comment was shared on Twitter by the Republican Accountability Project, where it has amassed more than 65,000 views and a wave of criticism.
Months before Chauvin was convicted of murder, Carlson claimed that Floyd "almost certainly" died of a drug overdose, but that "Democratic partisans used a carefully concocted myth" to advance their agenda.
However, the Hennepin County medical examiner as well as experts hired by Floyd's family determined that his death was a homicide.
Last month, Chauvin was sentenced to 21 years in prison for violating Floyd's civil rights—which he will serve concurrently with his state sentence.
Fox News has been contacted for comment.