Tucker Carlson, Fox News Doctor Discuss Viagra as Possible Treatment for COVID
Fox News host Tucker Carlson and Dr. Marc Siegel, a medical contributor with the popular cable network, discussed the possibility that Viagra could be a viable treatment for COVID-19, citing an anecdotal example and a study out of Chile.
British tabloids The Sun and the Daily Mail first reported the story of 37-year-old nurse Monica Almeida in the United Kingdom, who was on the verge of death and in a coma after contracting COVID-19 before she was given an experimental treatment that included a large dose of Viagra. While her family had been told to say their goodbyes and she was set to be taken off the ventilator keeping her alive, she recovered and now credits the erectile dysfunction drug for saving her life.
"Well, amazingly there appear to be growing connections between Viagra and treatment for the coronavirus," Carlson said in a segment of his Fox News show on Friday. He cited the story of the nurse in the U.K. and brought on Siegel, who is a professor of medicine at the New York University Langone Medical Center, to discuss the treatment.
"Who thought Viagra would save us from the pandemic?" Carlson asked.
"We're doing further investigations on it now," Siegel said, before recapping Almeida's story. "She was 72 hours away from having her respirator turned off. They gave her a massive dose of Viagra and she woke up. What might the connection be there?"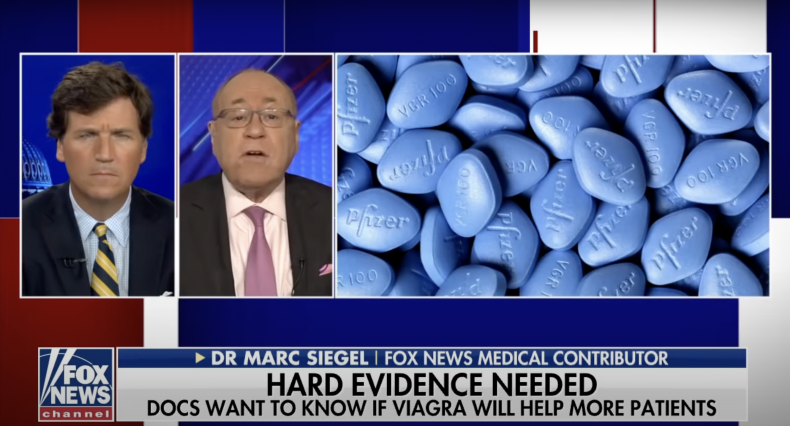 The doctor explained that he did more research. "A study just published out of Chile, in a journal called Critical Care, found that this patient studied did not go on the respirator who got Viagra. And they actually went out of the hospital sooner."
Siegel went on to explain that Viagra isn't just used for erectile dysfunction, saying it's used for "lung problems" and "improves blood flow to the lungs." He said it treats a range of lung conditions, including pulmonary hypertension and altitude sickness. "It makes something called nitric oxide," he explained, noting that COVID-19 "decreases" this molecule.
"There were several studies around the world that if you inhale that nitric oxide, your lungs did a lot better with COVID. Japan, China, Scandinavia all had studies like this showing a big improvement with nitric oxide—just what Viagra does," Siegel said.
"So, I think this is the beginning of something and other studies are going on, and I think this is a potential treatment," the doctor continued.
Ending the segment, Carlson asked: "Is there anything it [Viagra] doesn't cure?"
Almeida told The Sun for an article published January 2 that the Viagra "saved me." The nurse, who had treated COVID-19 patients, previously received two vaccine doses before she contracted the novel coronavirus.
The Daily Mail reported that she first tested positive on October 31 and was then admitted to the Lincoln County Hospital on November 9. A week later, she was transferred to intensive care. Prior to going into a coma, she agreed to the experimental treatment that included the large viagra dose.
"Within 48 hours it opened up my airwaves and my lungs started to respond," she told The Sun. Almeida said she was set to be removed from the ventilator within three days.
"If you think how the drug works, it expands your blood vessels," said the nurse, a mother of two. "I have asthma and my air sacks needed a little help."
Almeida also stressed to The Sun that the COVID-19 vaccine she received was key to saving her life as well. She was told that she would have died had she not been vaccinated.
"There are people out there saying the vaccine has killed people. I'm not denying there are people who react and get poorly with the vaccine, but when we look at the amount of deaths we have in unvaccinated people, there is a big message there to have your jab," the nurse said, urging everyone to get the life-saving shots.
A spokesperson for Lincoln County Hospital told Newsweek that recovery takes more than a single drug.
"Using sildenafil to treat pulmonary hypertension is not unusual. Sildenafil is better known by the brand names Viagra, for erectile dysfunction, and Revatio, for pulmonary hypertension," the person explained.
"A patient's recovery will not be due to one drug alone but also in combination with a number of other factors, including the skill and dedication of intensive care unit medical and nursing staff, application of the latest evidence-based therapies for COVID and vaccination against COVID," the spokesperson said.
Notably, while Viagra has not been approved by the U.S. Food and Drug Administration to treat COVID-19, other drugs have been granted approval. In October 2020, the antiviral drug Veklury (remdesivir) was approved for treating COVID-19 in adults and pediatrics patients 12 years and older. In late December 2021, the FDA granted emergency use authorization to Pfizer's Paxlovid treatment for COVID-19.
Doctors and scientists have repeatedly explained that vaccination against the novel coronavirus is the best way to prevent severe illness and death.
Newsweek reached out to Siegel for further comment but did not hear back before publication.
Updated 01/11/2022, 10:16 a.m. ET: This story was updated with a comment from a Lincoln County Hospital spokesperson.