Tucker Carlson Says Fox News Has 'Got Our Back' After Ilhan Omar Calls for Host to Be Fired
As part of the ongoing feud that's emerged this week between Tucker Carlson and Ilhan Omar, the Fox News host spent the first 20 minutes of his show Wednesday night responding to the freshman Democrats' call for him to be fired and advertisers to boycott the show due to his "white supremacist rhetoric."
Carlson claimed Omar was a "grievance monster" who "hates" the United States and, despite her advocacy for advertisers of the late-night show to cease "underwriting this kind of dangerous, hateful rhetoric," he said the network fully supported him.
"We noted at the beginning of this show that Ilhan Omar is trying to take this show off the air. Shut us up. Silence us," Carlson said. "We want to reassure you that's not going to happen. Why? Because we work at Fox News, and they've got our back, and we're thankful for that."
He went on to say the congresswoman "isn't disappointed in America, she is enraged by it."
"Virtually every public statement she makes accuses America of bigotry and racism," Carlson said. "This is an immoral racism. She has undisguised contempt for the United States and its people."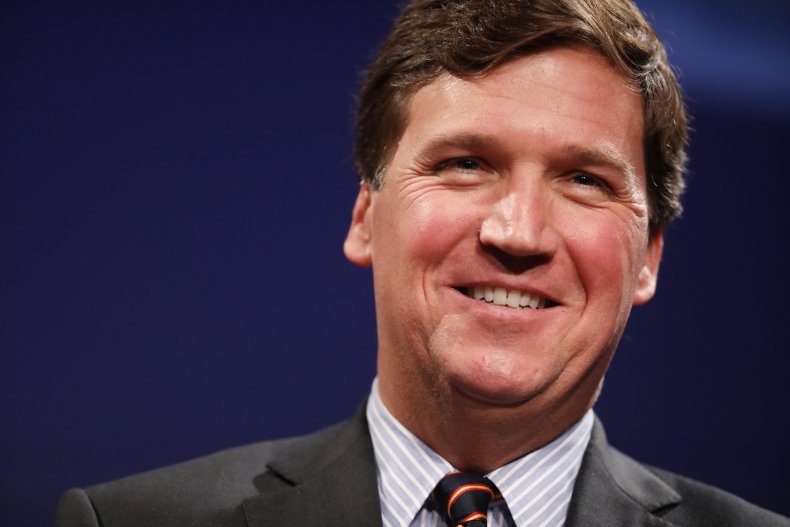 Omar has received bipartisan condemnation for previous alleged anti-Semitic comments she's made about Israel.
The tit-for-tat between Omar and Carlson first emerged Tuesday evening after the Fox News host, speaking about immigration, suggested the sitting member of Congress should not have been allowed into the United States.
As one of the first Muslim women to serve in Congress and a Somali-American, Omar fled Somalia in 1991 during the country's civil war and spent four years at a Kenyan refugee camp. In 1995, she immigrated to the United States, eventually becoming elected in 2018 as a liberal Democrat from Minnesota.
"Ilhan Omar is living proof that the way we practice immigration has become dangerous to this country," Carlson said Tuesday evening. "This is an immoral country, she says. She has undisguised contempt for the United States and for its people. That should worry you, and not just because Omar is now a sitting member of Congress."
Wednesday evening, Carlson said she "has a lot to be grateful for, but she isn't at all. After everything America has done for Omar and her family, she hates this country more than ever," he added.
Omar has criticized the Trump administration's handling of detained migrants who have either allegedly crossed the southern border illegally or are seeking asylum. Conditions at the detention facilities have become severely overcrowded, with some having inhumane conditions, including prolonged stays that exceed the maximum limit by law and a lack of beds, showers and basic hygiene products, according to internal government watchdog reports and lawmakers who've toured the facilities.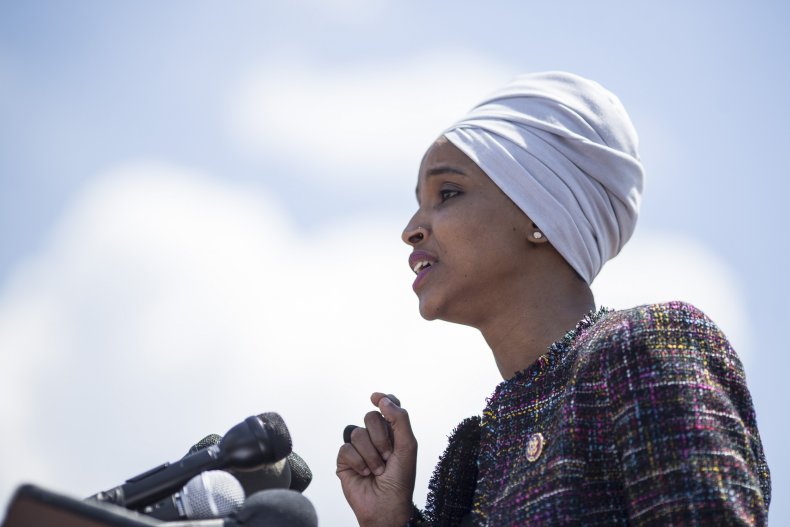 "So, be grateful for Ilhan Omar, annoying as she is," Carlson said Tuesday. "She's a living fire alarm, a warning to the rest of us that we better change our immigration system immediately, or else."
Omar hit back Wednesday, telling reporters she believed Carlson was a "racist fool" and that advertisers should pull funding from his Fox News show.
"It's disappointing to see Fox News give a nightly platform to the white supremacist rhetoric that's coming from the likes of him," she said. "I truly believe he is a racist fool who is weeping about the fact that we have an African-born member of Congress, the kind of people that the likes of him think come from shithole countries."
Omar was referencing controversial remarks reportedly made by President Donald Trump about African countries last year. The Washington Post reported at the time that during private immigration talks with GOP Senator Lindsey Graham and Democratic Senator Dick Durbin, Trump questioned why the U.S. would desire immigrants from "shithole countries" rather than from places such as Norway.
"And the fact that [Carlson] doesn't get the opportunity to ban me from this country—and now he gets to call me a 'congresswoman'—I'm sure this pisses him off," Omar continued. "But he'll eventually get used to it. And I think that advertisers should not be underwriting this kind of dangerous, hateful rhetoric."
Correction, 7/11 at 3:30 p.m.: This story was corrected to state that Rep. Ilhan Omar represents Minnesota and not Michigan.