Tucker Carlson and the Liberal Outrage Economy Need Each Other
Tucker Carlson and his many adversaries love to talk about hating each other. And while each side wears mutual loathing with pride, another reciprocal feeling is something they might be less willing to discuss: Need.
Together, the two sides trade-off in an economy of rage. Each side is able to use the other not only for ideological ends but lucrative financial ones too, worth millions of dollars.
The Fox News host's long list of controversies continues to grow, a new talking point pounced upon by social media after every appearance. There have been several moments of intense backlash and calls for him to be fired in recent months. The latest furor has followed comments in which he suggested members of FBI could have been involved in organizing the deadly riot at the U.S. Capitol on January 6.
Carlson's influence on the day's discourse is hardly surprising given the scale of his audience. Tucker Carlson Tonight was the most-watched cable news show in the U.S. in April and in May, according to Nielsen figures reported by Adweek.
For those who don't watch live, there are always the clips that go viral on social media soon after the broadcast, catapulting Carlson's reach well beyond his Fox audience—even if many people are sharing them with outrage rather than agreement.
The Tucker Carlson Paradox
In a recent op-ed titled "cancel culture is a gift to the right" published by Spiked, author and lawyer Wendy Kaminer said: "Carlson's notoriety, nowadays a key measure of success, depends in no small part on the outrage he regularly elicits from liberals."
Therein lies the paradox of the apparent attempts to cancel Carlson: They provide him with the spotlight he craves and the ammunition for his rhetoric.
"By making controversial statements that invite scorn from the left, he [Carlson] accomplishes twin goals," Kevin Arceneaux, professor of political science at Temple University and co-author of Changing Minds or Changing Channels? Partisan News in an Age of Choice, told Newsweek.
"He draws in audiences of people on the far right who nod along with him while holding up the criticism of him that he provokes as evidence for his claim that 'cancel culture' is running amok."
Arceneaux suggested two reasons why liberals and leftists have not stopped their frequent criticism of Carlson, both so publicly and vehemently, even if their anger is serving largely to boost his presence online.
One is that people perhaps "cannot help themselves from responding to comments that they see as so reprehensible that they must be called out."
And the second is the beneficial aspects of their combative relationship work both ways; some "see Tucker Carlson as a useful lightning rod to advance their own agendas."
On who comes out of that arrangement for the better, Arceneaux said it is "hard to say what the effect is on balance."

Dan Cassino, professor of government and politics at Fairleigh Dickinson University and author of Fox News and American Politics: How One Channel Shapes American Politics and Society, also suggested each side benefits in some way from the conflict.
"He [Carlson] is useful to his political opponents because he's such an obvious troll: The idea that he's a victim is laughable, so he makes it easy to criticize dubious claims of victimhood by associating them with him," Cassino said.
"This becomes a symbiotic relationship: Criticizing him makes their points, and their criticism makes his argument for him. After all, if the wrong people are criticizing him, he must be saying the right things."
The Shield and Spear of Cancel Culture
Discussing cancel culture is both a way for Carlson to shield himself from attack and also to pull more listeners in, Cassino added.
"When Carlson—or other hosts—talk about 'cancel culture,' he's doing a couple of things. It's partly a survival strategy, helping to fend off criticism. It's also an outreach strategy," Cassino said.
Cassino outlined several ways in which Carlson can utilize arguments against cancel culture.
"First off, he's inoculating himself and others against accusations of racism, homophobia, transphobia, etcetera by claiming that such criticisms are invalid on their face," Cassino said.
"It's not a rejection of a specific criticism so much as a rejection of criticism in general: Cancel culture is invalid, and any criticism of me or my allies is cancel culture, so any criticism is invalid. This also helps explain why 'cancel culture' is such a conceptual mess."
He added that it also follows a "long pattern of using 'the media' as a foil."
"The underlying argument is that the media is controlled by leftists elites, so any criticism of conservatives is ideological, not factual," Cassino said.
Another use for Carlson is to "establish a claim to victimhood."
The Rhetorical Judo of Victimhood
"This is kind of a remarkable piece of rhetorical judo. Victimhood carries with it a degree of moral superiority, which gives oppressed groups in society an advantage in debates," Cassino said.
"To overcome this, Carlson and others have to claim that they're the true victims, that society is biased against them."
Cassino also said Carlson's approach may appeal to religious conservatives.
"Talking about cancel culture, and specifically linking it to religious or traditional values, is a way of appealing to groups looking for reasons to believe that they're being oppressed, which is a sure sign of their virtue," he said.
"These arguments are really necessary to Carlson's appeal. Very much like Trump, he's an unlikely spokesman for oppressed people of any stripe, but using the category of 'victim of cancel culture' means that he can make common cause with anyone else who feels like the media, or elites, or whoever is criticizing them or leaving them behind."
On those persisting with criticism of the cable star, Cassino said: "It almost doesn't matter what you criticize Carlson for: It's a game of Three-card Monte. You don't lose when you make an attack on him, you lose when you choose to engage at all."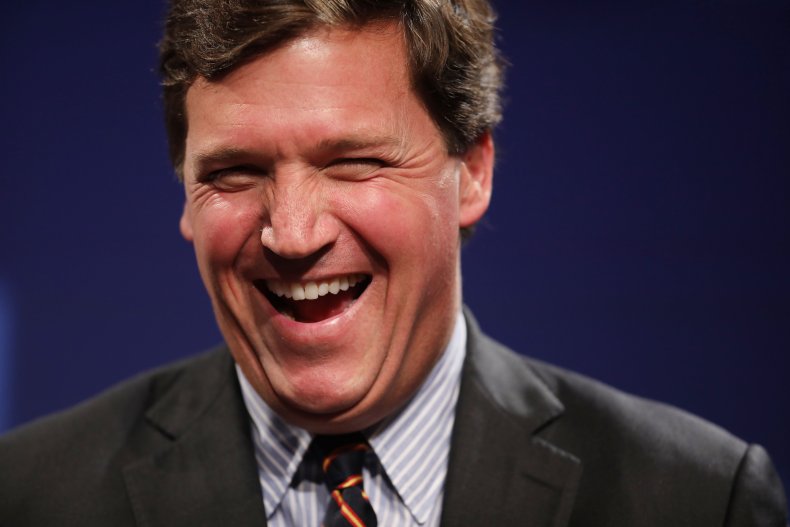 The Outrage Economy
The scorn aids Carlson's ideological goals, but there's also the financial advantage of garnering such attention.
According to Nielsen ratings reported by Adweek, Carlson's Tucker Carlson Tonight saw an average of 3 million total viewers per broadcast in April. His figures surpassed those of The Five, Hannity, The Rachel Maddow Show, and The Ingraham Angle.
In May, there was a slight decline from this—with an average of 2.9 million total viewers. However, Tonight remained the number one cable news show.
With that level of success comes a multimillion-dollar salary. According to the book Hoax by CNN's Brian Stelter, this stands at $10 million a year.
Along with viewers, there's also the ad money Carlson's shows take in for the network. TV[R]EV, a group of analysts who cover the television and advertising industries, looked at those who spent money on Carlson's slots in the first quarter of the year, and suggested in a report they "read like...less of a primetime roster."
However, it also noted that advertisers were sticking with him despite the cycle of furor and suggested that as long as he remains profitable to Fox News he's likely to maintain his presence with it.
"While Carlson continues to peddle his brand of hate, he keeps coming under fire," the TV[R]EV report concluded. "But with brands continuing to support him—and even coming aboard after various incidences—it doesn't appear that he'll be going anywhere. That's unlikely to change as long as Fox News is able to continue profiting from what he's selling."
Michael Hiltzik, who won a Pulitzer for his work covering corruption in entertainment, asked in a recent column for The Los Angeles Times: "How does his show survive without major advertisers?"
Hiltzik called Carlson "the undisputed star of Fox News Channel," yet "the advertising lineup of Carlson's show displays virtually no class at all."
He concluded: "At this stage, it appears that Carlson's audience draw may be more important to Fox than his advertising."
While Carlson's revenue in ads may have dropped, last June the network asserted in a statement to Variety that "all national ads and revenue from Carlson's show have moved to other programs."
The show might have lost advertisers, but the network itself seems to have retained them. Fox also earns more from cable fees than advertising, another reason the draw of its star host could still outweigh the cost of lost ad opportunities on the show.
Moreover, Carlson's fame can be used as a draw for its $5.99-a-month streaming platform, Fox Nation, which will also broadcast Carlson's show on-demand the day after it airs. Fox Corp CEO Lachlan Murdoch in May spoke of Fox Nation having a 40 percent increase in subscribers since February. In a third quarter earnings call, he attributed this growth to content such as Carlson's video podcast.
The Symbiotic Relationship
Carlson may get a boost every time his adversaries blow up a controversy over his show, but they often benefit too, using these moments as a catalyst for fundraising from the outraged.
Progressive political group MoveOn, for example, recently sent out fundraising emails focused on Carlson's popularity and size of his audience, calling for donations to "fight back" against him.
"Videos featuring Carlson's comments doubting the effectiveness of COVID-19 vaccines are spreading like wildfire on social media, with one clip viewed nearly 6 million times on Facebook alone," the email said, though part of that wildfire is fanned by Carlson's critics.
"Carlson has become the tip of the spear of the powerful right-wing media machine, the de facto leader of the racist, conspiracy-loving, pro-Donald Trump far right—and we need to fight back."
Media Matters for America, which describes itself as "the nation's premier progressive media watchdog," also regularly focuses on Carlson. At least 30 articles on its site in May referenced the host.
The site has a dedicated page titled Here's how you can take action to hold Tucker Carlson accountable—urging people to contact his advertisers and Fox News' advertisers to raise issue with his output.
The group's total revenue was $14,164,151 in 2019, according to its Form 990 for that year—the latest which is publicly available.
Of that $14,104,653 came through contributions. The group paid out $6,772,542 in salaries, other compensation and employee benefits that year.
Its fundraising page features the Fox News logo, in imagery highlighting the groups the organization aims to stand against. Media Matters declined to comment for this article when contacted by Newsweek.
As well as bodies such as these taking aim at Carlson, and pulling in donations as a result, there are also his adversaries among left-leaning media outlets who focus on the host.
Sites such Daily Kos, PalmerReport and Crooks and Liars take aim at Carlson in articles, pointing to remarks made by him on air. Each carries advertisements on their pages, meaning clicks for Carlson news generate ad revenue.
Rep. Ted Lieu, a progressive California Democrat, also recently turned Carlson's criticism of him into a fundraising effort.
"Tucker Carlson's attack on me ended with a maniacal laugh, like a Batman villain," Lieu tweeted in April. "You know what will really offend Tucker and get him to lose his mind? Donating $5 so I can keep fighting—and keep making Tucker laugh like a maniac."
Carlson's political supporters have also used his name to raise money. Mother Jones reported in April that the Republican National Committee sent out an email which said: "Do you watch Tucker Carlson? He's absolutely right."
The email went on to raise Carlson's attacks on "cancel culture," calling on people to take a membership to boost resources and "STOP the Radical Left."
The Right to Be Controversial
Carlson was embroiled in several controversies over comments he made in April.
The Anti-Defamation League (ADL) sent a letter to Fox News in April urging the network to part ways with Carlson following comments he made claiming Democrats want to "replace the current electorate" through immigration.
Fox Corp CEO Lachlan Murdoch responded that the network stood by Carlson.
Carlson's suggestion that children wearing face masks amid the COVID-19 pandemic constituted child abuse also prompted outcry.
Then, remarks he made on COVID vaccines—including that "maybe it doesn't work"—came under scrutiny, with Dr. Anthony Fauci among those to take issue. Fauci called Carlson's comments "a typical crazy conspiracy theory."
Author and lawyer Wendy Kaminer, writing in Spiked, referenced ADL's criticism of Carlson and said she was not "deriding the merits" of it. However, she added: "But the merits of a demand to cancel Carlson are or should be beside the point for his liberal critics.
"He has a right to what they regard as his bigotries, and his show will live and die by its ratings, which their expressions of outrage can only enhance."
In a statement to Newsweek, a Fox News spokesperson referred to Carlson's ratings and addressed his advertising revenue.
"Despite an onslaught of politically motivated criticism, Tucker Carlson Tonight remains the highest-rated cable show in America, with year-over-year advertising revenue rising in each of the past three quarters, while Fox News has enjoyed both record advertising revenue and multiple historic ratings milestones throughout the past year," the statement said. Newsweek asked for figures related to the remarks on advertising.