Tucker Carlson Makes Wild Claim in Deaths of Tyre Nichols, Ashli Babbitt
Fox News host Tucker Carlson has claimed that deceased Capitol rioter Ashli Babbitt was "murdered" by police, while denouncing those who were "weeping" over the fatal police beating of Tyre Nichols.
Nichols, a 29-year-old Black man and father, was killed after being brutally beaten by five officers following a traffic stop in Memphis, Tennessee, this month. Babbitt died after being shot by an officer inside the Capitol as she was attempting to climb through a broken window toward an area holding members of Congress on January 6, 2021.
During the Friday night edition of his opinion show Tucker Carlson Tonight, Carlson played police video of the Nichols beating and accused Democrats and the media of attempting to "inflame racial hatred" over the death as part of a "highly aggressive propaganda campaign" to gain more "power."
Carlson went on to argue that Babbitt was "far more clearly" the victim of murder than Nichols, despite her death having been ruled a justified use of police force after repeated investigations. The officers involved in the fatal beating of Nichols were charged with multiple felonies including murder on Thursday.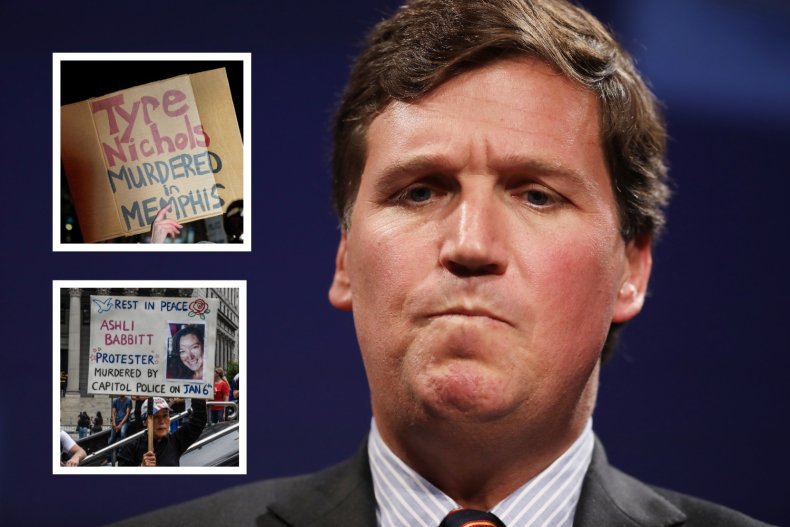 "The very same people who are weeping on television about police brutality applauded when one of Nancy Pelosi's officers murdered an unarmed woman called Ashli Babbitt," said Carlson. "Yes, murder. That's exactly what that was. Far more clearly than anything you just saw in the videotape we played."
"The point of this is to federalize local law enforcement," he added. "Obviously, it's never about saving anybody's life. It's about accumulating power. But there are a lot of nuances here that are hard to untangle in real time."
Earlier on the show, Carlson argued it was not possible for race to be a factor in the death of Nichols since all of the officers involved were Black.
Carlson suggested that an "evil" plan to help Democrats by inflaming violence over the killing was being "coordinated on both coasts" by antifa, a loosely connected but largely unorganized network of anti-fascists.
During a broadcast earlier this month, on the two-year anniversary of the Capitol riot, Carlson argued that the death of Babbitt was "by far the most significant thing that happened at the U.S. Capitol building" on January 6, 2021.
Babbitt has become a venerated figure on the far-right in the years since she and other supporters of former President Donald Trump breached the Capitol as part of an ill-fated attempt to keep Trump in power by stopping the certification of President Joe Biden's 2020 election win.
An internal review by U.S. Capitol Police in 2021 found that the shooting of Babbitt was justified and may have prevented members of Congress and Capitol staff from being killed by rioters.
A Department of Justice investigation in the same year also found "no evidence" of any wrongdoing by the officer involved and was closed without any charges being filed.
Newsweek has reached out to Fox News for comment.