Tucker Carlson 'Aiding and Abetting the Enemy' With Russia Remarks—Vindman
Fox News' Tucker Carlson has been criticized for his comments on the war in Ukraine and has been accused by retired U.S. Army Lieutenant Colonel Alexander Vindman of "aiding and abetting" Russia.
Vindman, the former director for European Affairs for the United States National Security Council and the whistleblower who testified in President Donald Trump's first impeachment trial, took to Twitter to question how Carlson would justify his latest comments if the U.S. got into a war with Russia.
Earlier this week, during his show, Carlson said Democrats believed that Russia was the reason that Trump got elected in 2016, and said that President Joe Biden's administration wanted to destabilize Russia as a form of payback.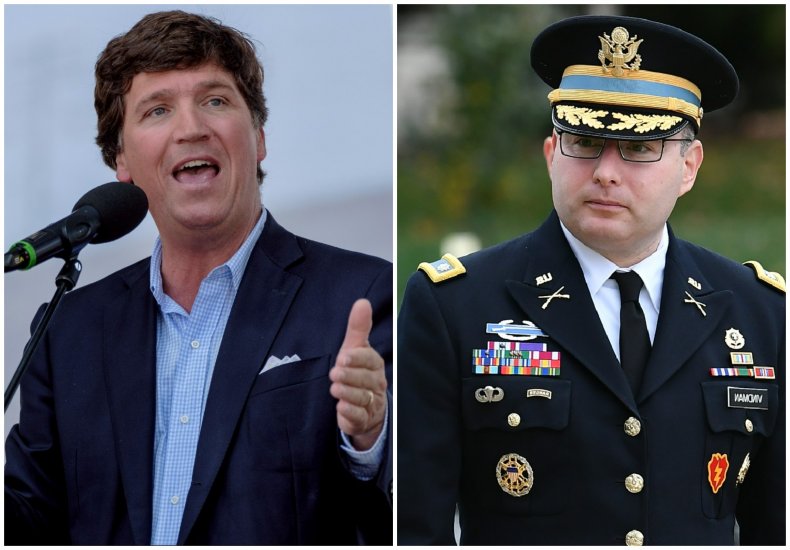 Snippets of Carlson's comments were played on the Russian program 60 Minutes, according to The Daily Beast's Julia Davis.
"Tucker Carlson's latest performance is an especially big hit in Moscow," Davis tweeted as she shared a video that she said was from a Russian broadcast.
"State TV propagandists loved it so much, Russia's 60 Minutes included it not once, but twice in their evening broadcast, neatly bookended by the Kremlin's war propaganda. Here's one of those clips."
"Tuckyorose Tucker Carlson aiding and abetting the enemy. It was all fun and games until Russia attacked Ukraine with the confidence that Tucker and the far-right marionettes would fall in for Russia," Vindman said as he shared Davis' tweet.
"How will Tucker justify his actions when America is dragged into a hot war?"
Vindman previously served under Trump's administration and offered key testimony regarding the former president's involvement with Ukraine during House impeachment proceedings in 2019.
In February, before the war in Ukraine broke out, Vindman accused Trump's political allies of "fanning flames" and encouraging Russia to invade.
"These people and a great deal of the GOP leadership will have blood on their hands. They're fanning flames, encouraging Putin to attack Ukraine," Vindman tweeted. "Putin and his regime perceive opportunities because such fools suggest the U.S. is weak, divided, and distracted."
Along with his statement, he shared a video of Republican Rep. Marjorie Taylor Greene falsely claiming that Hillary Clinton received the majority of her financial donations from Ukraine during her presidential run in 2016.
In previous tweets, Vindman has criticized both Carlson and Trump and said they are partly responsible for suffering in the Ukraine War.
He also mocked Carlson by using the hashtag "TuckyoRose" in reference to World War II propaganda broadcasters.
The broadcaster, Tokyo Rose, was a code name used by American troops during World War II to refer to English-language radio broadcasters who would spread Japanese propaganda.
The broadcasts were targeted toward Allied soldiers stationed in Japan in an attempt to demoralize and depress them.
"Now #Tuckyorose Tucker Carlson and Trump will forever be tied to the immense human suffering, including American casualties resulting from Putin's war on Ukraine," Vindman wrote in a tweet on February 23.
"You have blood on your hand. Putin saw an opportunity to attack America because you weakened us and cheered him," Vindman tweeted.
Newsweek has contacted Fox News for comment.
Update 5/5/22, 8:29 a.m. ET: This article was updated with additional information.