Tucker Carlson Called 'Alleged American' by Newsmax Host Over Russia Stance
Newsmax's Eric Bolling criticized Tucker Carlson in response to Russian state media using clips from the Fox News host's show that allegedly show support of Russia's war on Ukraine.
Speaking on his show on Monday, Bolling called Carlson an "alleged American" and said he was cautious of any actions that could lead to World War III or nuclear war.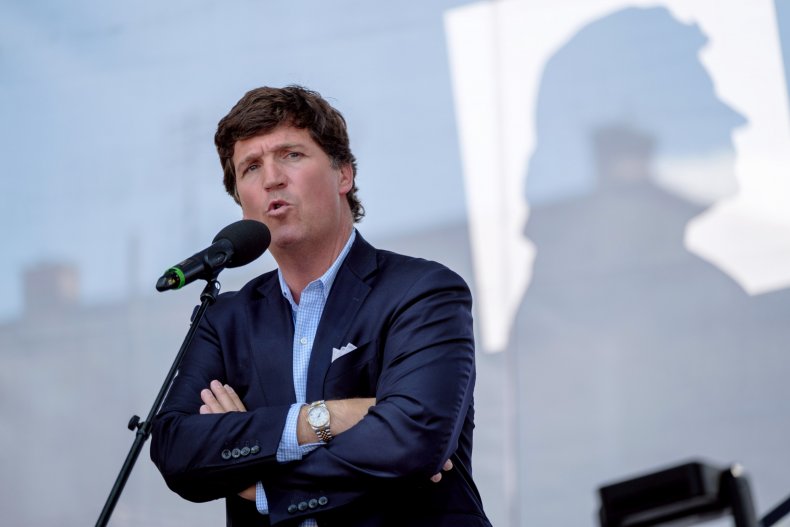 The Newsmax report also made reference to the Newsweek article that was released on Sunday that highlighted Russian state TV's use of Carlson clips in their shows.
Russia has tried to galvanize citizens into supporting the conflict in Ukraine as the country has faced further resistance from its citizens following an announcement by President Vladimir Putin.
On Wednesday, in a pre-recorded speech, Putin said there would be a "partial mobilization" against Ukraine and that more Russians would be sent to the country.
"I am very worried about a world war, a nuclear World War III where nobody wins," Bolling said on his show.
"So when I see a fellow conservative making statement that could incite a world war, a nuclear war, I have to call him out.
"When I see our arch enemy Russia and the sociopath Putin using that same conservative for Propaganda," said Bolling, "you should know about it and maybe get to him and tell him to stand down."
"It turns out Russian state media are using clips of Fox News' Tucker Carlson to support Vladimir Putin's war efforts in Ukraine."
Bolling then played a short clip from Russian television where the guests are commenting on a clip from Carlson.
"That is Russian state media using Tucker Carlson, alleged American, as propaganda to make their case that Russia is the victim."
Bolling also warned of the dangers of suggesting Russia was the victim, not the aggressor, in the ongoing conflict.
"Last Thursday, Tucker Carlson again blamed Ukraine for starting the war," Bolling said. "And he continues to claim America should cut off all funds and military support to Ukraine."
Bolling then aired a clip of Carlson from the previous week where he said Ukraine could not hope to beat Russia.
However, Bolling said, after doing his own research, that a Ukrainian aide in actuality said that the country hoped its nuclear-armed allies would strike as a response to Russia's use of nuclear weapons, not as a pre-emptive attack.
Since the beginning of the war on February 24, Carlson has been criticized by people on both sides of the political spectrum for his defense of Putin and Russia.
Less than a month into the conflict between Ukraine and Russia, Carlson defended the criticism he had been receiving.
In March, Carlson said that if he was "repeating Russian talking points," then so was Mr Zelensky.
He added that, at the time, Ukrainian President Volodymyr Zelensky's opinions regarding Ukraine's membership in NATO had shifted.
Carlson said that Zelensky cooled on this idea, potentially to allow for peace talks with Russia in the future.
"So, what does that mean?" Carlson said. "It means that by acknowledging that NATO expansion is what Putin seems to care about most. And so when he [Zelensky] is by definition, at least in this country, repeating Russian talking points, that would make the president of Ukraine a Putin collaborator.
"Anyone who says that is immediately denounced as a tool of Russian propaganda. Sound insane? Then you can still think clearly, but that's the state of play."
Newsweek has contacted Russia's Ministry of Foreign Affairs and Fox News for comment.