Zelensky NATO Compromise With Putin Hinges on West's Unlikely Participation
Negotiations between Russia and Ukraine to end the war could hit a significant roadblock if Ukrainian President Volodymyr Zelensky holds firm in his demand for security guarantees from Western nations, something countries may not be willing to give.
Russian President Vladimir Putin used NATO's expansion and Ukraine's desire to become a member of the group to justify the invasion of Ukraine, arguing that Ukraine was a direct threat to Russia. While Zelensky's backed down on Ukraine's need to join NATO, opening the door to compromise with Russia, he's only agreed to give the pursuit of membership up if Western countries help guarantee Ukraine's survival and so far, countries haven't publicly backed the deal.
"I don't see the U.S. giving a commitment that would result in U.S. forces on the ground outside the NATO framework," retired Lieutenant General Robert Ashley, former director of the Defense Intelligence Agency, told Newsweek. "I think the U.S. is going to want to maintain maximize flexibility to address any future actions by Russia, if and when, we get to the discussion on the conditions to cease hostilities."
While the U.S. and other NATO member states have sent military equipment and humanitarian assistance to Ukraine and Western leaders have publicly denounced Putin's invasion and slapped unprecedented sanctions on Russia, they've refused to close the air space over the country despite Zelensky's impassioned pleas and rejected his calls to become further involved in the conflict.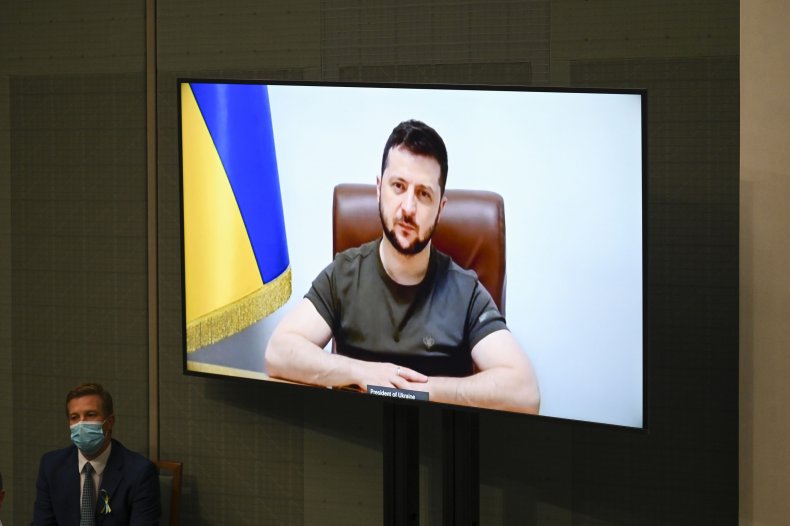 The U.S. is treading lightly with regard to Ukraine, helping Zelensky as much as it can without escalating tensions to a point where America becomes drawn into a direct conflict with Russia. It's a move that Zelensky has criticized as being driven by fear of Putin, but a stance that all NATO member states have taken.
With President Joe Biden's "hard-line" being that America won't get involved unless a NATO member state is attacked, Daniel Fried, the former assistant secretary of state for Europe who is now at the Atlantic Council, said it may put constraints on what the U.S. will give in terms of security guarantees. While the U.S. might not go as far as Zelensky wants, Fried said it's "conceivable" Biden would be open to some sort of agreement that could possibly include peacekeeping forces on both sides of the border.
"This is something that we may have to consider that's not easy," Fried said. "It's tough for the president."
German Chancellor Olaf Scholz told Zelensky during a recent phone call that Germany will act as a security guarantor, according to spokesperson Steffen Hebestreit. However, Hebestreit didn't speculate about whether that role would also include a military component and British Prime Minister Boris Johnson ruled out NATO-level guarantees.
Speaking to Parliament on Wednesday, Johnson agreed that allies need to do a "total rethink" of how to protect Ukraine and other former Soviet states from Russia. He suggested bolstering their defenses with NATO weapons but indicated that Ukraine shouldn't expect the same level of protection NATO member states have under Article 5 of the NATO charter.
Established in the aftermath of World War II, collective defense is at the heart of NATO's mission and Article 5 decrees that an attack against one NATO member is an attack against all. Ashley noted that it doesn't require allies to commit ground troops to a conflict involving a member state and leaves each member nation to determine its level of commitment. However, Article 5 is seen as a significant deterrent against attacks on member states because aggressors must consider the repercussions if all 30 members committed their military might to the fight.
Since the invasion, the majority of NATO members have rebuked calls to commit NATO-level defenses to Ukraine, a non-member state, so even that level of security guarantee could be hard to obtain. And, Zelensky may be looking for even more than countries already don't want to give.
David Arakhamia, leader of Zelensky's faction in the Ukrainian parliament, said on Tuesday that the Ukrainian president wants security guarantees stronger than NATO's Article 5, according to the Kyiv Independent. Under the proposal Ukraine put forward during negotiations with Russia in Turkey this week, guarantor countries would have three days after the beginning of military aggression to consult with each other. They would then provide certain military aid to Ukraine through ground troops, weapons and protecting Ukraine's sky—a sticking point for Zelensky in the current conflict given Russia's superior aerial forces.
Laura Kennedy, former deputy assistant secretary of state, was skeptical that Ukraine could "square that circle" with regard to security guarantees given America's already weariness about becoming directly involved in the conflict. Despite Congress' widely shared belief that the U.S should help Ukraine, Kennedy didn't see members of the Senate, "the place where treaties go to die," backing a legally binding agreement.
"We have arms control treaties, nonproliferation treaties that have been languishing there for years," Kennedy said. "It's a very tough thing to get through Congress in any circumstance."
Political guarantees or assurances would be far easier for the U.S. to give, but is unlikely to be something Zelensky accepts if he has to give up NATO membership, as it could weaken Ukraine's defense against future attack. Kennedy speculated there might be somewhere in between the security guarantees Zelensky wants and a political assurance, but she still wasn't entirely confident the U.S. would sign onto it.