Ukrainian resistance to Russian aggression has proven critical in warding off Russian President Vladimir Putin's forces, but that same national fervor puts Ukrainian President Volodymyr Zelensky in a tight spot when it comes to compromises that could end the war.
Russia has suffered massive losses in the war against Ukraine and has made surprisingly little progress in the five weeks since Putin launched the attack. After failing to quickly crush Ukrainian forces, Russia has pulled back on some of its demands, but Zelensky will have to work hard to convince Ukrainians that ceding anything to Russia is the right move.
"Zelensky has impressed his country as a wartime leader, but it'll be a political problem if he tries to sell a deal that isn't that good," Daniel Fried, the former assistant secretary of state for Europe who's now at the Atlantic Council, said.
A national hero that's captured the world's admiration, Zelensky worked tirelessly to motivate Ukrainians to maintain the fight against Russia. He's called the war a battle for the world's freedom and rallied people around the message that Ukrainians are holding their own against Russia despite their underdog status.
At this point, Fried said, Ukrainians realize they have a shot at winning "by not losing" and that their immense sacrifices have meant something. With that mentality, he questioned, "what are Ukrainians going to want to give up?"
It's a question Ukrainian Parliament Member Inna Sovsun posed on Twitter, as well. On Monday, she acknowledged that the Donbas region and Crimea were on the negotiating table and that some people may see it as a small concession to achieve peace. However, she asked people to consider what regions in their own countries they'd be willing to sacrifice if Putin started bombing their cities.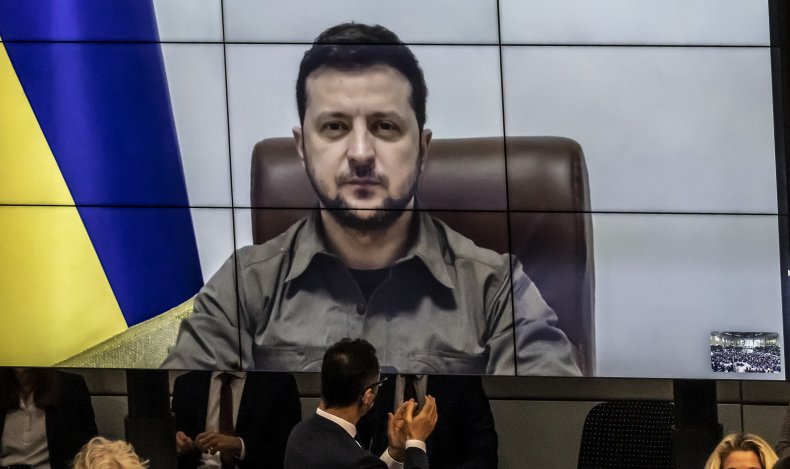 Moving away from the "denazification" of Ukraine that Russia used to justify the invasion, Russian Defense Minister Sergei Shoigu said Russia's "main goal" is the liberation of the Donbas. But, negotiating away territory, a move that could be seen as infringing on Ukraine's sovereignty, won't be easy for Zelensky, Michael Kimmage, history professor at Catholic University and fellow at the German Marshall Fund, told Newsweek.
It's possible Zelensky could offer a compromise on parts of the Donbas that were Russian-controlled before the current invasion. That might not be enough to satisfy Putin though and Russia is likely to try to take total control of the region, which means sacrificing Mariupol, a key Ukrainian coastal city that's been ravaged by Russian troops.
"It would be very difficult for Zelensky to concede and his people would be very upset. That's Russia, in effect, winning part of the war and an almost intolerable outcome," Kimmage said. "It's completely a political tightrope."
Walking that tightrope comes with higher stakes now than it did years ago, but it's a balance Zelensky has had to strike since winning the presidency. In 2019, he campaigned as the candidate for peace in Donbas, a region that's been embroiled in conflict since 2014.
Achieving the peace that Zelensky promised as a candidate has been very difficult, and it's possible Ukrainian valiance, combined with Russian brutality in the war, will make fulfilling that campaign promise even harder.
While Russia's dominated Crimea for years, its annexation isn't seen as legitimate in the eyes of the west or Ukraine. Despite the area being under dispute for years, Andrew Lohsen, a fellow in the Europe, Russia, and Eurasia Program at the Center for Strategic & International Studies, said it'll still be difficult for Zelensky to negotiate a solution that involves officially surrendering Crimea to Russia.
Although he can't permanently cede the territory, Lohsen said it's possible that Zelensky could effectively put Crimea under Russian control to maintain the status quo.
"It's the agree to disagree option," Lohsen said. "He'd bypass this thorny issue to the greatest extent possible and both sides would agree to come back to it later. It's the best he can hope for."
Zelensky committed to putting compromises with Russia up to a referendum so the Ukrainian people can decide their future. While it shields the Ukrainian president from the fallout, Yuri Zhakov, an associate professor at the University of Michigan, said the referendum is likely to fail unless there's a significant shift in public opinion. Russians likely know Ukrainians aren't going to vote in favor of the compromises, so, Zhakov said, Zelensky has to convince the Russians that Ukraine is serious about neutrality, while simultaneously making the case to his constituents.
Zelensky's most promising area for compromise is giving up prospects of joining NATO. He's already publicly acknowledged that Ukraine's membership is unlikely and experts believe it's something the Ukrainian people could get behind. That compromise has to come with significant security guarantees though, another hurdle that Zelensky will have to clear.
Assuming Zelensky could lock down those security guarantees, Fried said the argument Zelensky could make to his people about the compromises is that it's a "bitter pill to swallow" but necessary for the sake of the nation.