Tucker Carlson Says Maxine Waters 'Guilty' of Greater Incitement of Violence than Donald Trump
Tucker Carlson claimed Monday that Rep. Maxine Waters (D-Calif.) had incited more violence than former President Donald Trump following her controversial comments at a Black Lives Matter protest over the weekend.
Carlson made the remarks on the latest edition of his Fox News opinion show Tucker Carlson Tonight. He said that Waters was a shameless supporter of "mob violence for political ends" while highlighting her saying that "riot is the voice of the unheard" in 1992 as riots raged in Los Angeles after the acquittal of four police officers on charges related to the beating of Rodney King.
"Is Maxine Waters guilty of greater incitement than Donald Trump? Well, of course," Carlson said. "But that's not the point. People like Maxine Waters don't care if you point out that they're hypocrites. They don't care if you catch them lying. You're wasting your breath when you point this out. They're not ashamed, they never will be ashamed."
"So how do you respond to people like this?" continued Carlson. "Well, the only thing you can do is tell the truth about who they are. Maxine Waters is someone who supports mob violence. She always has supported it ... She believes in mob violence for political ends, that's why she's been calling for it for decades."
Waters participated in a demonstration against the fatal police shooting of Daunte Wright in Brooklyn Center, Minnesota on Saturday. Controversy erupted after she told the media that she hoped protesters would get "more confrontational" if the nearby trial of former Minneapolis police officer Derek Chauvin, the alleged murder of George Floyd, did not end in a guilty verdict.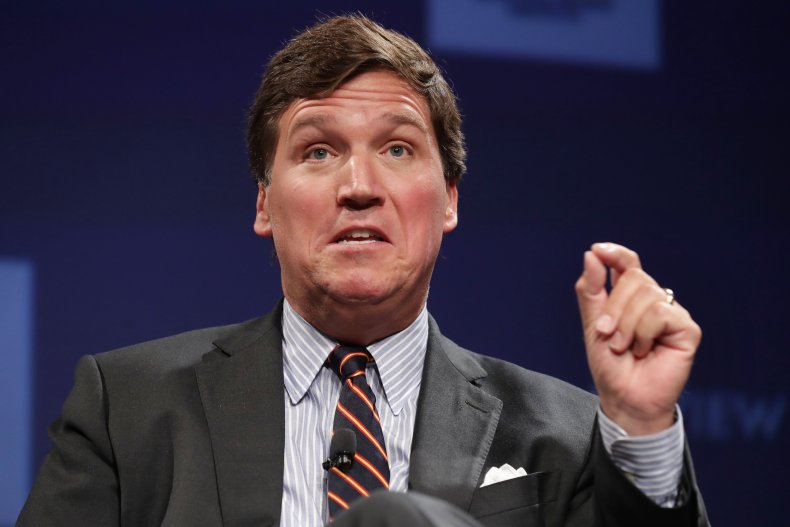 Members of the Minnesota National Guard were targeted in a drive-by shooting within hours of Waters' remarks, although it is not clear there was any connection. Regardless, some Republicans have tied Waters to the shooting, while also expressing concerns that her remarks could incite other violence. Rep. Marjorie Taylor Greene (R-Ga.) filed a resolution calling for Waters to be expelled from Congress, while House Minority Leader Kevin McCarthy (R-Calif.) is leading an effort to censure Waters.
Chauvin trial Judge Peter Cahill also denounced Waters' comments, which included urging protesters to "make sure that they know that we mean business" if a guilty verdict was not reached. While denying a motion for a mistrial from Chauvin's attorney, Cahill suggested that the remarks could be used as grounds for an appeal and potentially lead to "this whole trial being overturned."
Carlson went on to insist that Waters "has never believed in western justice," saying that she has "never had a problem with killing political enemies." He also claimed that the congresswoman is guilty of "jury intimidation" by "demanding a first-degree murder conviction" in the Chauvin case.
"In a fair system, no jury would convict Chauvin of first-degree murder," Carlson said. "But again, Maxine Waters doesn't believe in the system, the one that she helps run, so she's demanding a first-degree murder conviction. What is this called? Well, it's called jury intimidation."
Closing arguments in the Chauvin case concluded on Monday, with a verdict anticipated soon. However, it is a certainty that the jury will not convict the ex-officer of first-degree murder since he has not been charged with that crime. Chauvin is instead facing charges of second-degree unintentional murder, third-degree murder and second-degree manslaughter.
Trump was impeached by the House for an unprecedented second time for allegedly inciting violence that took place at the U.S. Capitol on January 6. Although a majority of senators agreed with the charge following his second impeachment trial, he was acquitted due to the chamber failing to reach a required supermajority.
Newsweek reached out to Waters' office for comment.