Tucker Carlson Suggests Donald Trump Should Not Run for Re-Election
Tucker Carlson has argued that "82-year-old men should not be running countries," but his latest attack on President Joe Biden could also apply to Donald Trump if re-elected.
On his Fox News show on Tuesday, Carlson said: "82-year-old men should not be running countries. They're not strong enough, mentally or physically.
"Everybody knows that, very much including any 82-year-old men you ask."
Biden will turn 82 in November 2024. His predecessor in the White House will reach that age in June 2028, which would be close to the end of a potential second Trump term.
Carlson did not mention Trump in his monologue taking aim at Biden. Newsweek has contacted the Fox News host for comment.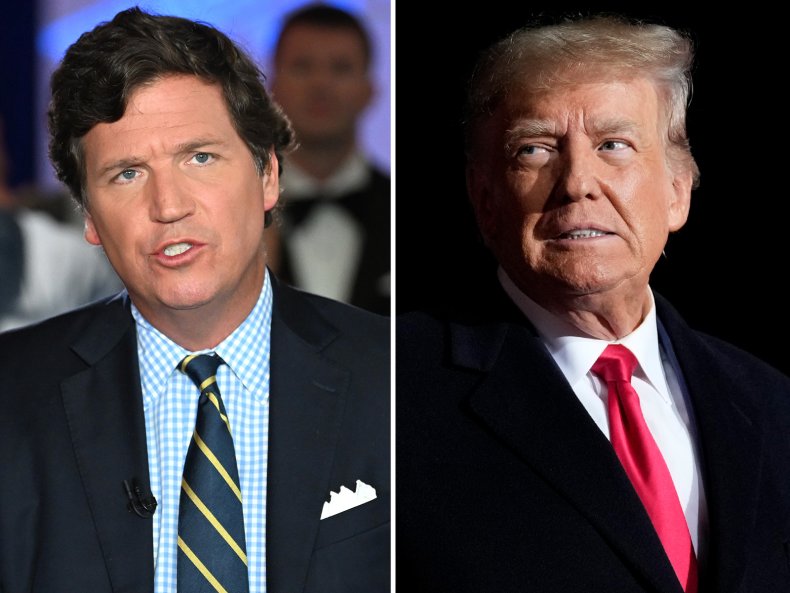 If Biden wins next year's election and serves a full term, he will be 86 when he leaves the White House, Carlson pointed out.
He said: "Here is the main thing you need to know about Joe Biden: he is 80 years old. He was born in 1942, in the first half of the last century. The year Biden was born, only 36 percent of American households had a telephone, nearly half of them did not have indoor plumbing.
"Joe Biden turned 80 last November, this fall he will be 81. If Biden were to serve a second full term as president he'd be 86 years old."
Carlson continued: "These are not trivial facts about Joe Biden, these are the central facts of Joe Biden's life. Joe Biden's age defines him and all of us. That's true for every person."
The Fox News host, who supported many of Trump's policies during his presidency, has said he will not endorse any of the Republican primary candidates for 2024.
Speaking at America Fest 2022 in December, he said: "Who cares what I think? "You know what I mean? I'm not endorsing anybody. I have no idea what's gonna happen in the Republican primary."
Biden has yet to announce whether he will run in 2024, but on Saturday the first lady Jill Biden said she was "all for it."
She added later: "It's Joe's decision. And we support whatever he wants to do. If he's in, we're there. If he wants to do something else, we're there too."
Speaking to ABC News last week, the president said his intention "had been from the beginning to run," but that "there's too many other things we have to finish in the near term before I start a campaign."
In January Mitch Landrieu, the White House infrastructure coordinator, argued that Biden's age shouldn't prevent him from running.
He said: "People want to focus on one number: the president's age, 80."
Landrieu then listed statistics on unemployment, jobs created and coronavirus vaccines, adding: "There are a whole lot more important numbers out there."
A CNN/SSRS poll, published in December, found that 59 percent of Democratic voters and liberal-leaning independents don't want Biden to run again in 2024.
Earlier this week the president's age and cognitive performance were mocked by Jimmy Fallon on his NBC show.
Trump announced his plan to seek a second term last November, though he is facing a number of investigations related to his attempts to overturn the result of the 2020 election.
Newsweek has reached out to the White House and Trump's office for comment.