Tucker Carlson Wins Defamation Lawsuit After Fox News Argues His Viewers Know to Watch His Show With Some 'Skepticism'
A federal judge dismissed a defamation lawsuit that former Playboy model Karen McDougal filed against Fox News last year because "reasonable" viewers watch host Tucker Carlson's show "with an appropriate amount of skepticism," according to the decision.
McDougal's lawyer, Eric Bernstein, filed the lawsuit in December 2019 alleging Carlson defamed McDougal during a segment that aired on the channel one year earlier.
During that Tucker Carlson Tonight segment—which discussed an alleged relationship President Donald Trump had with McDougal years earlier—Carlson said that McDougal "extorted" $150,000 from Trump in order to keep news of their alleged affair quiet, according to the lawsuit.
The lawsuit denied the extortion allegation, saying, "McDougal never approached Trump and threatened to ruin his career or humiliate his family if he did not give her money." The lawsuit continued: "Carlson's statements were intentionally false and made with reckless disregard for the truth," and added that Carlson began his segment by telling his viewers that his reportings were "undisputed."
Fox News requested the case be dismissed. In support of its argument, the channel said that Carlson's show serves as "opinion commentary" that is "not reasonably understood as being factual." It also argued that McDougal's case "failed to allege actual malice."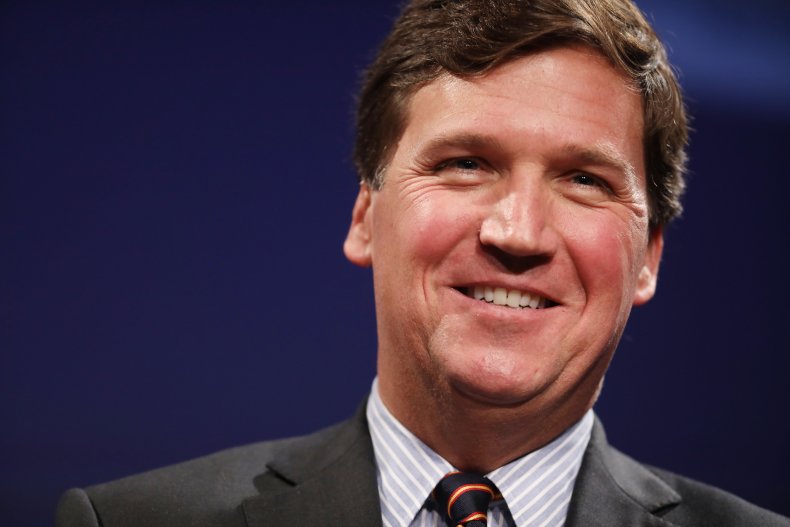 The intended accuracy of Carlson's show was what U.S. District Judge Mary Kay Vyskocil for the Southern District of New York pointed to in her decision, which was issued on Thursday.
"The Court concludes that the statements are rhetorical hyperbole and opinion commentary intended to frame a political debate, and, as such, are not actionable as defamation," Vyskocil's decision said.
The ruling added that, due to McDougal's position as a public figure, she also had to prove that Carlson had malicious intent when discussing allegations of extortion on his show, which it said her case did not do.
"Ms. McDougal's allegations of political and personal bias also fall well short of what is necessary to allege actual malice," the decision said. It added that McDougal's arguments "rest only on speculative allegations of a personal friendship between Mr. Carlson and President Trump and a purported political agreement/alignment between them."
After the decision was announced, McDougal questioned the distinction between opinionated commentary and malice. "I believe reporting something you know is a lie as 'news' or 'undisputed facts' is the very definition of malicious," she told the Associated Press.
In a statement shared with Newsweek, Fox News said the judge's decision marked a victory for the First Amendment.
"Karen McDougal's lawsuit attempted to silence spirited opinion commentary on matters of public concern," the statement said. "The court today held that the First Amendment plainly prohibits such efforts to stifle free speech. The decision is a victory not just for FOX News Media, but for all defenders of the First Amendment."
McDougal has said previously that she had an affair with Trump in 2006 and 2007, but the president has denied that the affair occurred. Trump's former lawyer, Michael Cohen, pleaded guilty in 2018 to campaign finance violations in connection with payments intended to keep stories about alleged affairs that Trump has denied under wraps in the months before the 2016 presidential election.
Newsweek reached out to Bernstein for comment, but did not receive a response in time for publication.