Former President Donald Trump endorsed Republican gubernatorial candidate Tudor Dixon on Friday as his choice to take on Michigan's incumbent Democratic Governor Gretchen Whitmer—but polls show the GOP contender faces an uphill battle if she wins the midterm primary on Tuesday.
Dixon has been the leading candidate in the Michigan GOP primary for governor, but in the crowded field the conservative commentator has failed to garner even 30 percent support in any of the recent surveys carried out in the state. However, the Republican hopeful maintains an average lead of 7 percent over her GOP rivals, according to Real Clear Politics' analysis.
If ultimately selected by Republican Michiganders on Tuesday, Dixon will challenge Whitmer, who is finishing out her first term as governor. Recent polls suggest the Democrat is well-positioned to win reelection, but analysts predict that the race will likely be competitive in a state that Trump won in 2016 before President Joe Biden won there in 2020.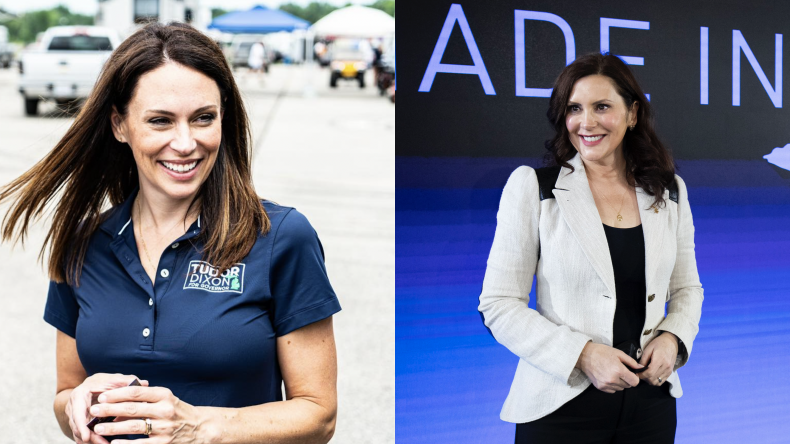 The most recent survey was conducted by Glengariff Group for The Detroit News/WDIV-TV from July 5 to 8, showing the incumbent Democratic governor ahead of Dixon by just over 10 points. Whitmer was supported by 50.7 percent of likely Michigan voters compared to just 40.3 percent who backed Dixon.
That poll also showed a significant majority (55.3 percent) of Michiganders approved of the job the governor is doing. Just 40.1 percent said they disapproved of Whitmer. The survey included 600 likely voters with a margin of error of plus or minus 4 percent.
Previous polling carried out in May by Target Insyght for Michigan Information & Research Service showed Whitmer with a massive lead over Dixon. That survey had the incumbent governor backed by 58 percent of registered voters and the Trump-backed challenger supported by only 21 percent—a lead of 37 percent for the Democrat.
The survey included 600 registered voters with a margin of error of plus or minus 4 points.
News and polling analysis site FiveThirtyEight's 2022 forecast for governor races currently gives Whitmer a 95 in 100 chance of winning the election this year. Dixon's chances are just 5 in 100. The forecast predicts the incumbent Democrat will win about 54 percent of the vote to the Trump-backed challenger's approximately 42 percent.
A number of typically pro-Trump Republicans expressed outrage after he threw his support by Dixon in the Michigan primary. Nonetheless, the former president described the GOP candidate as a "Conservative Warrior" who will "stand up to the Radical Left as they try to indoctrinate our children and is ready to take on one of the worst Governors in the nation."
Trump only narrowly won Michigan by a margin of 0.2 percent in 2016, garnering the support of just 47.5 percent of the state's voters. Prior to that, Michigan had gone for Democrats in every presidential election going back to 1992. President Joe Biden won the state back for his party in 2020, garnering support from 50.6 percent of voters compared to Trump's 47.8 percent.
Whitmer won her first gubernatorial election in 2018 with a nearly 10-point margin over her GOP rival. The Democrat was backed by 53.3 percent of her state's voters compared to 43.7 percent who cast ballots for the Republican in the race.