Who Is Gretchen Whitmer? Michigan's New Democratic Governor Pledged 'to Fix All the Damn Roads'
Democrat Gretchen Whitmer ended eight years of Republican rule in Michigan when she was elected the state's 49th governor Tuesday night.
Her defeat of Republican Attorney General Bill Schuette followed a tough race in which she vowed to to "fix all the damned roads"—a direct appeal to motorists angry about paying what she dubbed a hidden tax to fix vehicle damage caused by Michigan's aging infrastructure.
Whitmer replaces Republican Governor Rick Snyder, who leaves office after his fixed term expires next month.
A key election battleground state, Michigan was a top target for national Democrats. Gaining 52 percent of the votes to Schuette's 44 percent, according to ClickonDetroit, Whitmer becomes Michigan's second woman governor, while her running mate, Garlin Gilchrist, becomes Michigan's first African-American lieutenant governor.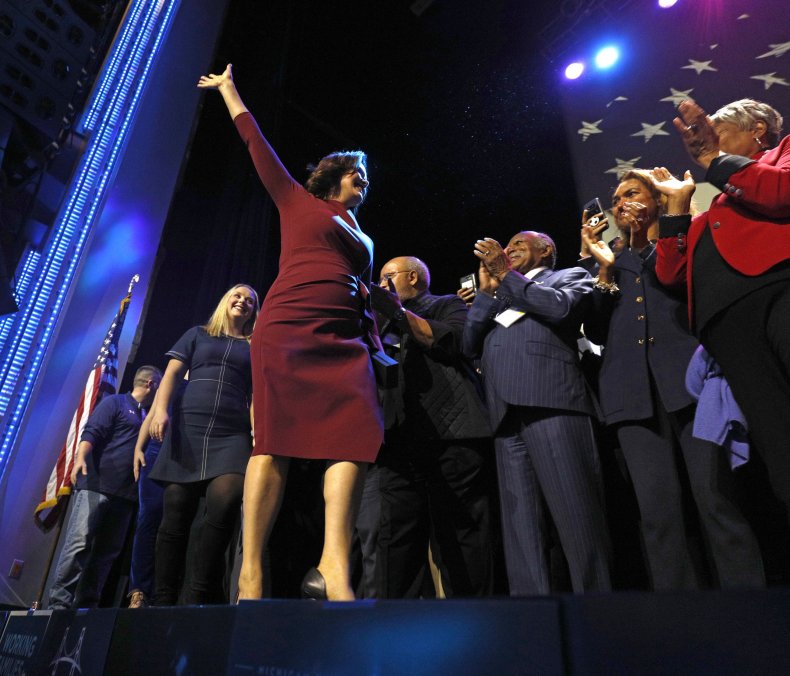 Delivering her victory speech in Detroit's Motor City Casino, Whitmer said: "We may have all gone to the polls for very different reasons, but today we as Michiganders came out because we all loved this state and because we want a Michigan that works for every one of us. No matter where you were born, how much money's in your pocket, what you look like, who you worship, or who you love," The Detroit News reported.
Born in Lansing, Whitmer, 47, was the former minority leader of the state Senate, and had beaten the former Detroit health director, Dr. Abdul El-Sayed, and chemical-testing entrepreneur Shri Thanedar in last August's primary.
A long-time campaigner for reproductive rights, she was an outspoken critic of the confirmation of Supreme Court Justice Brett Kavanaugh, and has been a strong supporter of the #MeToo movement.
She made her personal experiences a key part of her campaign, a move Vox said "exemplified a new approach by women running for office." Whitmer famously went public in telling her story of how she was sexually assaulted in 2013.
Whitmer said that as governor she would fight any rollback of abortion rights, which Democrats fear as a possibility now that Kavanaugh has tilted the Supreme Court in a more conservative direction.
During her campaign, Whitmer criticized Schuette for opposing the the Affordable Care Act, saying that he wanted strip protections for those with pre-existing conditions.
She also pledged to expand Medicaid coverage for about 600,000 lower-income people and to tackle the Flint water crisis.