In Blow to Bernie Sanders, Hillary Clinton Takes Ohio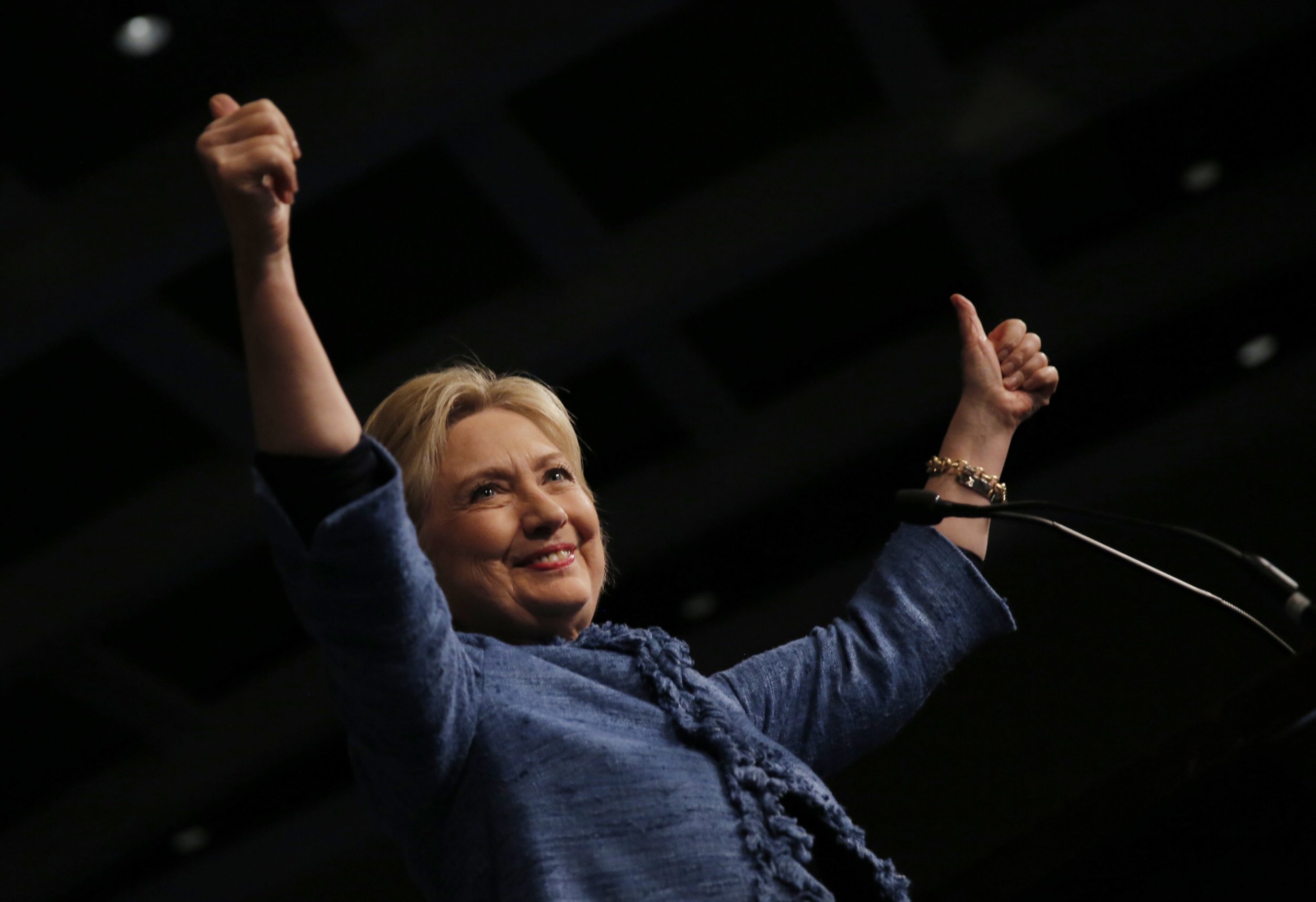 Republican and Democratic voters cast their ballots in Tuesday's presidential primaries in Florida, Illinois, Missouri, North Carolina and Ohio. Earlier in the day, GOP front-runner Donald Trump was declared the winner of his party's caucus in the Northern Mariana Islands. (Democratic front-runner Hillary Clinton won her party's caucuses there on Saturday.) Florida was considered the biggest prize for both parties, with 99 delegates available to the four Republican candidates and 214 available for the two Democrats. Following the results are Newsweek's Matthew Cooper, Emily Cadei, Michele Gorman and Taylor Wofford.
10:46 p.m. ET: Cruz is speaking in Houston, while the Republican party awaits the final results from the Missouri primary. He starts by commending Rubio on his campaign. He continues: "To those who supported Marco, who worked so hard, we welcome you with open arms." He says only his campaign and Trump's have a chance at winning the Republican nomination, avoiding to name Kasich, who won his home state of Ohio tonight. Seemingly taking a dig at the motto repeated by front-runner Trump, Cruz says, "It's easier to talk about 'Making America Great Again'...but the critical question is whether you understand the principles and values that made America great in the first place." — Michele Gorman
10:26 p.m.: Meanwhile in the Democratic race, we are still waiting for calls in Missouri and Illinois. — Michele Gorman
10:12 p.m.: Before he ended his speech, which was short for Trump's standards, the former reality TV star said "there's nothing like" running for the presidency. He continued: There are "lies, deceit, disgusting reporters." He walked off stage before the media had the chance to ask him questions, which is different than what we have seen in his previous press conferences. — Michele Gorman
9:58 p.m.: Trump takes the stage at his Florida estate, Mar-a-Lago, where he again is hosting a press conference. "This is Mar-a-Lago. We give you seats, you don't have to stand!" he says to the crowd. Today's voting contests came just days after violence erupted between Trump's supporters and protesters at his rallies over the weekend. "This has been very exciting, this whole process," the billionaire real estate says. "The fact is we have to bring our party together." — Michele Gorman
[Related: Despite Ohio Win, Kasich Has a Very Hard Road Ahead]
9:56 p.m.: The Democratic race remains tight in Illinois, which is Clinton's home state and where Sanders graduated from the University of Chicago. — Michele Gorman
9:47 p.m.: CNN has projected Trump won Illinois, which helps widen his delegate lead further. That leaves just North Carolina and Missouri outstanding on the Republican side tonight. Ted Cruz is hoping to snag at least one of those states to keep his momentum going as the most viable Trump alternative. — Emily Cadei
9:37 p.m.: The night's biggest prizes have already been awarded, but on the Republican side there are still two interesting races going on in Missouri and Illinois. Both states are too early to call, but if Trump can pull out victories in both he might be able to make up for the delegates he lost in Ohio. and put himself back on track to win 1,237 delegates and bypass a messy brokered convention. — Taylor Wofford
9:28 p.m.: Kasich opens his remarks with an overture to Rubio supporters, asking the crowd to applaud the "very fine" senator from Florida. "I have to thank the people from the great state of Ohio. I love ya," Kasich continues. He should, the state has given his presidential campaign a lifeline. And Ohio is at the center of Kasich's whole campaign pitch—he claims credit for the state's economic comeback, such as it is. Democrats argue that the Ohio "miracle" is no such thing, that people are still struggling. "My whole life is about trying to create that climate of economic opportunity for people," the governor says. He's giving one of his typical rambling speeches, but one line jumps out, a jab at Trump: "I will not take the low road to try to get to the highest office in the land." It will be interesting to see if he's willing to take on the real estate mogul more directly going forward. — Emily Cadei
9:21 p.m.: But, as Kasich said, he "appreciates a peaceful protest." — Michele Gorman
9:19 p.m.: Kasich comes out to give victory remarks in Ohio and is interrupted by a Donald Trump supporter. — Emily Cadei
9:02 p.m.: "We are moving closer to securing the Democratic nomination and winning this election in November," Clinton tells supporters in West Palm Beach. She already sounds like the nominee, congratulating Bernie Sanders on a vigorous race. "If you've been waiting for the right moment to come join us, now's the time!" she says. — Emily Cadei
8:57 p.m.: Shortly after Rubio's concession speech, advisor Avik Roy tweeted to the Florida senator's supporters urging them to "unite around" rival Ted Cruz, who's currently running second in the delegate race behind Trump. — Emily Cadei
8:53 p.m.: "We're going to get a lot of momentum," Kasich predicts in a phone interview with CNN. "We're fired up, I'm going to Philadelphia tomorrow, I think we're going to have a great event in Philadelphia and we're all just thrilled." — Emily Cadei
8:46 p.m.: On the Republican side, Fox News has called Ohio for its home state Governor John Kasich. It looks like he's going to notch a fairly comfortable win over Trump there, which gives his campaign a teeny bit of life (a loss would have ended it). Kasich is too far behind in the delegate race at this point, the best he can hope for is that nobody in the race crosses the delegate threshold in the primary and the nominee is picked at the party convention in Cleveland. — Emily Cadei
[Related: Rubio Loses Florida to Trump, Kasich Wins Ohio]
8:41 p.m.: The Associated Press is calling Ohio for Hillary Clinton. Ohio was a state where Sanders could have pulled an upset—Clinton led by single digits in most polls. After having lost both Florida and Ohio, the night's two biggest prizes, Sanders is going to have to have a long, hard think about the future of his campaign. — Taylor Wofford
8:31 p.m.: Rubio is out. After a humiliating defeat in his own home state, Florida Senator Marco Rubio, on whom the Republican establishment pinned most of its hopes after Jeb! Bush quit the race last month, has thrown in the towel. That leaves just Donald Trump, Ted Cruz and John Kasich. But for the party to stop Trump from winning the nomination outright, it needs to make this a two-man race as soon as possible. But if Kasich can eke out a win in Ohio, and Cruz performs well enough in Missouri and Illinois, the race will likely remain a three-way contest until at least March 22, when the next set of primaries happen. — Taylor Wofford
8:21 p.m.: NBC projects Hillary Clinton will win North Carolina, continuing her sweep of the South. The state awards 107 delegates. Of those, 70 are awarded from the state's 13 congressional districts, and 37 are awarded based on statewide totals. Clinton was expected to win North Carolina. She won neighboring Virginia and South Carolina by wide margins, buoyed by black voters. Bernie Sanders's poor performance with black voters bodes ill for his campaign. — Taylor Wofford
8:16 p.m.: Rubio comes on stage for his concession speech and the first thing he does is congratulate Trump on his "big win" in Florida, which draws boos from his supporters. He shushes them quickly. "America is in the middle of a real political storm, a real tsunami and we should have seen it coming," Rubio tells his supporters. He blames much of the angst and anger in the electorate on the failures of the political establishment. "From a political standpoint the thing that would have been easiest to do in a campaign is jump all those anxieties" that people are feeling, Rubio said. "But that is not what's best for America." Ultimately, however, his tack didn't work, he acknowledges. "It is not God's plan for me to become president in 2016, or maybe ever," the Florida senator said. Is he leaving the door open for 2020? — Emily Cadei
8:05 p.m.: CNN called Florida for Trump in the Republican race and for Clinton in the Democratic race. And it looks like Trump has won by a big enough margin that there's really no way Rubio can salvage this, his campaign is all but over. — Emily Cadei
[Related: South Florida Is Sinking. Where Is Marco Rubio?]
7:59 p.m.: Early returns show Trump with a double-digit lead in Florida. With about 34 percent of precincts reporting, Trump is ahead by 17 points. Not hugely surprising, given recent polls, but hugely bad for Marco Rubio. If Trump is to be stopped, John Kasich will have to do it in Ohio. — Taylor Wofford
7:46 p.m.: Well, voting is underway. Keep an eye on Sanders percentage of the black vote, whether Hillary can make any progress with the young and Trump's numbers among evangelicals which are a big number in North Carolina. And will John Kasich be saved by independents and Democrats? Finally, keep an eye on the margin in Florida. If Trump defeats Rubio by double digits, it'll mark one of the bigger flameouts ever. — Matthew Cooper
7:42 p.m.: 367 delegates are at stake in six contests tonight. That's less than were up for grabs on Super Tuesday, but tonight might be more important. Tonight's the night Trump either knocks out Marco Rubio, or the campaigns of Trump's closest challengers, Ted Cruz and John Kasich, get a breath of fresh air. If Trump fails to win both Ohio and Florida, which award their delegates winner-take-all, the likelihood of a "contested" or "brokered" convention increases quite a bit. If, however, Trump wins both states, the odds of him not being the nominee are reduced dramatically. — Taylor Wofford
In Blow to Bernie Sanders, Hillary Clinton Takes Ohio | U.S.