As President Donald Trump's rally at the BOK Center in Tulsa gets under way, Oklahoma has reported an "exponential & meteoric" rise in coronavirus cases in the past week, according to new research from an epidemiologist at Harvard University.
The daily seven-day average number of new COVID-19 cases per million in Oklahoma rose by 140.3 percent in the week ending June 18, from the figure reported the previous week, according to research by Dr. Eric Feigl-Ding, an epidemiologist and public health scientist at the Harvard Chan School of Public Health. He is also a member of the Federation of American Scientists (FAS) COVID-19 Rapid Response Task Force.
Speaking to Newsweek, Feigl-Ding said: "I'm really worried about the Tulsa rally. With 19,000 people indoor stadium capacity, and many attendees likely not wearing masks (conservatives have a much lower mask wearing prevalence), it is a major concern.
"I do think there is a high risk of the Trump rally in Tulsa increasing risk [of further spreading the virus]," noting how serious the threat of increased infection across the country could be as a result of Saturday's rally.
Feigl-Ding argued the risk of infection is actually lower among the ongoing demonstrations across the country following the killing of George Floyd.
"[These] protests were outside and most BLM [Black Lives Matter] liberal protesters wore masks. There's a non zero risk but much smaller than you might think," Feigl-Ding told Newsweek.
Oklahoma had the second-highest spike in new cases in the last week after Montana, which saw a 283.3 percent rise in the same period, according to the latest research.
"Oklahoma cases now surge from a whopping 140 percent increase from prior week (yesterday it was just 111 percent). Oklahoma today only topped by Montana's new 283 percent increase," Feigl-Ding wrote in a post Friday on his official Twitter account.
In the week ending June 17, Oklahoma reported a 111 percent rise in new infections, which was the "most exponential & meteoric rise in cases of any state, according to our research group's analysis," Feigl-Ding wrote in a Thursday post on Twitter.
"Oklahoma might be in real trouble soon. The Tulsa rally needs to seriously be cancelled. Our team is worried.
"Please beg any friends you know to not attend Trump's MAGA rally in Tulsa this weekend!," Feigl-Ding wrote on Twitter.
On Thursday, Oklahoma recorded its highest daily case count since the outbreak began, with 451 reported on June 18, nearly double that of the previous day which saw 259 new infections.
Also on Thursday, the seven-day rolling average of new cases in Tulsa County, whose county seat is Tulsa, was nearly five times the figure reported May 1, when the city of Tulsa entered the first phase of reopening.
The seven-day rolling average of new cases was 81.9 on June 18, over quadruple the 16.7 recorded on May 1, according to the latest figures from the Tulsa County Health Department.
Saturday's rally, which will be Trump's first since the start of the outbreak, has raised concerns over the potential spread of infection at the mass gathering. Large-scale political rallies were paused in March due to the threat of spreading infection among crowds.
Almost 1 million people have requested tickets to attend the rally on Saturday, according to a post on the president's official Twitter account.
On Wednesday, during an interview with Gray Television's Washington Bureau Chief Jacqueline Policastro, when Trump was asked whether he was worried about people getting sick at the rally, he said: No, because if you look, the numbers are very minuscule compared to what it was. It's dying out.
"Actually, Oklahoma has had a very low rate relatively speaking. It is a little spike, a small spike for a specific reason," he added, noting the state's allegedly low infection rate was the reason why Oklahoma was chosen as the location for the rally.
The BOK Center issued a statement Wednesday confirming it has requested the Trump campaign to provide a "written plan detailing the steps the event will institute for health and safety, including those related to social distancing."
Tulsa Mayor GT Bynum noted in a statement earlier this week on his official Facebook account that the Trump campaign has agreed to follow the state's reopening guidelines and "will be utilizing safety precautions at the event."
"Every attendee will have to pass a temperature check before they can enter the facility. Every attendee will be provided with a mask. Every attendee will have access to hand sanitizer stations. We are not going to suddenly abandon the state's plan, to be either more lenient or more severe," he said.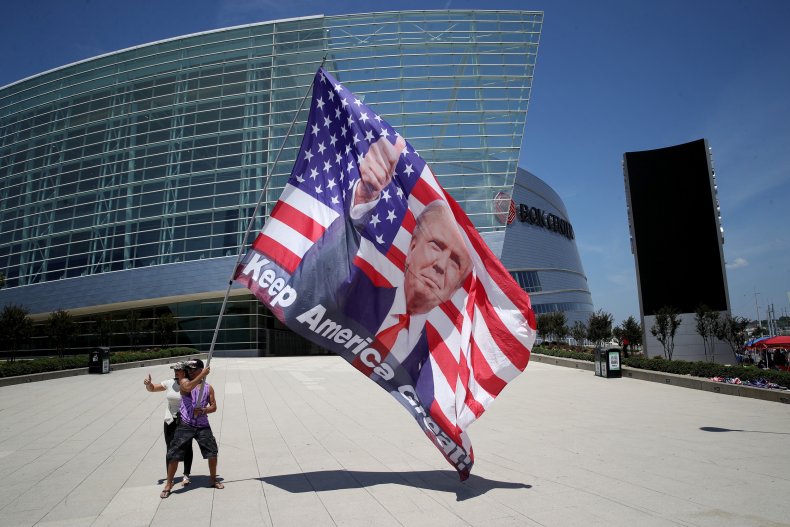 "Do I share anxiety about having a full house at the BOK Center? Of course. As someone who is cautious by nature, I don't like to be the first to try anything. I would have loved some other city to have proven the safety of such an event already," he said in the statement
Newsweek contacted the White House for a comment but a spokesperson for the White House declined to comment. Newsweek has contacted the Tulsa County Health Department for further comment.
There are at least 9,355 confirmed cases in Oklahoma, including 366 deaths. The novel coronavirus has infected more than 8.5 million people across the globe, including more than 2.1 million in the U.S.More than 454,500 people have died globally, while over 4.1 million have reportedly recovered from infection, as of Friday, according to the latest figures from Johns Hopkins University.
The graphics below, provided by Statista, illustrate the spread of COVID-19 in the U.S. and the worst-affected countries.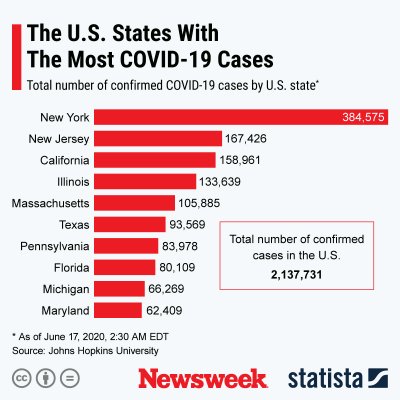 Uncommon Knowledge
Newsweek is committed to challenging conventional wisdom and finding connections in the search for common ground.
Newsweek is committed to challenging conventional wisdom and finding connections in the search for common ground.
About the writer
Soo Kim is a Newsweek SEO Reporter is based in London, UK. She reports on various trends and lifestyle stories, from health, fitness and travel to psychology, relationships and family issues. She is also a South Korea expert who regularly covers Korean culture/entertainment for Newsweek, including the latest K-dramas, films and K-pop news, and is the author of the book How to Live Korean, which is available in eight languages. Soo also covered the COVID-19 pandemic extensively from 2020 through 2021 after joining the general news desk of Newsweek in 2019 from the Daily Telegraph (a U.K. national newspaper) where she was a travel reporter/editor from 2010. She is a graduate of Binghamton University in New York and the journalism school of City University in London, where she earned a Masters in international journalism. Languages spoken: English and Korean.
Follow her on Twitter at @MissSooKim or Instagram at @miss.soo.kim
You can get in touch with Soo by emailing s.kim@newsweek.com