Tulsa Major Says Police Are Shooting African Americans 'Less Than We Probably Ought to Be'
Amid worldwide protests following the death of George Floyd, a police officer from the Tulsa Police Department (TPD) of Oklahoma has claimed police are shooting African Americans around "24 percent less than we probably ought to be," according to his interpretation of crime data.
In an interview this week with Tulsa's local radio host Pat Campbell for his podcast, TPD Major Travis Yates said: "You get this meme of, 'Blacks are shot two times, two and a half times more,' and everybody just goes, 'Oh, yeah.' They're not making sense here. You have to come into contact with law enforcement for that to occur.
"If a certain group is committing more crimes, more violent crimes, and law enforcement's having to come into more contact with them, that number is going to be higher. Who in the world in their right mind would think that our shootings should be right along the U.S. Census lines? That's insanity.
"All of the research says we're shooting African Americans about 24 percent less than we probably ought to be, based on the crimes being committed," he added.
Yates also condemned the ongoing demonstrations following the death of Floyd, who died after being pinned to the ground with a knee to his neck during an arrest made by the Minneapolis Police Department.
Former Minneapolis police officer Derek Chauvin was arrested in connection with Floyd's death on May 29, while the three other officers involved were arrested and charged on June 3.
Yates told Campbell: "The officer [who killed Floyd] was arrested the next day. They were prosecuted, they were fired. What are you doing? What do you mean, 'justice?' Justice at this point has been done. Well, then it turned into systematic racism, systematic police brutality.
"This is what they're trying to say that all these changes need to come from: this is why we're protesting, this is why we're rioting. Because of systematic abuse of power and racism. That just doesn't exist," he added.
He also alleged a group of people has been lying to the public about police brutality, declining to specify the group to which he is referring.
He said: "Because of this money, because of the marketing, because of the slick steps they've done, they've made regular Americans believe that cops are just hunting blacks down the street and killing them.
"It is so mind-boggling to me, that it is so over-the-top. It's not happening, but everyone believes that it is happening," he added.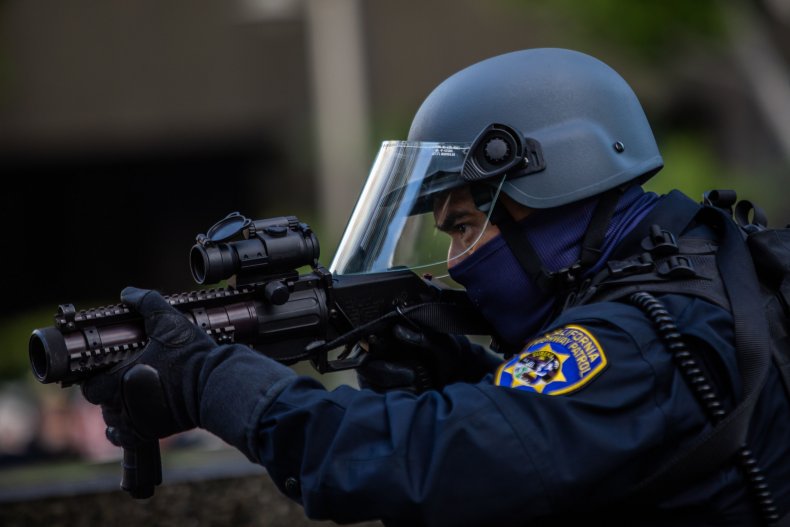 The TPD was made aware of comments made by Yates on Tuesday, the TPD confirmed in a statement issued Wednesday.
"We appreciate and respect the concerns we are hearing from the community regarding these comments. Chief Wendell Franklin and the Tulsa Police Department want to make it very clear we do not endorse, condone or support Yates' comments made on the show. This matter has been referred to our Internal Affairs Unit," the statement said.
"We want to make it clear the statements made by Yates are not a part of any curriculum or training provided by the Department. Yates' comments do not align with the mission, values or policies of the Tulsa Police Department.
"The Tulsa Police Department is comprised of 1,041 employees (838 of whom are sworn peace officers) from a variety of races, religions, political views, and belief systems. We respect the diversity in our ranks and the diversity in our community," the statement added.
Yates is currently assigned to the records division of the TPD, which is primarily staffed with civilian employees, the TPD confirmed.

TPD Captain Richard Meulenberg said: "Everybody's got a right to their opinion. Obviously, he being a Major with the Tulsa Police Department, it carries some weight that he has his opinion, and we'll have to just kind of go through this.
"I mean, I can't speak upon the thing that he talked about here because I don't have the data. I can't refute or substantiate what it is that he said here," he said. Meulenberg noted that under TPD policy, Yates, who is a division commander, is free to communicate with the public in various forms, including on a radio show or podcast.
"Is he speaking for himself? Or is he speaking for the department? The way I interpret what he has said is that he is speaking for himself," Meulenberg added.
The latest interview is not the first time Yates has made controversial remarks.
In a 2016 essay on Lawofficer.com, Yates noted: "You can debate all day long about what proper police force is, when it should be used and if the entire criminal justice system is racist but there is one thing in common with every so called 'excessive force' video you have seen in recent years. The suspect is not following commands.
"Take someone not doing what a police officer tells them to do, resisting or worse yet, fighting and combine that with additional information like the suspect may have a gun, etc. and it is not a stretch to see that person shot or worse, dead. It is all too common," he added.
In an open letter addressed to Tulsa Mayor G.T. Bynum in 2018, Yates suggested that disproportionate policing in Tulsa was a result of "fatherless homes" in black communities.
He noted that "the issues that are causing the disparity in police contacts lie at the feet of men that are not raising their children." He added "that 85 percent of all youth in prison today are from fatherless homes. 72 percent of everyone in prison for murder are from fatherless homes. 85 percent of rapists come from fatherless homes and 71 percent of all high school dropouts come from fatherless homes."
Earlier this week, two New York police officers were suspended after a video showed them shoving a 75-year-old man to the ground, after which he began bleeding from his ear.
Four officers in Louisiana involved with the arrest of Tommie McGlothen, an African American man, were also suspended this week. McGlothen allegedly died while in the custody of the local police.
This article has been updated with comment from the Tulsa Police Department.