The Tulsi Gabbard Bashar al-Assad Controversy Explained
Hawaii Representative Tulsi Gabbard got a massive popularity boost for her prospective path to the presidency on Wednesday when she attacked fellow Democrat Senator Kamala Harris' record as California's attorney general, but it wasn't long before an entirely different figure altogether resurfaced in her limelight—Syrian President Bashar al-Assad.
After meeting the Syrian leader on a quiet "fact-finding" mission in early 2017, his image in the U.S. as an alleged war criminal and human rights abuser followed Gabbard home and has been a frequent target of criticism for her. Two and a half years later, she has refused to apologize for what she has argued was an effort to better understand the conflict in Syria, where various international actors including the U.S. have helped to fuel an eight-year civil war over competing geopolitical interests.
Gabbard again had to defend herself following Tuesday's Democratic debate, where she first accused Harris of having "blocked evidence that would have freed an innocent man from death row until the courts forced her to do so" and of prolonging sentences to use inmates as "cheap labor," among other charges during her time as California's top attorney. Gabbard argued: "The people who suffered under your reign as prosecutor, you owe them an apology."
The remarks were met with applause both at the venue and across social media and were among the highlights of Wednesday's war of words, but following the event, Harris went after Gabbard's own background in an interview with CNN.
Referring to herself as a "top-tier candidate," Harris dismissed Gabbard's criticism by saying it was "coming from someone who is an apologist for an individual, Assad, who has murdered the people of his country [like] cockroaches, she who has embraced and been an apologist for him in a way that she refuses to call him a war criminal, I can only take what she says and her opinion so seriously."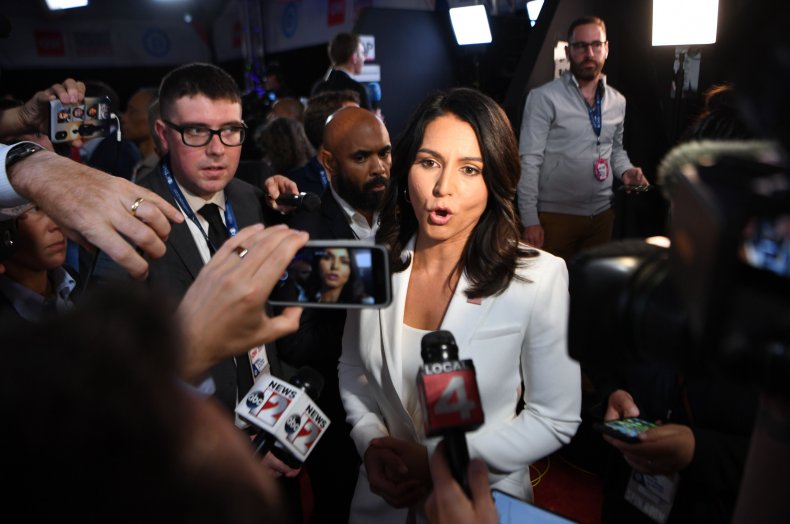 Gabbard later hit back, saying it was "unfortunate and a disservice to voters in this country that she resorts to cheap smears rather than actually addressing her record, the issues that I have raised" in her own interview with CNN. Pressed on whether or not she would consider Assad a "torturer" and a "murderer," Gabbard described her take as "one of a soldier, where I've seen the cost of war firsthand."
"In Iraq, serving in a medical unit, every single day confronted with that high human cost of war," Gabbard said, referring to her deployment in a country ravaged by unrest since a 2003 U.S. invasion that toppled its government.
"I will never apologize for doing all that I can to prevent more of my brothers and sisters from being sent into harm's way, to fight counter-productive regime-change wars that make our country less safe, that take more lives, and that cost taxpayers trillions more dollars," she added. "So if that means meeting with a dictator, or meeting with an adversary, absolutely. I would do it. This is about the national security of our country."
Gabbard resisted further attempts to goad her into denouncing the Syrian president, who since 2011 has faced a rebel and jihadi uprising once backed by the U.S. and several of its Middle Eastern allies that included Israel, Qatar and Saudi Arabia, but now largely sponsored by Turkey. Gabbard has long stood against U.S. intervention in such conflicts and in 2013 voiced her opposition to former President Barack Obama's considerations to strike Syria in response to alleged chemical attacks by the Syrian military.
In 2015, just as the U.S. began realigning its alliances away from an increasingly Islamist opposition and toward a mostly Kurdish group of militias, Russia joined Iran in directly supporting Assad, allowing his armed forces and their allies to turn the tides of the conflict. As the Syrian armed forces and their supporters began to retake the country through 2016, Gabbard voted against an anti-Assad House resolution she described as "a War Bill—a thinly veiled attempt to use the rationale of 'humanitarianism' as a justification for overthrowing the Syrian government of Assad," whom she referred to as "a brutal dictator."
A month later, Republican Virginia State Senator Richard Black traveled to Damascus to meet with Assad, whom he had sent a warm letter in 2014 thanking him for defending Syria's Christians and small Jewish community against the jihadis of the Islamic State militant group (ISIS), Al-Qaeda and other organizations. Shortly after President Donald Trump's election in November 2016, Gabbard met with the Republican leader-to-be who shared her skepticism about U.S. support for Syrian insurgents and would go on to end it.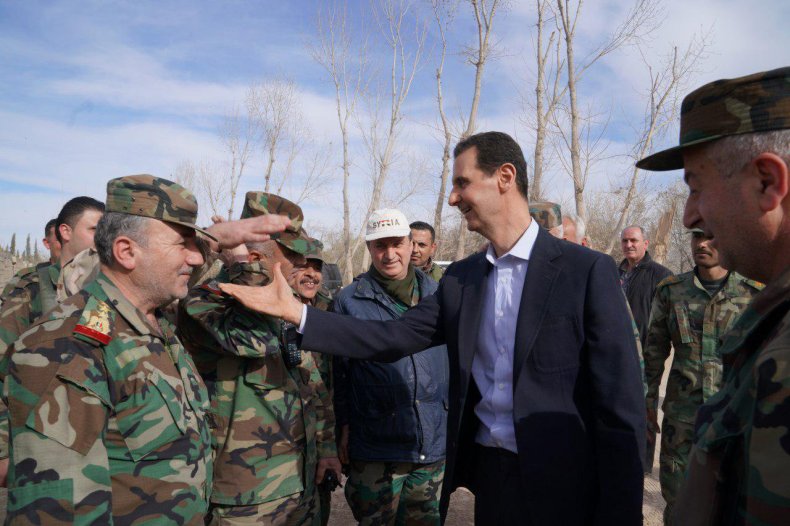 Just days into Trump's term, Gabbard's revelation that she met Assad during a secret trip to Lebanon and Syria sparked an instant controversy that has yet to abate in the U.S. She has since turned on the president's Syria policy as his more hawkish tendencies manifested themselves in strikes on government targets and an expansion of the anti-ISIS mission there to also include ensuring Assad's departure and beating back Iranian influence, but as she enters the domestic political arena she has so far struggled to make a name for herself—until now.
As one of the lesser but not least-known of at least two dozen individuals vying for the presidency in 2020, Gabbard has long sought to set herself apart from the pack by emphasizing her opposition to costly, lengthy and often murky U.S. engagements abroad. With the recent Democratic debates being relatively light on foreign policy, however, her recent attack on Harris highlighted her ability to take on heavyweights in the 2020 race and come out on top.
Gabbard came out as the most-searched candidate in only four states⁠—Alaska, Hawaii, Iowa and South Carolina⁠—ahead of Wednesday's debate. Throughout the event itself, however, she took the lead in all 50.
Now the woman who would be the first-ever female, Hindu and Samoan-American president faced a massive challenge in maintaining this relevance and capitalizing on it to narrow her shortcomings in the polls ahead of June, when she could also secure a potential vice presidential slot depending on her relationship with the frontrunner. Until then, however, the fact that Assad was also trending Wednesday on Twitter showed that many still saw her fateful sitdown with the leader as a primary issue.
As for Assad himself, there was little sign that the leader who has since retaken the majority of the country would be leaving anytime soon. While Iran remained his only major regional ally, he has fostered close relations with neighboring Iraq and Lebanon and has begun to rebuild ties with Jordan, as well as Bahrain and the United Arab Emirates. Abroad, his continued backing from Russia and China meant there was a good chance that a new Democratic president would inherit a Syria policy that saw Assad still in charge in spite of his widespread condemnation in the West.