Tulsi Gabbard Says Hillary Clinton Is Taking Her Life Away With 'Russian Asset' Claim at Center of Defamation Lawsuit
U.S. Representative Tulsi Gabbard accused Hillary Clinton of taking her life away by falsely suggesting the Hawaii Democrat was a "Russian asset" in a podcast interview.
The veteran told Fox News on Thursday night that she was bringing a defamation lawsuit against Clinton over the claim, in order to value the "honor and loyalty" of other American service members.
Gabbard also said that the former secretary of state was "seeking to smear" her reputation when Clinton appeared on the Campaign HQ with David Plouffe podcast in October last year. She argued that Clinton's unsubstantiated claim was an "attempt to silence anyone that dares to cross her."
Gabbard filed her defamation suit against Clinton in the Southern District of New York on Wednesday, seeking $50 million in damage payments, according to court documents.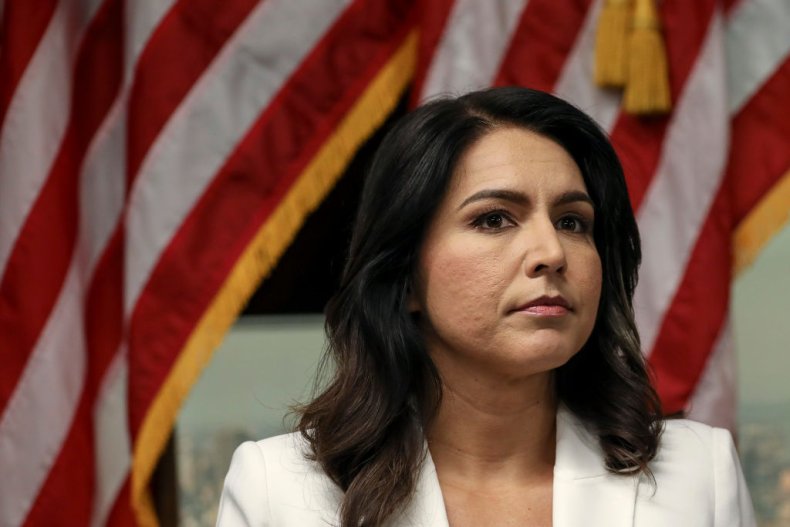 The defamation filing claims that Clinton made "false assertions" about Gabbard in a "deliberate attempt to derail Tulsi's presidential campaign," further claiming that the Hawaii representative lost potential donors and voters as a result.
Speaking to Tucker Carlson on Fox News about her lawsuit last night, Gabbard said: "This is my life that we're talking about here. For me as a soldier, as every service member does, I took an oath of loyalty to our country. The country that I love. Willing to put my life on the line for our country, deploying twice to the Middle East to do so."
"So when you have someone as powerful as Hillary Clinton seeking to smear my reputation and essentially implying that I'm a traitor to the country that I love, what she essentially is doing is taking my life away," the Hawaii representative later added.
She went on to say her lawsuit was about "valuing the honor and loyalty" of U.S. service members, and said the former Secretary of State's accusations were "false and baseless."
"It's an attempt to silence anyone that dares to cross her," Gabbard told Fox News.
The Democratic primary candidate added that she had not yet received an official response to the lawsuit filed against Clinton.
Newsweek has contacted a spokesperson for Hillary Clinton and will update this article with any response.
Responding to news of the lawsuit earlier this week, Clinton spokesperson Nick Merrill told The Daily Beast: "That's ridiculous."
In her mid-October interview with the Campaign HQ podcast, Clinton claimed without evidence that Gabbard was the "favorite of the Russians" and suggested the GOP was "grooming her to be the third-party candidate."
Her accusations sparked a backlash from other Democratic primary candidates, with Senator Bernie Sanders calling Clinton's claim "outrageous" and Andrew Yang saying Gabbard deserved "much more respect."
The Hawaii representative accused Clinton of trying to "destroy" her because she endorsed Sanders in the 2016 Democratic primary race, and described the former presidential candidate as "the queen of warmongers" and "embodiment of corruption."
Speaking to WYFF News in December last year, Gabbard said Clinton's "Russian asset" claim had "hurt" her numbers in the 2020 primary contest.
The Real Clear Politics average of national polling puts the Hawaii Democrat in ninth place with just 1.4 percent support among party voters.