Tucker Carlson Defends Tulsi Gabbard Over Hillary Clinton 'Russia Favorite' Claim
Fox News host Tucker Carlson has lashed out at Hillary Clinton over her claim that Democratic primary candidate Tulsi Gabbard is being groomed by Russia and was a "favorite" of the country.
On his show last night, Carlson said the unsubstantiated accusation was "lunacy" and called Hillary Clinton "reckless" and "silly" in his defense of Rep. Gabbard of Hawaii.
He also suggested that the 2016 Democratic presidential nominee and former first lady was quick to dismiss critics as foreign spies.
Carlson's intervention is the latest development in an internal row between Democrats.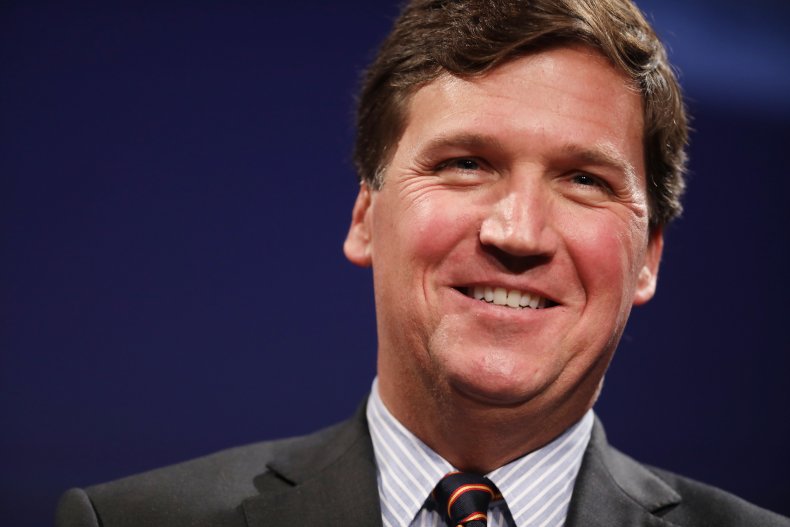 Speaking to the Campaign HQ podcast hosted by David Plouffe last week, Clinton said Gabbard was a "favorite of the Russians" and suggested she was being groomed as the country's candidate in the Democratic primary race.
The representative for Hawaii has since hit back at the former secretary of state, calling her the "queen of warmongers" and "embodiment of corruption," while dubbing her eagerness to brand opponents Russian assets "the new McCarthyism."
Carlson played a series of clips from the podcast in which Clinton made unsubstantiated claims about Hawaii Rep. Gabbard, Green Party politician Jill Stein and President Donald Trump being assets of Russia to varying degrees.
"The one thing all three of these people have in common is that at one time or another they have all opposed Hillary Clinton's political aspirations," Carlson said. "And according to Hillary that means, by definition, they're traitors."
After mocking praise heaped on Hillary Clinton by supporters, Carlson said the 2016 Democratic presidential nominee was "silly", "reckless" and had a "weakness for bizarre conspiracies."
Capping off a series of clips and tweets from pundits supporting Clinton's claim that Gabbard is the candidate of Russia, the Fox News host said: "This is lunacy, by the way. But it's not accidental lunacy. It's lunacy in the service of a purpose."
He later added: "It's not surprising that this group, the ones who have wrecked the country, don't take criticism very well. Don't like the program? You must be a spy."
The Fox News host is not the only figure to have weighed in on the side of Gabbard following Hillary Clinton's claim that she had some sort of link with the Russian state.
Most other Democrats in the 2020 primary race have supported Gabbard and dismissed the accusation, with Senator Bernie Sanders saying it was "outrageous for anyone to suggest that Tulsi is a foreign asset" and entrepreneur Andrew Yang saying she "deserves much more respect."
President Trump also offered support to Gabbard, describing Clinton as "crazy" in a tweet dismissing the claims she made about himself, the Hawaii representative and Jill Stein.
Gabbard mounted a defense of her own, accusing "Hillary & her gang of rich, powerful elite" of going after her because she did not "toe the line."
In a video released Sunday, Gabbard said: "If they can falsely portray me as a traitor then they can do it to anyone. And in fact, that's exactly the message that they want to get across to you: that if you stand up against Hillary and the party power brokers, if you stand up to the rich and powerful elite and the war machine, they will destroy you and discredit your message."
The latest average of Democratic 2020 primary polling by Real Clear Politics shows Gabbard far behind frontrunners in the race, boasting just 1.2 percent support among party voters.l