Tulsi Gabbard Wavers on Ilhan Omar's Alleged Anti-Semitic Tropes: Omar 'Was Trying to Get At a Deeper Issue'
Answering questions Sunday evening at a CNN town hall in Austin, Texas, presidential candidate and Democratic Congresswoman Tulsi Gabbard declined to condemn her fellow Democrat Ilhan Omar, who's been accused of making anti-Semitic tropes since joining Congress.
Omar, one of the first Muslim women elected to Congress, has created a rift within the party over how to respond to her recent remarks that were widely condemned for being considered anti-Semitic. On separate occasions, Omar accused Jewish Americans of "[pushing] for allegiance to a foreign country" and said that lawmakers' strong support for Israel was "all about the Benjamins, baby!"
As a result, the House passed a non-binding resolution condemning "every form of bigotry and hatred," language that was added after more liberal members of the party complained to leadership that only referencing anti-Semitism was targeting Omar.
Gabbard voted for the resolution. However, Sunday evening she declined to label Omar's comments as anti-Semitic tropes, differing from many of her Democratic colleagues, who believed them to be an "age-old trope and stereotype" to dual loyalties. The Hawaii Democrat suggested Omar was alluding to a "deeper issue related to our foreign policy," and admitted that, as a Hindu, she herself has been on the receiving end of comments laced with bigotry and Hinduphobia. Just because she was a Hindu, Gabbard said people have assumed that she must be "loyal to some other interest or some other country."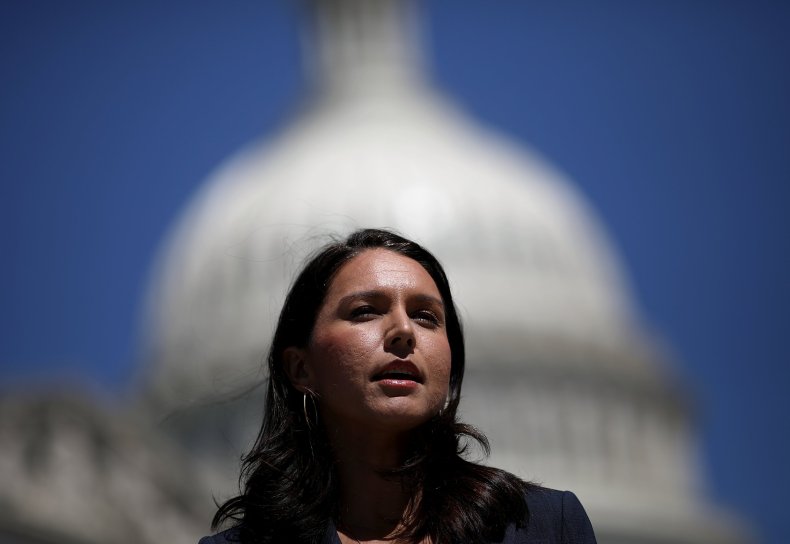 "I think there's an important discussion that we have to be able to have openly — even though we may end up disagreeing at the end of it — that we've got to be able to have that conversation," she said. "As there are criticisms levied about dual loyalty, I've been on the receiving end of those types of attacks. I understand how offensive they can be."
But Gabbard, as did many other congressional Democrats over the past week, held the notion that Omar's intent was likely not "to cause any offense to people."
"The bigger issue is making sure that, as members of Congress and as people in this country, we have open dialogue about our foreign policy," Gabbard said.
At the same time, the Democratic presidential candidate advocated for people to publicly reject all forms of racism and hatred when asked about her own experiences handling anti-Hindu rhetoric.
"If we want to change this culture of hate and bigotry, every one of us must stand up and speak with one voice to condemn it because an attack on one of us is an attack on all of us," Gabbard said.