Tulsi Gabbard Says Biden Is Risking Nuclear War With Russia Over Ukraine
Speaking to Fox News' Tucker Carlson on Tuesday night, former Democratic Representative for Hawaii Tulsi Gabbard warned Joe Biden and his administration to take the threat of nuclear war by Russia seriously and said that Russia has been clear it is not ruling out the use of nuclear weapons.
"What [U.S. Secretary of Defense Lloyd Austin] is not telling the American people is that Russia has also made it clear that if we even get close to 'winning' or achieving this mission and goal he has outlined, Russia has said very clearly they will have no other option than to resort to the use of nuclear weapons.
"Starting first with tactical nuclear weapons and, if necessary, escalating to the use of strategic nuclear weapons.
"This is not fear-mongering to point this out, the American people need to know this is the track that this administration has put us on and [that] very dire consequences will occur if we continue down to this path. This is the reality we are facing."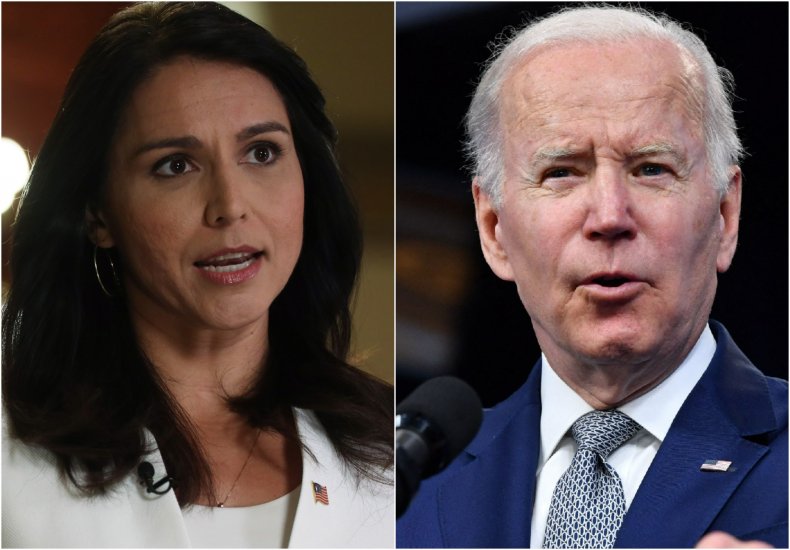 She also said that the real intention of the U.S. government is not to defend Ukraine but the "destruction of the Russian state."
A clip of her interview has gone viral on Twitter and has been viewed over 150,000 times.
"The Biden administration policies, words and actions, it has just been made very clear to us what their real goal is and their real goal is the destruction of the Russian state," she said.
She went on to quote Austin and comments he made in April on Russia and the war in Ukraine.
"We want to see Russia weakened to the degree that it can't do the kinds of things that it has done in invading Ukraine," Austin said during a press conference at an undisclosed location in Poland.
"So it has already lost a lot of military capability. And a lot of its troops, quite frankly. And we want to see them not have the capability to very quickly reproduce that capability."
The conditions for a potential nuclear strike by Russia are written in the country's military doctrine, Russia's Deputy Foreign Minister Alexander Grushko told Russia's state-owned news agency RIA Novosti earlier this month.
Grushko was responding to a question about the likelihood of Russia using nuclear weapons against its enemies.
"We have a military doctrine, everything is written there. It does not give any other interpretation, except for what is there in black and white," he said.
Under Russia's official military deployment principles, the country is allowed to use nuclear weapons when Russia's enemies are using nuclear weapons or other types of weapons of mass destruction on Russian territories and/or its allies; if Russia receives reliable data on a launch of ballistic missiles attacking its territory or that of Russian allies; if Russia's critical government or military sites are attacked by the enemy in a way that would undermine nuclear forces' response actions; or if the country faces an existential threat through the use of conventional weapons.
Newsweek has contacted Tulsi Gabbard for comment.