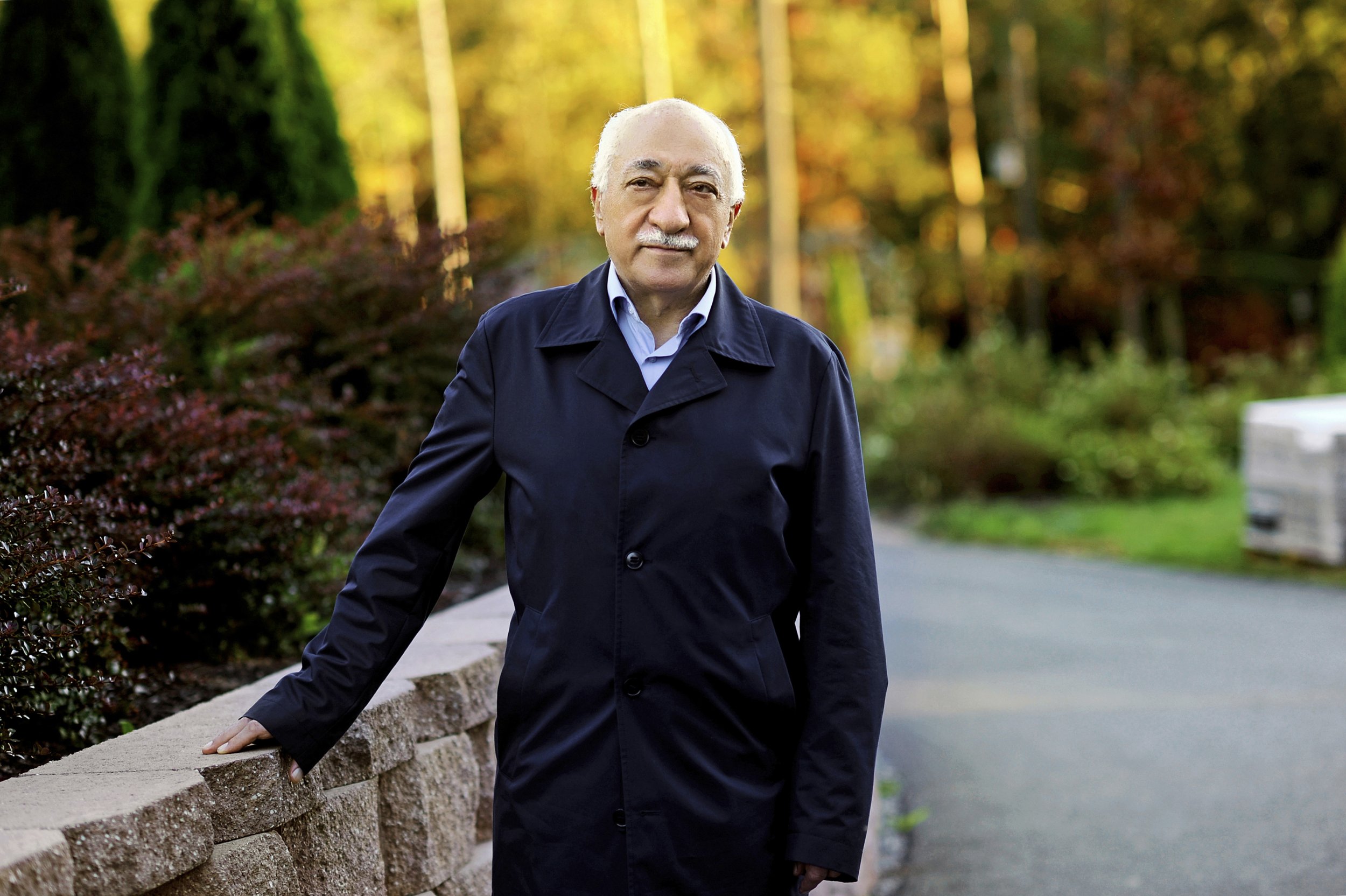 Updated | As Turkey's police forces helped the government to restore control and detain soldiers attempting to carry out a coup on Friday night and the early hours of Saturday, Turkish President Recep Tayyip Erdogan was ready to point the blame at a familiar foe.
"Turkey won't be frightened by this kind of uprising, and Turkey cannot be governed from Pennsylvania," Erdogan said in his first official press conference since the attempted coup on Friday, barring a phone call he made into a news show earlier that morning.
Who is Fethullah Gulen?
"They were being told what to do from Pennsylvania," Erdogan reiterated after arriving in Istanbul's airport early on Saturday. The message was clear. The government was blaming Fethullah Gulen for the uprising, the cleric who was once a close ally of Erdogan, before their relationship went sour in 2013 over mutual corruption allegations. Gulen is currently in exile in Pennsylvania and Erdogan frequently blames turmoil in his country on Gulen trying to establish a "parallel state" through supporters in the country's bureaucracy.
Gulen, who is known as hocaefendi to his followers, which means an enlightened teacher of high standing, certainly has followers within the Turkish civil service, judiciary and media. His net of private schools, known as the Hizmet or Jamaat movement, stretches across 140 countries.
He himself was recorded telling followers in 1999, "You must move within the arteries of the system, without anyone noticing your existence, until you reach all the power centres." His influence worked in Erdogan's favour, helping him be elected to government in 2003. However after 2013 Gulenists have been viewed with suspicion by the government, with Erdogan recently ordering a takeover of one of the country's largest papers after suspicions it was affiliated with the preacher.
Turkey has repeatedly asked for Gulen's extradition from the U.S., but so far this has not materialised.
Was he behind the uprising?
Supporters of Erdogan clearly believe Gulen is to blame with Turkish Prime Minister Binali Yildirim controversially declaring that any country that stands by the U.S.-based preacher "will be considered at war" with Turkey on Saturday.
The Alliance for Shared Values, a U.S. organisation of Gulen's Hizmet movement, dismissed accusations of planning the attempted coup as "highly irresponsible." In an emailed statement to the Financial Times, Gulen dismissed the links himself.
"As someone who suffered under multiple military coups during the past five decades, it is especially insulting to be accused of having any link to such an attempt," he wrote.
Certainly Gulen's interests and those of the military have diverged drastically in the past. The army's last major push for a military intervention in politics came in 2007, threatening to intervene in the presidential election, due to concern that a candidate supported by Erdogan and Gulen could win. In the declaration, the military declared it saw itself as the ultimate guarantor of secularism in Turkey, while Gulen, as a powerful preacher, has always been viewed with great suspicion by the military. While he has rejected he is against secularism, the Turkish military have accused him of "brainwashing" young people and seeking to mix religion and politics.
However, some of the reported arrests of suspected accomplices to the coup appear to have occurred in parts of western Turkey, which ruling party members have branded a heartland for Gulenists. The city of Bursa was the site of eight arrests of military officials in the early hours of Saturday morning, led by Gendarmerie Commander Colonel Yurdakul Akkus.
Eleven Gulenist activists were reportedly detained in Bursa in December, according to state news agency Anadolu, and the Gulen movement has been active in nearby Izmir, where 29 alleged Gulen supporters were arrested in May, including Gulen's nephew.
An investigation into the uprising is underway but no leaders from the group calling itself the Council for Peace in the Country, which took responsibility for the coup, has formally aligned themselves with Gulen. Turkish state media pointed to Colonel Muharrem Kose as the leader of the uprising and he has previously denied having links to the Gulen movement, after being discharged from service in March as a result of the suspicions. According to state news agency Anadolu, the uprising was largely planned among members of the Gendarmerie. Meanwhile DHA news agency reports that Akin Ozturk who was the commander of the Turkish Air Force from 2013 until 2015, was the man leading the uprising.
What next for Turkey?
An investigation into who was behind the attempt is underway, however, the government's willingness to blame Gulen has prompted concern among experts. Michael Stephens, research fellow at the London-based Royal United Services Institute, believes there are flaws in the government's theory and it may result in more stifling of opposition.
"The Turkish government has been saying all through last night that this is backed by Gulen and they can say that it's the Jolly Green Giant if they want. At the moment we cannot be certain. The fact is that regardless of who was pulling the strings, this attempt still shows there is an element of the military who doesn't want Erdogan in power," Stephens tells Newsweek. "There are many, many reasons for that, which do not begin and end with an ethereal cleric in the U.S. who may or may not be behind this.
"To simply buy the government's line on this is to ignore the very real constitutional problems which Turkey has faced in the last two years and security problems of the last 12 months."
He continues: "It is a paradox for the government to blame Gulen because in the last few years they have dismissed a lot of Gulenists in the police and education sector and that seems to me to have been comprehensive. If they believe it is Gulen behind this, either Erdogan has not been successful in clearing out a glaring faction of Gulenist supporters in his security apparatus or it is something else."
Given that the military prides itself on being a guarantor of secularism in Turkey, Stephens says it seems unlikely they are acting on behalf of Gulen. "There will be evidence presented by the government but frankly, to say it's Gulen staging the uprising is to ignore the seriousness of what has happened in Turkey."
"I am afraid to say that what you are going to see now will be a purge in the security apparatus of any sympathizers of this group, instead of addressing the reason why the attempted coup happened," he says. "Western allies of Turkey need to urge the government to follow the legal process. It is no secret that the state has become more repressive, using security risks to stifle dissent in other areas."
This article has been updated to include analysis from Michael Stephens.