Turkey Detains Editor and Staff Members in Crackdown on Opposition Newspaper 'Cumhuriyet'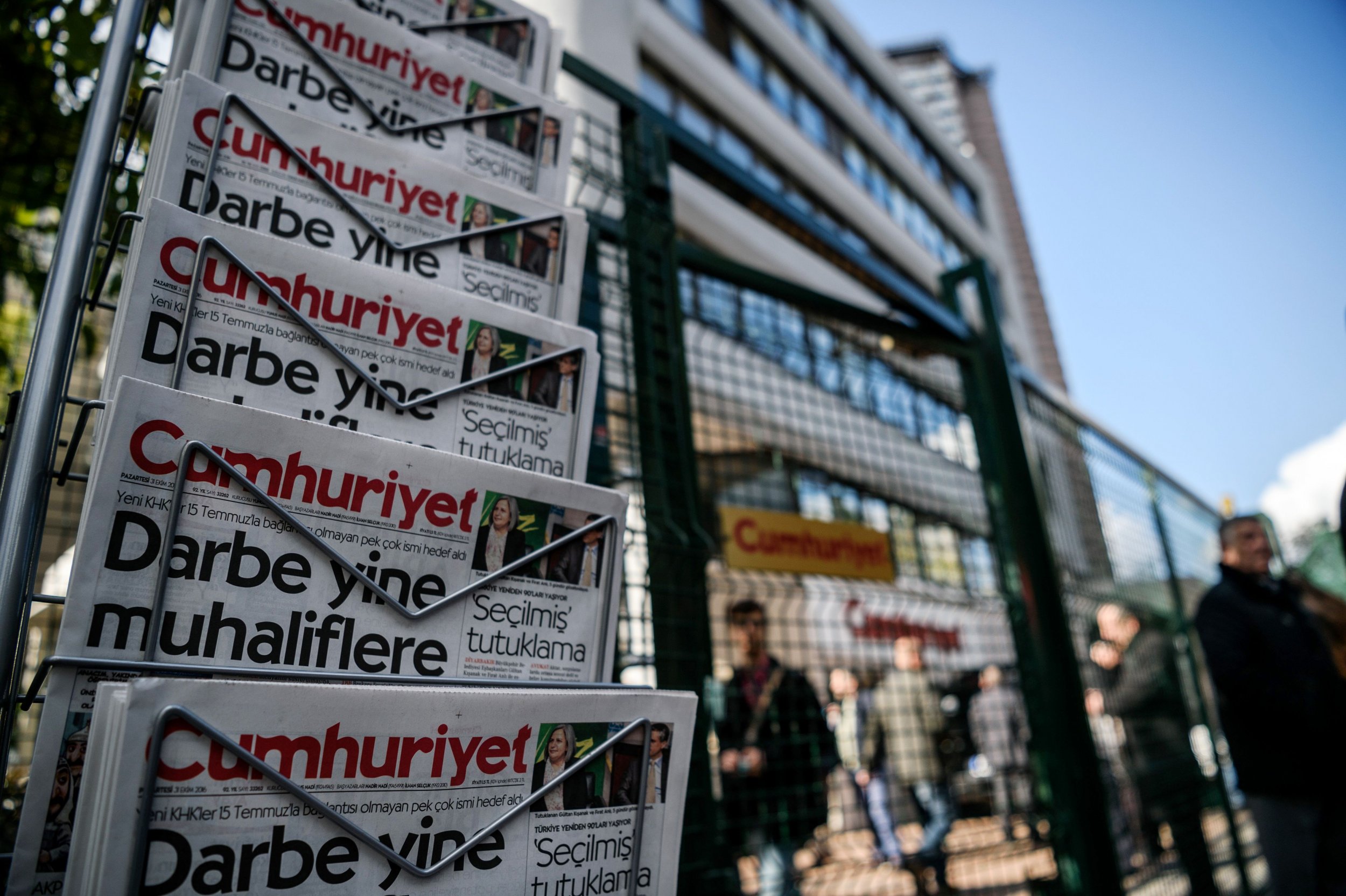 Turkish police arrested the editor-in-chief and a dozen staff members of the country's main opposition secular newspaper Monday, on suspicion of justifying the failed coup attempt in July.
The Istanbul prosecutor's office said police arrested editor-in-chief Murat Sabuncu and 12 members of the staff at the Cumhuriyet daily for suspected crimes committed that aided Kurdish militants and the network of exiled U.S.-based cleric Fethullah Gulen, who the Turkish government holds responsible for the failed military takeover but who denies any involvement in the plot.
"An investigation was launched… due to allegations and assessments that shortly before the attempted coup, material was published justifying the coup," the prosecutor's office said.
Cumhuriyet said on its website that authorities detained 12 of its staff members and seized their laptops. The newspaper is critical of President Recep Tayyip Erdogan, the country's Islamist-rooted political leader.
One of those arrested was cartoonist Musa Kart, who expressed his anger about his detention for what appeared to be his drawings.
"This is a comical situation. I would like to say that you won't be able to frighten anyone with pressure. It is not possible for people with a conscience to accept this. You can't explain this to the world. I am being detained solely for drawing caricatures," he told Reuters. Turkey said that it is acting according to the rule of law in the country but critics said that Erdogan is using the coup attempt to suppress dissent in the country.
In May, a Turkish court sentenced Can Dundar, the former editor of Cumhuriyet, to five years and ten months in prison for revealing state secrets in an article published in the newspaper, but he is now in exile, believed to be in Germany. Cumhuriyet said Monday that authorities had issued another arrest warrant for Dundar, despite his absence.
Turkey has launched a crackdown on state institutions and other pillars of Turkish society, such as schools, media outlets and charitable organizations, arresting or suspending hundreds of thousands of people. Erdogan said that the crackdown was necessary for "cleansing" the country of Gulen's influence.
The arrests come after authorities closed 15 media outlets, dismissed 10,000 civil servants and jailed the mayors of the majority Kurdish city of Diyarbakir on Sunday. The country remains under a state of emergency since the coup attempt.