Turkey's President Erdogan Accuses U.S. Coalition of Supporting ISIS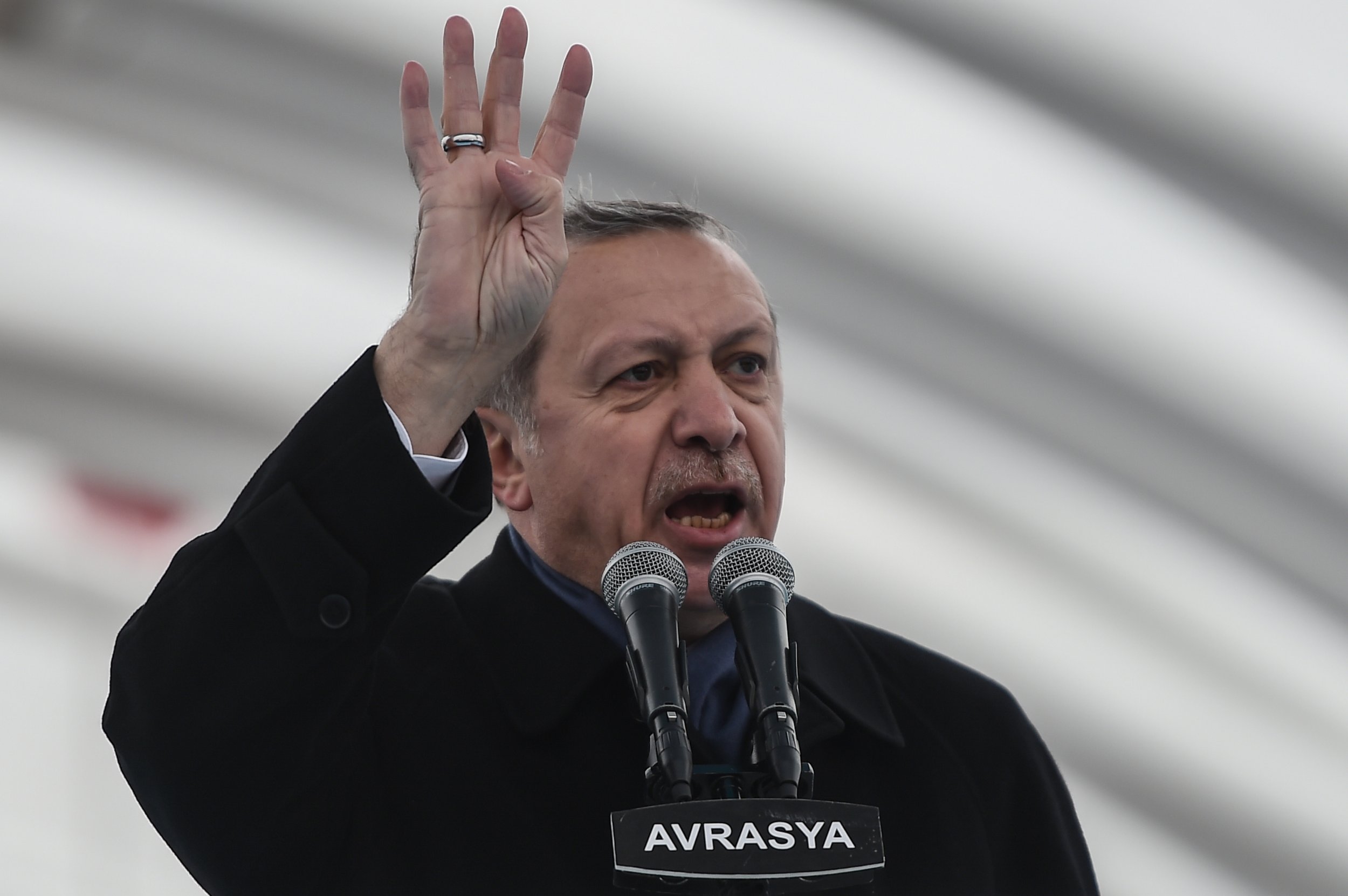 Turkish President Recep Tayyip Erdogan on Tuesday accused the U.S.-led coalition fighting in in Iraq and Syria of supporting the Islamic State militant group (ISIS), as well as Syrian Kurds in regions that sit along Turkey's southern border.
"They were accusing us of supporting Daesh," he told a press conference in Ankara, using an Arabic acronym for ISIS.
"Now they give support to terrorist groups including Daesh, YPG, PYD. It's very clear. We have confirmed evidence, with pictures, photos and videos," he said, referring to the Kurdish People's Protection Units and the Democratic Union Party, Washington's Kurdish partners on the ground in Syria.
The U.S.-led coalition has conducted an airstrike campaign against ISIS in Iraq and Syria since August 2014, following the radical Islamist group's capture of the northern Iraqi city of Mosul in June of that year and its filmed beheading of U.S. journalist James Foley near the Syrian city of Raqqa. No one from the coalition has yet responded to Erdogan's comments.
In August, Turkey initiated a ground and air offensive —Operation Euphrates Shield—against ISIS in support of Syrian rebels fighting the extremist group and a Kurdish militia in northern Syria.
At least 37 Turkish soldiers have died in the operation, including two that ISIS allegedly burnt to death, according to a propaganda video released this month after kidnapping the pair.
Russia, a key backer of Syrian President Bashar al-Assad, has also accused Washington of aiding extremist groups in Syria. Moscow alleges that moderate rebel groups armed by the U.S. are working in tandem with jihadist groups. Russia began conducting an air campaign against the opponents of Assad in September 2015.
There is growing unease in Ankara over the lack of support from the U.S.-led coalition in its fight to defeat ISIS in northern Syria. While still operating in Syria, the coalition's main focus at present is the fight to liberate Mosul, where it is supporting an Iraqi coalition of soldiers and militiamen to take back the ISIS bastion.
"The coalition forces are unfortunately not keeping their promises," Erdogan said at the news conference, held for the visit of Guinean President Alpha Conde.
"Whether they do or they don't, we will continue along this path in a determined way. There is no going back on the path we have set out on," Erdogan added.
Turkey, a member of NATO, has harbored figures from Syrian rebel groups, such as the Free Syrian Army, within its borders, funded them and armed them. In 2015, Reuters reported that Turkish intelligence delivered arms into Syria for Islamist rebels in 2013 and 2014, according to court testimonies.
Turkey and Russia are reportedly in talks over a nationwide ceasefire in Syria and renewed peace negotiations after almost six years of conflict. The negotiations, if successful, would take place in the Kazakh capital, Astana, and effectively exclude the U.S., the U.N., and Gulf states from the search for a peaceful resolution to the conflict.