Turkey Has Silenced Almost All Independent Media Since Failed July Coup: Rights Group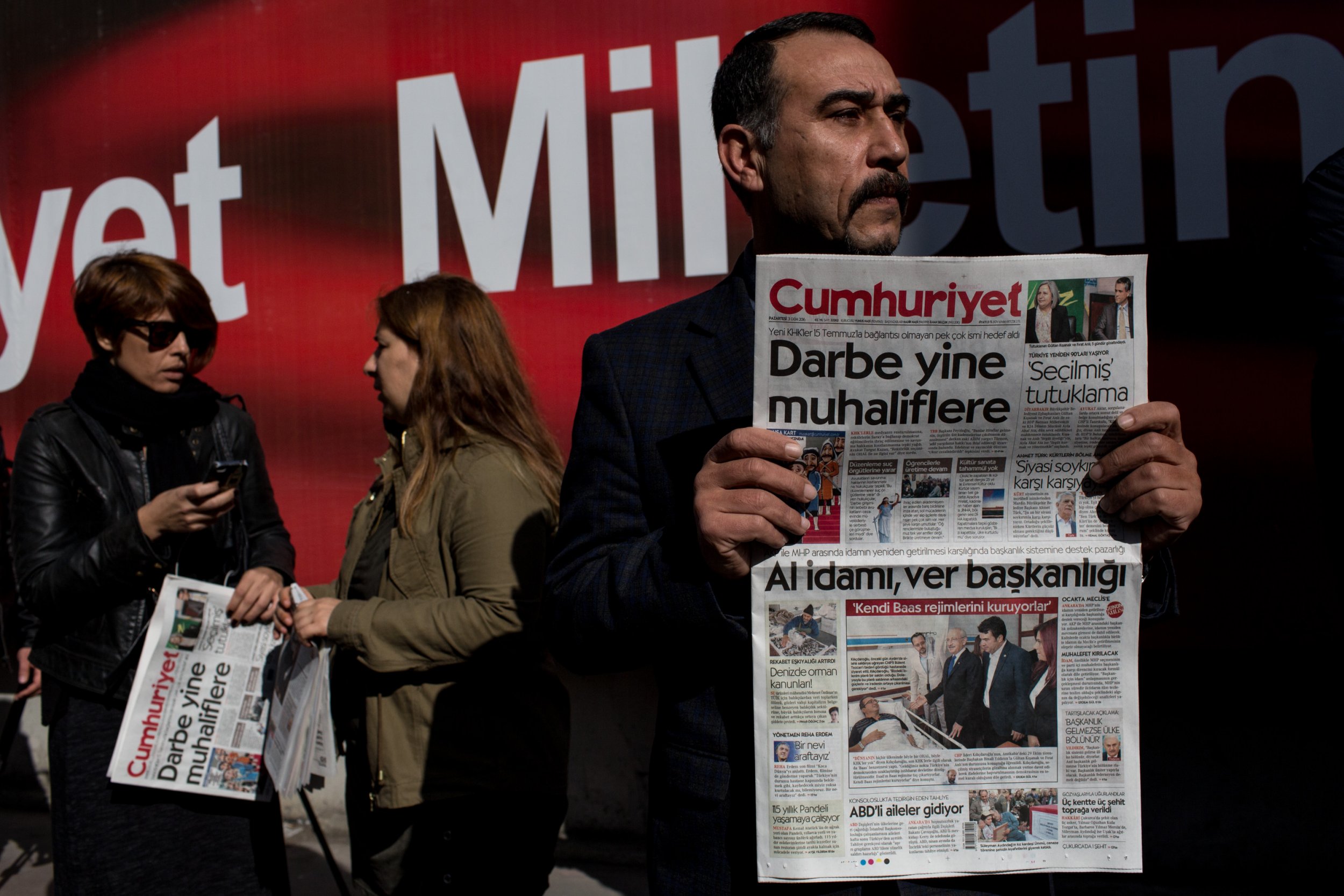 Turkey has carried out a campaign that has "all but silenced" opposition media in the country since July's failed military coup, according to a report released by Human Rights Watch (HRW).
The report alleges that Turkish authorities are targeting pro-Kurdish journalists and independent media critical of the government, on top of a crackdown on media workers linked to the movement of the exiled cleric Fethullah Gulen, who Turkish President Recep Tayyip Erdogan holds responsible for the failed July 15 coup.
HRW interviewed 61 journalists, lawyers, editors and press freedom activists for the report, and said the journalists described the "stifling atmosphere in which they work and rapidly shrinking space for reporting on issues the government does not want covered." Turkish authorities are yet to respond to the report.
It suggests that the Turkish government's campaign against the press began in 2014 but had increased notably since the attempted overthrow of Erdogan. The president has embarked on a purge of state institutions following the coup attempt, arresting or suspending thousands of workers accused of links to Gulen.
Since July the government has ordered the closure of scores of news outlets and 29 publishing houses. HRW said that the purge of the opposition media has left 2,500 journalists and media workers without jobs.
"The Turkish government and president's systematic effort to silence media in the country is all about preventing public scrutiny," said Hugh Williamson, HRW's Europe and Central Asia director.
"Keeping 148 journalists and media workers in jail and closing down 169 media and publishing outlets under the state of emergency shows how Turkey is deliberately flouting basic principles of human rights and rule of law central to democracy."
Turkey routinely says that it does not target the country's journalists and challenges the accusation that it unfairly limits press freedom. It attributes security raids and arrests to its fight to defend the country's national security from the influence of Gulen, the Kurdish PKK militant group and the Islamic State militant group (ISIS).
Other media and rights watchdogs have criticized Turkey's crackdown on the media. According to a new report from the Committee to Protect Journalists (CPJ) also released this week, Turkey is leading an "unprecedented" crackdown on the country's press. Of the 259 journalists jailed worldwide, Turkey accounted for 81 of those, in what is "the highest number in any one country at any time," according to the report.