Turkmenistan President Unveils Giant Golden Statue of His Favorite Dog
The president of Turkmenistan has unveiled a giant statue to his favorite dog.
The 19-foot (6 metre) sculpture, covered entirely in gold leaf, honours the Alabay or Central Asian shepherd, a breed primarily used for protecting sheep and goat herds, as well as for guarding property.
Gurbanguly Berdymukhamedov unveiled the monument in the capital Ashgabat on Tuesday.
Footage from the grand unveiling ceremony showed the sprawling network of roads surrounding the plinth closed except for singing and dancing spectators.
Not content with an inanimate statue, the designers placed the golden Alabay atop a stone plinth covered in wraparound television screens playing video clips of dogs.
Turkmenistan's state news agency wrote that the statue captured the "dignity and self-assuredness" of the breed, according to Eurasianet.
In 2015, Berdymukhamedov unveiled another gold statue—of himself sitting atop a galloping horse.
He claimed at the time that the statue was built in response to demands from the public, saying: "My main goal is to serve the people and the motherland. And so, I will listen to the opinion of the people and do as they choose."
Human Rights Watch's 2020 report called the Turkmen government's human rights record "dire" and said the nation remained an "isolated and repressive country under ... authoritarian rule."
Turkmenistan is in the grip of an economic crisis, but authorities have attempted to stop people leaving the country to seek work, according to HRW.
The rights group said unauthorized forms of religious and political expression were "brutally punished" and access to information was tightly controlled by the state.
According to leaked U.S. diplomatic cables, the country's leader once had a motorist "beaten black and blue" for cutting off his motorcade—sentencing the man to 25 years in jail for attempted assassination.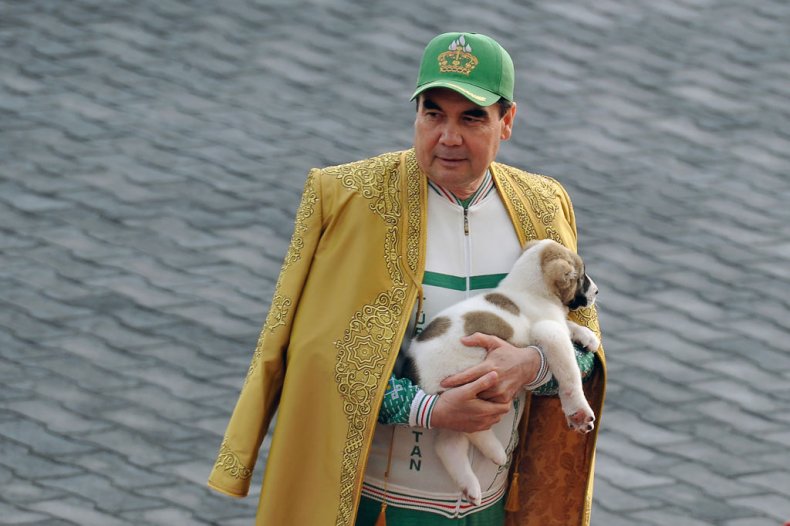 Berdymukhamedov has focused much of his 13-year reign on building a cult of personality. He once ran a dental clinic and has been known to teach his country's security forces how to shoot and throw knives.
His literary career spans 35 books, which were unveiled with the kind of deference usually reserved for holy texts in other Muslim countries. He has also released a dance anthem with three of his young grandsons.
Berdymukhamedov has reportedly banned the word coronavirus. People wearing face masks or talking about the pandemic in public have been arrested, according to Reporters Without Borders.
The country's state-controlled media are not allowed to say or publish the word, and information about the virus has been removed from government health brochures distributed in workplaces, hospitals and schools.