A dozen members of the Massachusetts State Police have been fired for refusing to comply with the state's COVID-19 vaccine mandate, officials said.
The members—one sergeant and 11 Massachusetts State troopers—were terminated on Friday following a hearing process over their vaccination status, State Police spokesperson David Procopio told MassLive in a statement.
State Gov. Charlie Baker's vaccination mandate requiring state workers get the shot went into effect in October 2021.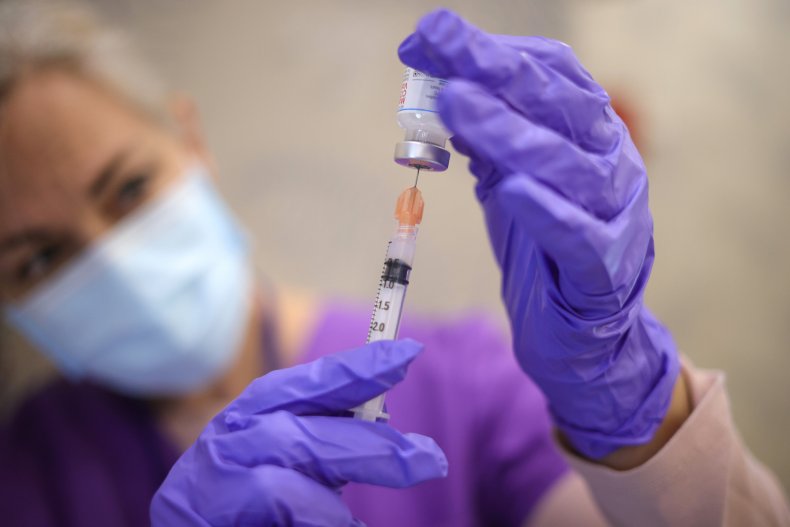 The 12 members of the Massachusetts State Police will be unable to appeal their terminations, as they had already been denied religious or medical exemptions, The Boston Globe reported.
Massachusetts on Friday recorded 1,637 new confirmed cases of COVID-19, bringing the total to 1,574,533, according to data from the state department of public health. COVID-19 cases in the state peaked on January 3 with more than 36,000 confirmed cases. Daily cases have been steadily declining since then, with a slight uptick in recent weeks.
Patrick McNamara, president of the State Police Association of Massachusetts, the union that represents troopers, said the terminations were a "hypocritical" move by the state governor.
"Governor Baker has proven yet again just how hypocritical he is," McNamara said in a statement. "As part of a Friday night news dump, he has just terminated at least 12 Troopers due to his vaccine mandate. No appeals. No due process."
"Just a Governor hell bent on breaking the backs of the State Police who work tirelessly each day to keep the Commonwealth safe," the statement said.
McNamara criticized the governor's decision to terminate the sergeant and troops in the union's statement.
"His clear and petty animosity has been on full display for months now," he said.
"While [Gov. Baker] closes COVID testing sites, asked that the State House be reopen without a mandate and has generally shown that we are in the endemic phase of COVID-19, he is still insisting on firing 12 Troopers from an already short staffed department," the spokesman added. "The Troopers deserve better. The Commonwealth deserves better. And, Charlie Baker should be ashamed."
A state police spokesperson told the MassLive that the 12 terminated are not part of a lawsuit seeking an injunction on the governor's COVID-19 vaccine mandate.
The governor's executive order required proof of vaccination from executive department employees by October 17, 2021.
By late September, dozens of Massachusetts State Police troopers had tendered their resignations, the union said.
"It is unfortunate that the Governor and his team have chosen to mandate one of the most stringent vaccine mandates in the country with no reasonable alternatives," State Police Association President Michael Cherven said in a statement at the time.
The union said the first Massachusetts State Police trooper to be fired over the governor's vaccine mandate was let go just days before Christmas
Newsweek has contacted Gov. Baker's office for comment.