Twitter Fact-Checks Debra Messing Trump-Hitler Tweet After Newsweek Query
Tuesday morning, Will and Grace star Debra Messing posted a tweet comparing President Donald Trump's photo op at St. John's church to an edited image of Nazi dictator Adolf Hitler appearing to show a Bible in a similar pose. Shortly after Newsweek inquired about the image, Twitter tagged the tweet as containing "manipulated media."
"A dog whistle to white nationalists and Nazis," Messing wrote, alongside an image pairing the manipulated Hitler photo with Trump's, and the caption "This is not an accident!"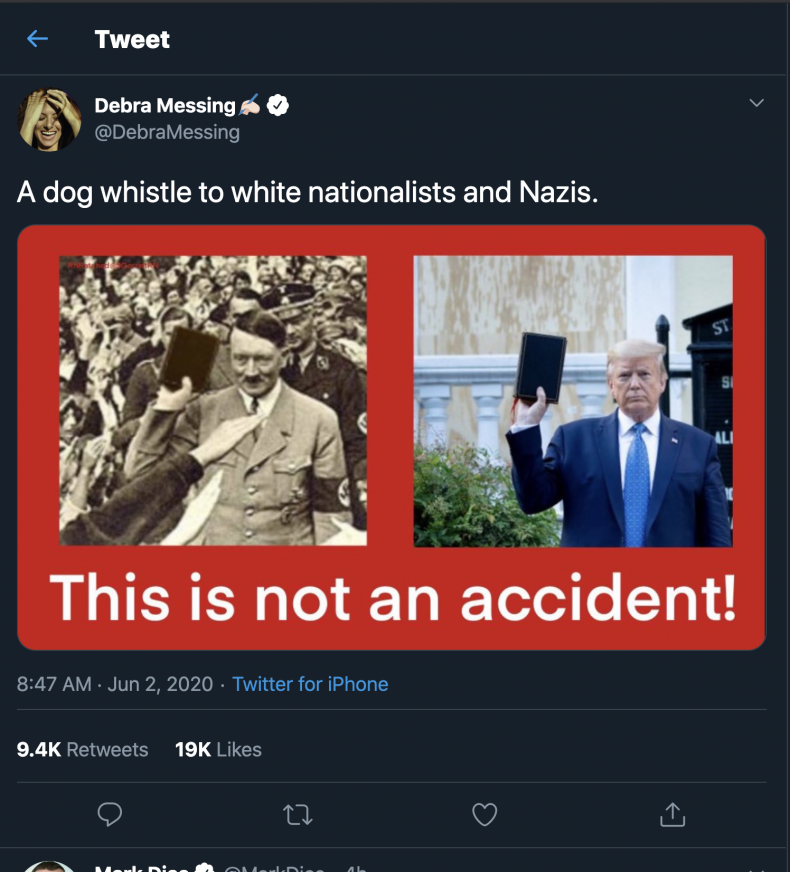 Prior to the tag, the tweet had received over 9,000 retweets and 19,000 likes. A number of replies identified the image as a fake. The original photo shows Hitler among a throng of people. Instead of holding a Bible—or any book—he is making the modified version of the Nazi "Sieg Heil" salute.
On Tuesday evening, Newsweek asked a Twitter representative why Messing's tweet did not have the "manipulated media" tag that the social media giant had been adding to other tweets with edited photos.
Within 30 minutes of Newsweek's email, the "manipulated media" tag had been added. Soon after, a Twitter spokesperson replied to say the tweet had been tagged, and was linked to a Twitter Moment about the falsified photograph.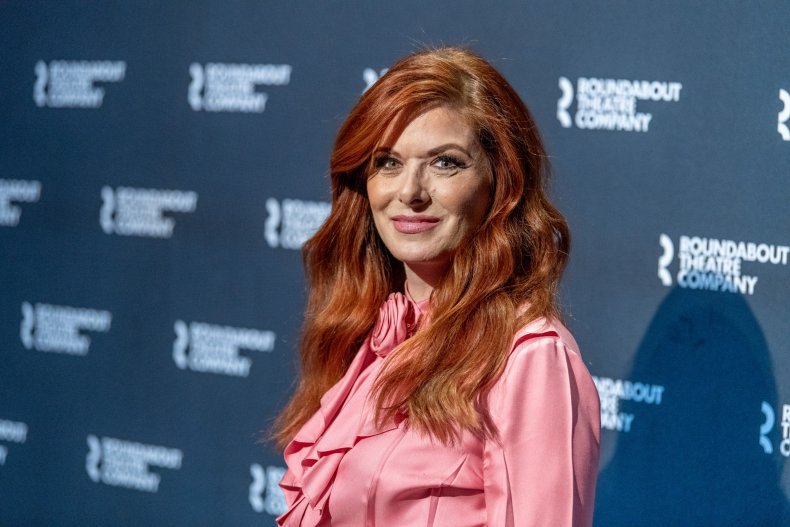 The delay of more than 8 hours between the time Messing tweeted and the Twitter fact-check illustrates the challenge the company faces in avoiding allegations of political bias in its feud with the White House.
Twitter's labeling system has come under fire recently, as last week the platform tagged two of Trump's tweets alleging that mail-in voting was rife with voter fraud. Twitter added a label reading "Get the facts about mail-in ballots," directing users to a landing page, which says past studies of voting by mail have not shown a link between the practice to widespread voter fraud.
Trump responded to the label by accusing Twitter of interfering with the presidential election. Last Thursday, Trump signed an executive order that would remove a liability shield from the Communications Decency Act if platforms like Twitter or Facebook edit content. Prior to the executive order, these platforms have been treated like forums rather than traditional publishers responsible for the content they publish.
Friday, Twitter labeled another of Trump's tweets that included the line "When the looting starts, the shooting starts." The label said that the tweet was in violation of Twitter's policy against glorifying violence, but remained on Twitter because it had "determined that it may be in the public's interest for the Tweet to remain accessible." Twitter users are unable to like or reply to the tweet.
Newsweek asked Twitter if Messing's tweet will be treated the same way. This article will be updated with any response.
Though Trump accused Twitter of "silencing conservative voices," Twitter has also put labels on tweets by figures like Ice Cube and Bishop Talbert Swan when they shared an image incorrectly alleging that Derek Chauvin, the former police officer seen in a video kneeling on George Floyd's neck, was the same person as a man wearing a hat reading "Make Whites Great Again."