The American Jewish Congress has called on Twitter to permanently ban Representative Marjorie Taylor Greene because she is an "unrepentant misinformation machine" regarding both the Holocaust and COVID-19.
On Monday, Twitter temporarily suspended the Georgia lawmaker from the platform for tweets which included the claim that COVID-19 was not dangerous for those under 65 who are not obese.
The violation of Twitter's misinformation policy, sparking a 12-hour suspension, came on the heels of controversial comments she had made about COVID measures where she invoked the Holocaust.
She apologized in June following anger at her comparison of COVID safety protocols at Congress to how Jews were made to "wear a gold star" and then "put in trains and taken to gas chambers in Nazi Germany."
"I have made a mistake," she said, adding that there is "no comparison to the Holocaust."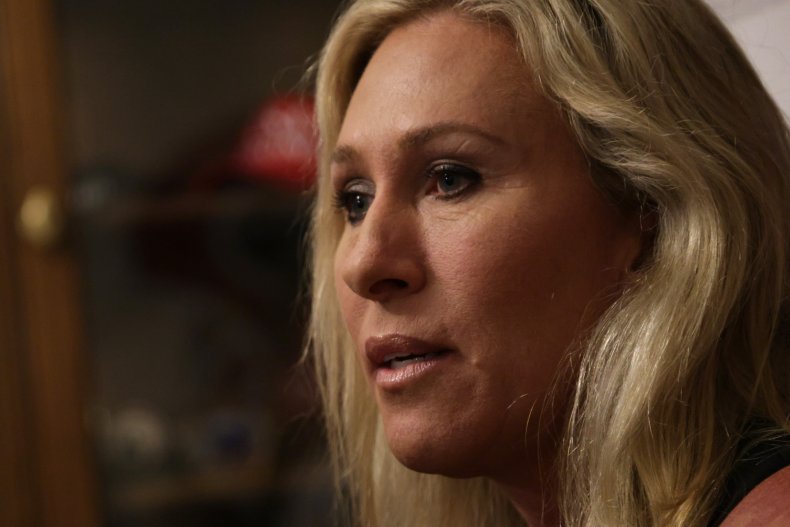 However, after the apology she referred to Nazi Germany again when she said those who President Joe Biden wanted to go door-to-door to encourage vaccine take-up were akin to "medical brown shirts."
Jewish groups condemned this reference to the paramilitary force assembled in the 1920s which targeted Jews and facilitated Adolf Hitler's rise to power.
The American Jewish Congress saw a similarity in the messages pushed by Greene on both COVID and the Holocaust, and called on Twitter to take permanent action, adding "we do not make this call for Greene's suspension lightly."
"Greene's actions come as no surprise to us, given her propensity to spread misinformation about Jews and the Holocaust," it said in a statement shared with Newsweek.
"Greene is an unrepentant misinformation machine and should be permanently banned from Twitter," it added.
The AJCongress said that Greene had been "deliberately spreading misinformation about the Holocaust to help grow her political power, putting the Jewish community's safety at risk."
"Likewise, by deliberately misinforming the public about legitimate COVID public safety measures, Greene is seeking to grow her political power at the expense of public health," it added.
Newsweek has contacted Greene's office as well as Twitter for comment
Earlier in July, Greene had accused social media companies such as Twitter of curbing free speech.
She told conservative outlet Newsmax that "not only are we banned or suspended or completely kicked off...for speaking our political beliefs and speaking our minds, but we are treated as if we're second-class citizens for holding these opinions".
In a previous statement to Newsweek about Greene's suspension, Twitter said that it would take action on "false or misleading information about the prevalence of the virus, or risk of infection or death."
Meanwhile, the American Jewish Congress released a report this week which said Greene was being among lawmakers who were targeting American Jews for political purposes.
With the title "Jews Are Not a Prop," the report described how the "toxic drivers of antisemitic hate" also included QAnon, the Christian Identity Movement and those who push claims that the 2020 U.S. election was stolen.
The advocacy group also said that the online platform Gab facilitates supporting these ideologies.