Rep. Marjorie Taylor Greene accused tech companies of curbing her freedom of speech because of her political views.
The Georgia congresswoman added that media outlets portrayed conservatives like her as "Nazis"—a remark that follows another controversy about the language she uses to comment on COVID vaccinations, which has been denounced by Jewish groups as antisemitic.
Greene told Newsmax on Wednesday that she had been suspended from Twitter three times since she had become a member of Congress in January. The way social media companies behave is important, she said, because "as Americans...we are used to...saying our opinions, our thoughts and our feelings."
However, she added that "in big tech and the social media sphere," she and other conservatives "are treated very differently."
She pointed to former President Donald Trump, who was kicked off his social media accounts in the wake of the U.S. Capitol riots in January.
"Not only are we banned or suspended or completely kicked off and never allowed back on for speaking our political beliefs and speaking our minds, but we are treated as if we're second-class citizens for holding these opinions," Greene said.
"For the past four to five years we have heard the media slander us as Nazis, fascists, deplorables, Neanderthals and all kinds of nasty names," she added. Facebook and Twitter both declined to comment when contacted by Newsweek.
On Wednesday, prominent Jewish groups condemned Greene for describing the people who would conduct President Joe Biden's plans for a door-to-door campaign to encourage COVID vaccinations as "medical brown shirts."
The brownshirts were a notorious paramilitary force assembled by Adolf Hitler who targeted Jews and helped in his ascent to power.
Last month, she apologized and visited the U.S. Holocaust Memorial Museum in Washington, D.C. after sparking outrage by likening COVID safety protocols to how Jews were made to "wear a gold star" before being "put in trains and taken to gas chambers in Nazi Germany."
The American Jewish Congress was among the groups that denounced Greene's brownshirts comment, telling Newsweek on Wednesday that politicians like her should "stop using antisemitism, which this Holocaust trivialization embodies, as a political tool."
In her interview with Newsmax, a conservative outlet, Greene also praised Trump for his legal pursuit of big tech companies, after the former president filed a class action lawsuit against the CEOs of Google, Twitter and Facebook.
Trump said in a news conference on Wednesday that the suit aimed to bring "an end to the shadow-banning, a stop to the silencing, and a stop to the blacklisting, banishing, and canceling that you know so well."
Newsweek has contacted Greene's office for comment.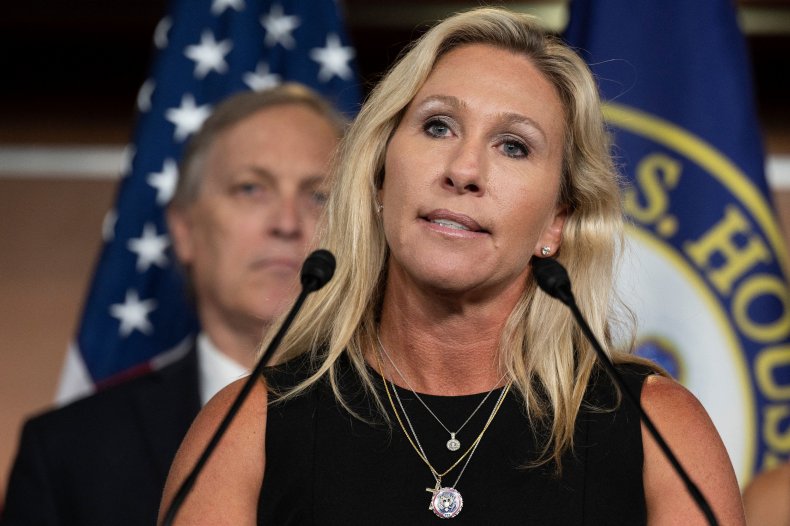 This story has been updated with no comment responses to Newsweek from Twitter and Facebook.