Andrew Yang Draws Twitter Wrath and Praise For Ditching Neck Tie During Democratic Presidential Debate
Democratic 2020 presidential candidate Andrew Yang drew significant praise and some harsh criticism on Twitter at the start of the second presidential primary debate on Thursday evening, after social media users noted that he'd chosen not to wear a tie.
"Watch Andrew Yang. He looks so chill on stage, like, 'I'm rich, I'm cool and I don't need a tie,'" Isadora Rangel, columnist and engagement editor for Florida Today and USA TODAY, tweeted.
"Andrew Yang is the only dude without a tie," one Twitter user noted. "What a badass," they asserted.
"Andrew Yang with the bold move being the only man not wearing a tie," another person posted.
"Here we go," a tweep wrote. "first impressions Andrew Yang is the only male candidate without a tie, nice differentiation."
But others were less than impressed.
"Andrew Yang isn't wearing a tie!!!! Holy crap these liberals are just dancing on the grave of political norms," one critic posted.
"Put on a tie, numbnut," another person commented.
Preet Bharara, the United States Attorney for the Southern District of New York, quipped: "Sartorial update: once we pass universal basic income, Andrew Yang can purchase a tie."
MSNBC's chief anchor Brian Williams also appeared upset by Yang's decision: "Would it kill you to throw on a tie?" he asked.
Some on Twitter then aimed at Williams for commenting on the presidential candidate's attire.
"I turned on MSNBC and Brian Williams is legitimately mad that Andrew Yang isn't wearing a tie. This is the level of analysis from mainstream media," Kyle Kulinski (aka Secular Talk) wrote on Twitter.
Yang, an entrepreneur from New York, is perhaps best known for his proposal to provide every American with a universal basic income of $1,000. The candidate has supported other progressive policies, such as taking major steps to address student loan debt and Medicare-for-all, or universal healthcare.
Although Yang is still considered to be one of the lesser-known Democratic candidates, he is actually polling higher than many of the more traditional candidates who have thrown their hat in the ring for the nomination. According to a current average of national polls by Real Clear Politics, Yang ranks eighth overall within the field of more than 20 candidates with 1.3 percent.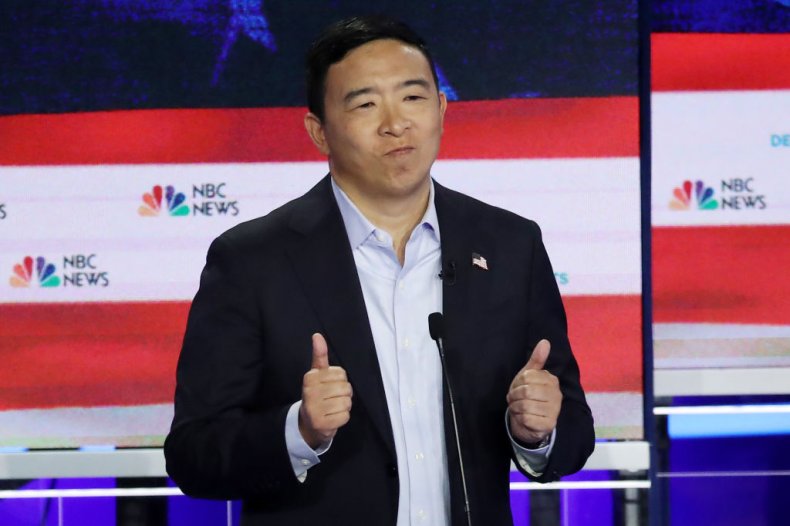 He has also done relatively well when it comes to collecting campaign contributions. Yang tweeted out on Wednesday that his campaign had already garnered 128,000 individuals donations, nearly reaching the 130,000 required to qualify for the second round of Democratic debates.