Two Inmates Escape Arizona Prison, $70,000 Reward Offered
A $70,000 reward is being offered for information that leads to the capture of two inmates who escaped from a prison in Arizona over the weekend.
David T. Harmon and John B. Charpiot escaped from the medium custody south unit at the Arizona State Prison Complex in Florence on Saturday, the Arizona Department of Corrections, Rehabilitation and Re-entry (ADCRR) said.
The pair—both medium security inmates—were present for an inmate count at 4 p.m. on Saturday, the department said in a news release on Sunday.
However, they were not accounted for during another count at 8:30 p.m.
The ADCRR's deputy director Frank Strada said during a news conference that a preliminary investigation revealed Harmon and Charpiot had knocked down a wall-mounted air conditioning unit to get into the prison's tool room, The Arizona Republic reported.
The men took a bolt cutter and lineman's pliers, which they used to cut through a fence and escape, according to Strada. The tools have since been recovered, he said.
"If the escaped inmates are watching this, please turn yourself in, it'd be the best thing both for you and the community," Strada added.
Charpiot was imprisoned in 2011 and was serving a 35-year sentence for child molestation and sexual abuse, the ADCRR said in the news release.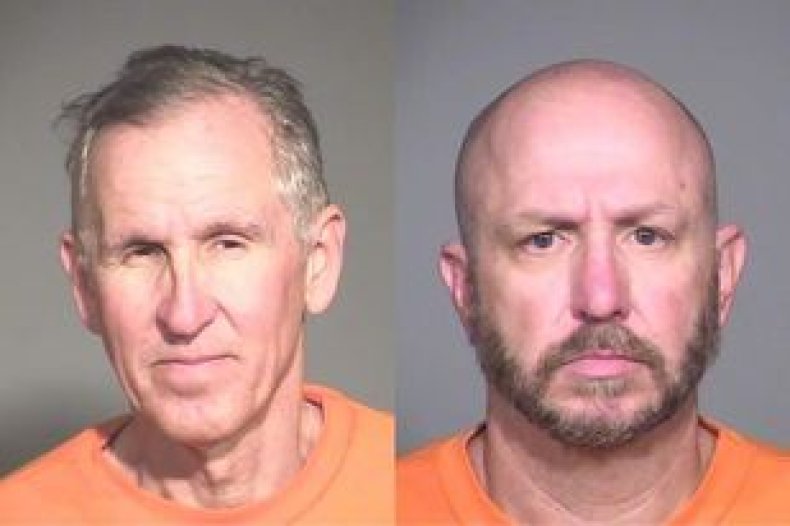 Harmon arrived in prison in 2012. He was sentenced to serve 100 years after being convicted on kidnapping and burglary charges. Harmon was also convicted of escape in the second degree in 1992, according to online records.
Tracking dog teams, chase teams and a fugitive apprehension unit have been deployed to find the escaped inmates.
"This is currently ADCRR's top priority, and all available resources are being employed to the search effort," the department said.
"The department has dispatched its chase teams, tracking dog teams and fugitive apprehension unit to find the fugitive inmates. Local authorities and the Arizona Department of Public Safety are also assisting in the search. The department will not rest until these inmates have been apprehended."
Meanwhile, Arizona governor Doug Ducey said he and the U.S. Marshals Service had authorized a $35,000 reward per escapee for information leading to their capture.
"Last night, 2 inmates escaped from the state prison in Florence, AZ," Ducey wrote on Twitter on Sunday. "Law enforcement will work non-stop to locate and apprehend them."
Anyone with information of Harmon and Charpiot's whereabouts is urged to call 911 or Silent Witness at 480-WITNESS.