Two Journalists Jailed in Myanmar: Where are the Most Journalists Imprisoned?
Two Reuters journalists were sentenced to seven years in prison by a Myanmar judge on Monday.
Wa Lone, 32, and Kyaw Soe Oo, 28, have been jailed since December. They were convicted of violating the Official Secrets Act when they obtained confidential documents while reporting about the persecutions of Rohingya Muslims in Rakhine, Reuters reported. The reporters said they were given the documents by two police officers at a restaurant in Yangon right before other officers arrested them, according to Reuters.
But Lone and Oo are only two of hundreds of journalists imprisoned around the world.
The Committee to Protect Journalists said 262 journalists were behind bars, according to an annual prison census released in December 2017. According to CPJ data, Turkey, China and Egypt remained the top three jailers of reporters worldwide.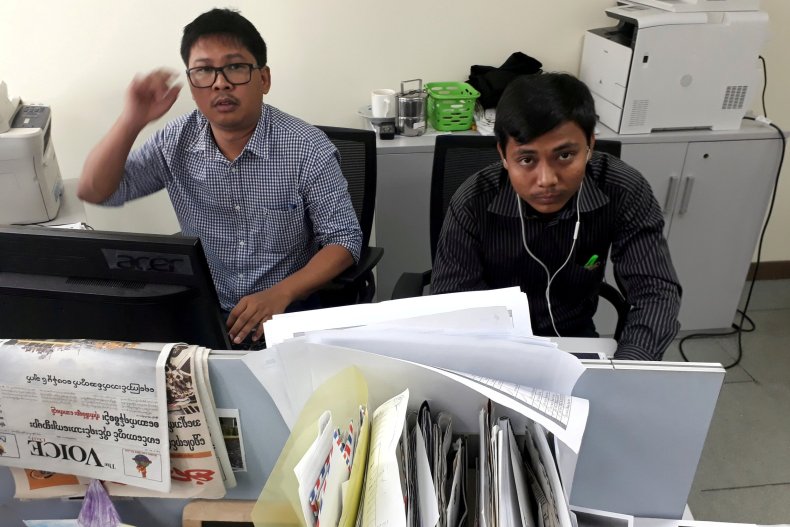 The CPJ noted that while some journalists were released from Turkist prisons in 2017, it still jails the largest number of journalists, with 73 journalists currently behind bars. As of 2017, there were 41 journalists imprisoned in China and 20 in Egypt, according to CPJ. The journalists behind bars in Turkey were either under investigation or had been charged with anti-state crimes, and many of them still faced trial, according to the CPJ.
The organization slammed President Donald Trump for enabling the increase, through his support for Turkish President Recep Tayyip Erdogan and Chinese President Xi Jinping, the two leaders of the top two countries where the most journalists remain in prison.
"Trump's nationalistic rhetoric, fixation on Islamic extremism and insistence on labeling critical media 'fake news' serves to reinforce the framework of accusations and legal charges that allow such leaders to preside over the jailing of journalists," CPJ said in a statement.
In January, Washington Post reporter Jason Rezaian was released from prison, along with four other Americans in Iran. While imprisoned, Rezaian had limited interaction with others and spent 49 days in solitary confinement, The Washington Post reported.
"I want to thank my family, especially the efforts of my brother Ali, and my wife in Iran and my mother everywhere she was," Rezaian said. "They have been incredible. I also want to thank everybody at The Post and my colleagues in other media as well, as well as everybody in the U.S. government who played an important role in my release.''